The urban jungle still retains some precious wild spaces inhabited by not frequently seen birds and animals. The author spends a day exploring them
It's 7 am on a blurry Sunday. Grey clouds and the hint of a drizzle outside my window compel me to pack a stout umbrella and an extra T-shirt in a waterproof bag. For, it's Big Bird Day -- when birding enthusiasts enumerate all the bird species they can spot, from dusk to dawn, in hotspots across the country.
My plan is to explore Delhi's Southern Ridge with a group led by veteran birder, Surya Prakash of Jawaharlal Nehru University (JNU). For serious birders, Big Bird Day is fun mixed with some potentially serious business. In a single day, when 400-odd teams from all over the subcontinent watch birds at 700 locations, the data becomes very valuable for measuring actual bird diversity of the region. Big Bird Day is organised by Delhibird, an interactive group that goes on regular birdwatching trips and enables birdwatching visitors and short-term residents to meet fellow enthusiasts. Prakash is one of its founding members and has authored a book, Feathered Friends of JNU.
"I've spotted nearly 200 species of birds in JNU alone," says he. Today, as we start the day's birding from behind the School of Life Sciences on the campus, our target is 100.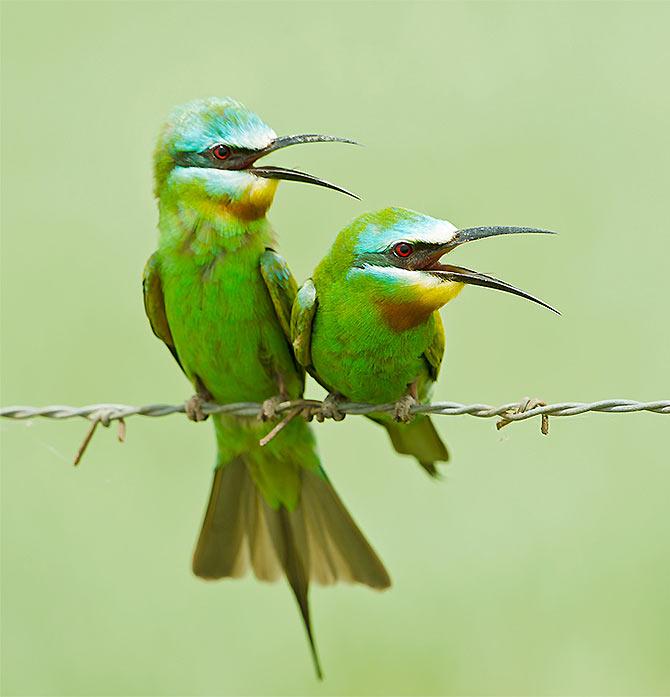 Image: Bee eaters: Photograph: Koshy Koshy/Creative Commons
"This is the classic grasslands habitat of the Aravalli hills," says Prakash. Thorny scrub and tall grasses have long housed various species of birds such as crested larks, yellow-wattled lapwings and grey francolins. "Urban sprawl is causing these grasslands to shrink. Consequently these birds are disappearing from Delhi, just like the sparrows," he says.
We clamber across boulders peppering the grassland and avoid stepping on what Prakash calls 'landmines' -- mounds of poop left by neighbouring slum-dwellers. In spite of human interference and the degraded habitat, we spot varieties of birds and butterflies, including some regal honey buzzard at the popular campus hangout, Parthasarathy Rocks.
Ahead, we come across a wonderful sight -- a group of bee-eaters is perched on a dry branch, taking in the early rays of a watery sun. Their green plumage and long slim beaks make such a fine sight that it's hard to tear ourselves away.
"Urban wild areas yield surprisingly good bird spotting opportunities as half our bird species live outside protected jungles in urban habitats," says Prakash. This makes their conservation much harder. "Unfortunately, our conservation efforts are mostly for what I call, our 'Page Three' animals -- tiger, elephant and rhino," he rues. Delhi's avian fauna faces further threats from its burgeoning stray dog population. We pass a nest destroyed by dogs and I wonder at the wisdom of protecting a common animal at the cost of so many at-risk bird species.
The Southern Mehrauli Ridge extends all the way up to Hauz Khas Lake. After early morning birding in JNU, I'm sure that the familiar environs of this historic reservoir where I walk every day will be a letdown. As we enter, a single call rings out. "Chiffchaff," says one in our group. The bird, a common winter visitor to Delhi, comes into view. Ahead, on a warm rock in the middle of the lake, someone spots a leatherback turtle. I look at it, entranced at this entirely new look at the area I thought I knew so well. Bird watching indeed sharpens one's senses, I muse, enabling the ambler to see well beyond the obvious.
It is almost noon when we head for a quick foray into Sanjay Van, another aspect of the Ridge. By now, our tally is up to almost 80 birds. Sanjay Van is a good example of how degraded urban habitats can be revived, but we want to move on to Asola Bhatti Mines, one of the last surviving remnants of the Delhi Ridge hill range, its semi-arid forest habitat and dependent wildlife. It seems almost unthinkable that not that long ago, this landscape extended throughout the city of Delhi. Even more incredibly, till the early 2000s, this area, potentially capable of being Delhi's green lung and carbon sink, was riddled with mines, legal and otherwise.
Post 2000, the Delhi government's environment department has stopped all mining activities and embarked on an ambitious rehabilitation project here.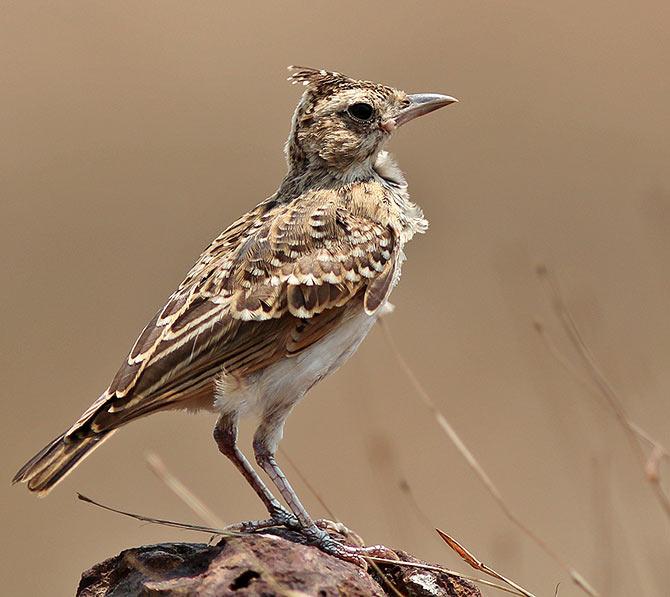 Image: Crested lark; Photograph: Sandeep Gangadharan/Creative Commons
"It's hard to believe we're still in Delhi," someone murmurs as we enter the jungle. An excited stir goes up in the group as we spot a short-toed snake eagle soaring on a current, high in the sky. Our bird count is well into the 90s now. We head next to the Bhardwaj Lake in Bhatti Mines to look for water birds and raptors. Driving through the forest, we watch an aggressive simian chase a grey francolin, a plump partridge-like bird that lives in the scrub. Most of these monkeys have been captured from the city's residential areas and relocated here. The proliferation of the simian population couldn't bode well for these terrestrial birds, I muse. By introducing the monkeys, the authorities might have upset the delicate balance of this fragile wild habitat.
Soon we're at the edge of a steep cliff. Stretching beneath is the cobalt blue Bhardwaj Lake, spanning at least a kilometre in length. Fringing it are red cliffs with scar-like furrows. "This lake was created when ground and rainwater pooled in the deep holes left by mining activities," explains Prakash.
Today, it attracts a plethora of wetland birds and raptors. This entire area has restricted access for civilians to allow it to regenerate. "All we need to do to let nature heal itself is to leave it alone," says Prakash. We drive out of the gates of the jungle and right into the arms of Asola Enclave, a residential area with newly-built multi-storeyed houses. Soon, I muse, the roads here will be paved, population will rise and urban sprawl will extend into this wild space.
The 12 tiring hours I've spent traipsing in Delhi's wild habitats -- some dirty, some spectacular, but all in varying stages of degradation -- have left me with a sense of depressed hopefulness. On the one hand, it's wonderful that even in the shrinking grasslands of JNU and the scarred landscape of Asola Bhatti, a multitude of bird and fauna still abound.
On the other, I think sadly of how many more species there would have been had urban development been less short-sighted. In the rays of the setting sun, the serious birders are happy with the final tally of 100 bird sightings. Me? I'm just happy to have celebrated Big Bird Day, and for the chance of being a traveller in the city I call home.