It lets you have the perfect rural holiday.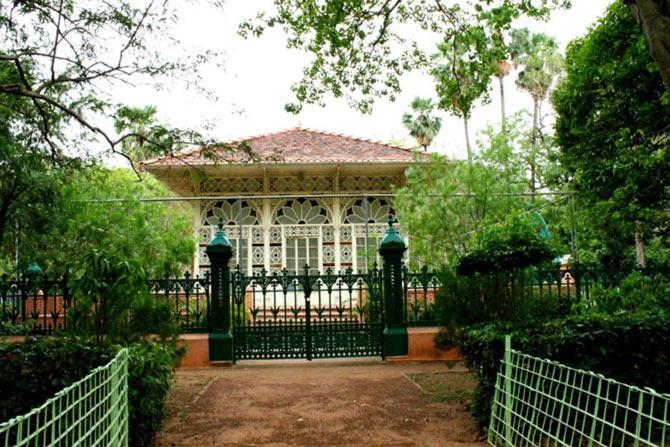 The Meditation Room at Shantiniketan
Have you ever considered putting away 'hillside' or 'seaside' and choosing a rural holiday getaway?
Filled with its own unpolluted charm, Shantiniketan in Birbhum district in West Bengal is one such destination.
If you're a person whose finer senses are aroused by art, literature and ethnic handicraft, then this is one spot which you simply cannot afford to miss.
The foundation of Shantiniketan was laid by Maharshi Debendranath Tagore who played a pivotal role in the Indian renaissance during the pre-Independence period.
When society was being dominated by ignorance and class bias, the illustrious Tagore family rose to free Bengal from this darkness.
Struck by the unusual beauty of the landscape of this region, Debendranath (father of Rabindranath) established a meditation centre in Shantiniketan, where people irrespective of their caste, creed and religion were welcome.
The sole clause was that this holy sanctuary should preach benevolence and universal brotherhood in the most peaceful way possible.
In the course of time, Rabindranath also started operating from this place, writing his famous poetry and songs. So influential did this seat of learning become that it hosted the stay of eminent personalities like Mahatma Gandhi, Nandalal Bose, Satyendra Nath Bose, P.C Mahalanobis, Nobel Laureate Amartya Sen (presently has his home here) to name a few.
Adhering to his father's ideals, Nobel Laureate Rabindranath Tagore initially set up his school Patha Bhavan (House of Learning) and post 1921, the Vishwa Bharati University, at Shantiniketan. Both were founded on the pillars of imparting education without discrimination.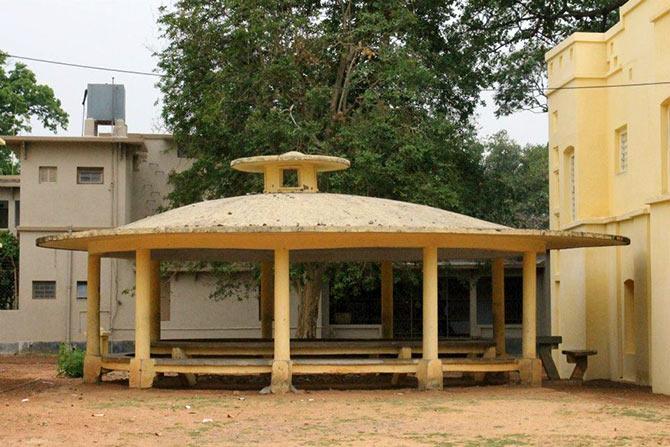 A classroom
Tagore believed in imbibing knowledge from the environment. When you visit the University, you'll be amazed to find a sprawling campus dotted with outdoor classrooms with covered seating arrangements. Classes are also held in the Amrakunja or the Mango Grove.
Strolling around the campus you may suddenly stumble across a group of youngsters trying to make a life size statue. You can stand and admire them for as long as you want. These students of the art college will gladly satiate your curiosity in case you have any questions. The whole campus in fact has artwork of very high standards strewn around (both by famous and student artisans), which adds to the charm of the environment.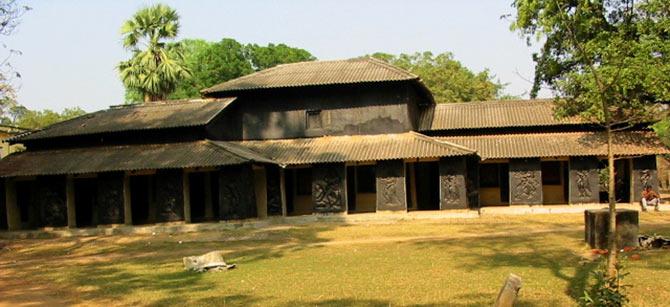 Kalo Bari
Interestingly, there is a one storey building made of mud and coal tar with black murals on its walls, aptly named 'Kalo Bari' or the Black House. This was originally the hostel of the Kala Bhavan (art college) students.
The primary tourist attraction is the Rabindra Bhavan Museum in the Uttarayan Complex.
This is a treasure trove storing Tagore's original paintings, letters, manuscripts, photographs, etc. It even used to house the Nobel Medallion.
The museum is open to tourists on all days (except Wednesdays) from 10.30 am to 4.30 pm against a nominal entry fee. Photography is strictly prohibited. Other spots of interest are the Meditation Room and the Prayer Place under the chhatim (alstonia) tree.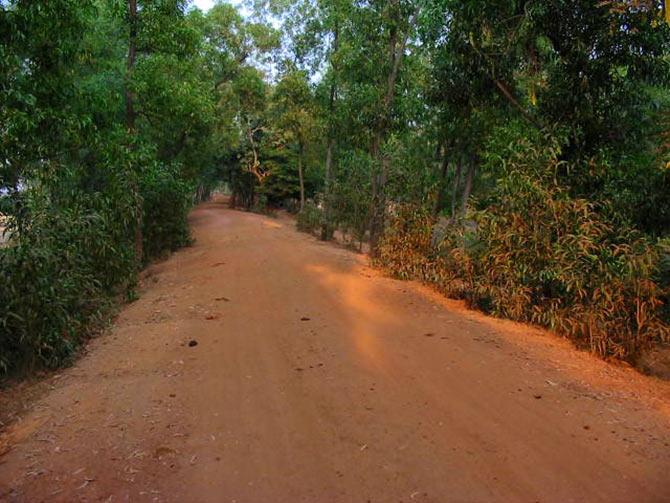 On the way to Shantiniketan: Red soil and trees lined on either side
We drove to Shantiniketan from Kolkata. The most remarkable sight that struck us when we entered Birbhum district was the beautiful redness of the soil. It was almost a pleasure to drive through the hazy redness of the loose laterite, fringed on either side by tall sal trees.
During our stay we discovered that the best way of getting around, was to replace the car with a rickshaw, ride a bicycle or simply walk. In this way one can truly imbibe the peaceful rustic flavour that this University town has to offer.
The landscape of Shantiniketan is a visual treat. As the eastern continuation of the Chhotanagpur plateau, the terrain is slightly undulating. Often enough, you will come across vast expanses of sparsely vegetated areas.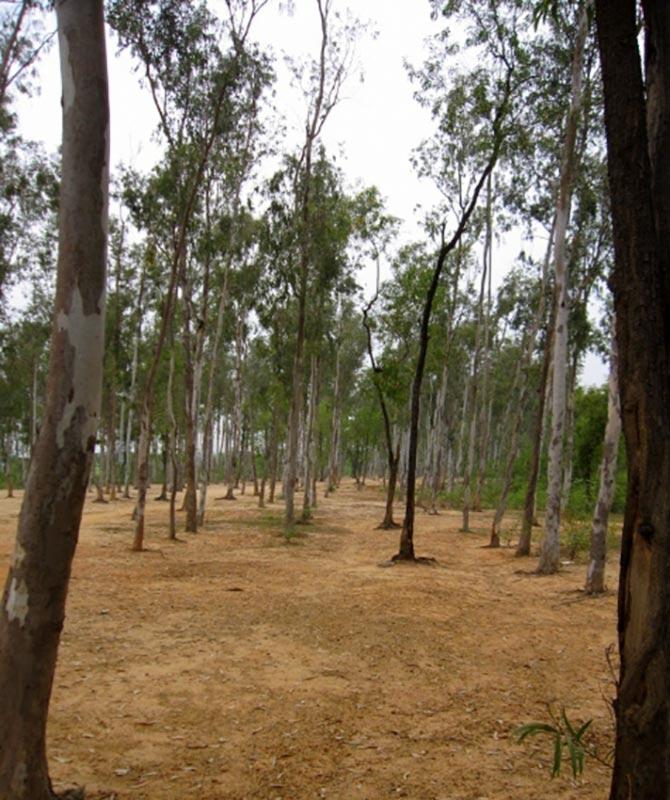 A Sal forest
Here Sal trees stand in sombre union making perfect strands like sentinels ready to march. Though these areas are locally used as picnic spots, we took evening walks here. The ambience is truly peaceful with nothing but the rustle of the dry leaves, thereby justifying the name Shantiniketan, which when translated literally means 'abode of peace'.
On our walks we realised that the area subject to Badlands erosion, had given rise to a uniquely rugged topography. On enquiry we were told that the area is known as the Khowai, which means 'a produce of erosion'.
In summer, a narrow channel snakes its way through the Khowai. This is the river Kopai. However, during the monsoons the river swells up and the eroded area becomes lush green against the red soil, rendering an awesome scenic feast to the eyes.
Come Saturdays and beyond the Khowai awaits a paradise for shoppers looking for ethnic handicraft items. It is known as the Shonibaarer Haat or the Saturday Village Market (operative from 3 pm).
The artisans spread out their handmade wares on mattresses kept on the ground itself. A medley of colourful goods beyond imagination is on offer.
At cheap prices you can lay your hand on lanterns with painted rural motif, home décor made of bamboo and cane, wooden dolls carved to perfection and painted in bright colours and even dolls made of red clay with beautiful expressions on their round faces.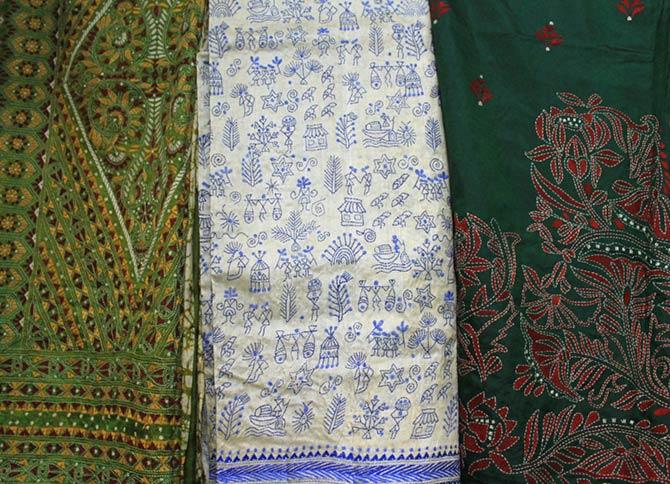 Kantha work
Vendors also have lovely wearables embellished with batik or kantha work. Batikwork is a unique art form which has been in practice for over thousands of years.
The fabric is applied with wax before getting it dyed. The wax is then carefully and artistically cracked to reveal intricate designs in contrasting colours. This work is not only popular on apparels, but may also be seen on cotton or leather bags and other cloth made items of home décor.
If you are interested, you may also visit the artisans at their workshops on weekdays and see them at work.
Shantiniketan is also considered the home of kantha work. The traditional concept of rural women making bedspreads for babies by putting simple run stitches on soft cotton cloth has been taken to a whole new dimension by the Shantiniketan artisans.
Here they create lovely designs on sarees and other apparel, bags and even boxes. The fabric used is cotton or silk. The handmade batik and kantha make duplicity impossible and hence, whatever you buy is truly one-of-a-kind.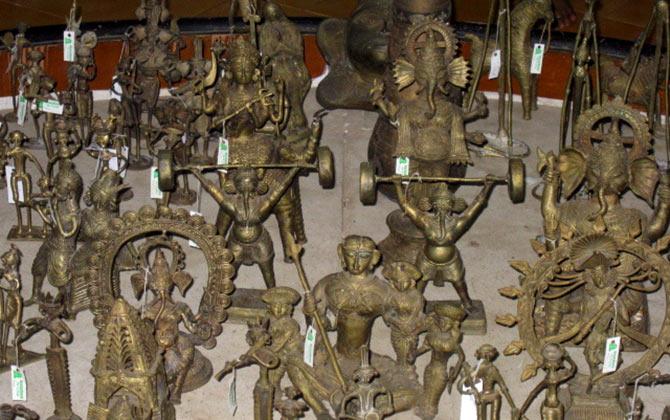 Dokra art
To go with the apparels is an array of jewellery on offer. These are made of dokra (a wax casting technique using an alloy to make jewellery and artefacts), baked clay, and even painted fruits and seeds.
Though all were beautiful and unique by themselves, the seed ornaments were unlike anything which I had ever seen -- that too at dirt-cheap price. And the assortment on display with its variety of colours was beautiful beyond comparison.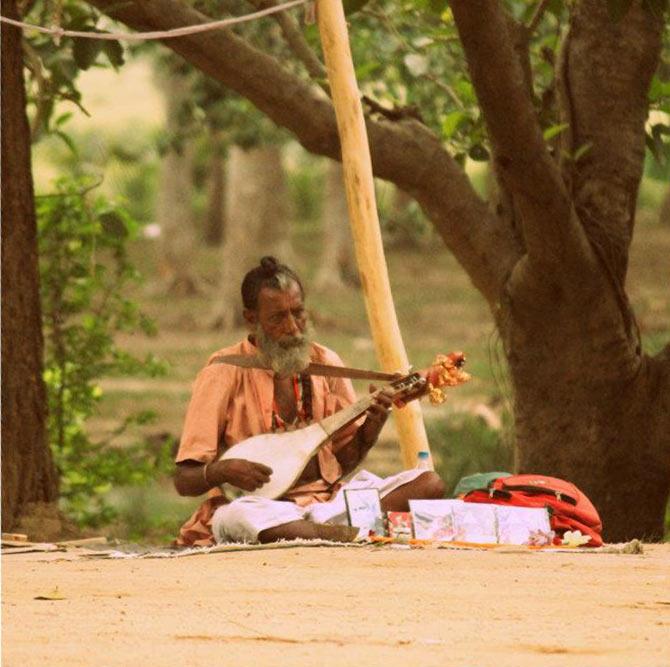 A Baul singer
The best part about this rural market, apart from the wonderful array of goodies on offer was its ambience. The atmosphere till sundown throbbed with folk songs sung by minstrels locally known as Bauls.
As accompaniment they only carry a single stringed instrument called ektara or have bells tied to their leg or toes. Yet with this meagre arrangement the effect they create is mesmerising.
To go with this, in the nooks and crannies of this sprawling bazaar, were tea vendors selling hot tea and vegetables fried in tasty batter. As the sun sets, the frenzy of the sellers and the shoppers abated and finally the throbbing pulse of the rural bazaar cooled down.
In case you miss the haat, you can access these lovely wares at the Amar Kutir outlet.
Shantiniketan can be visited at any time of the year. However, it is best avoided during summer because of the oppressive humidity and heat.
All year round, Shantiniketan remains the hub of cultural activities like Maghotsav, Poush Mela, Rabindra Jayanti, Basanta Utsav, etc. We had the good fortune of participating in the Basant Utsav, a couple of years back.
Basant Utsav (or Holi to the rest of India), is the way by which spring is heralded in this University town.
The festival starts with the students conducting an early morning procession. They sing songs by Tagore and also chant hymns.
As the day progresses, the students, dressed in yellow attire with garlands of flowers around their necks, get involved in playing Holi together with the visitors. Visitors are welcomed warmly with the students putting herbal gulal as tika on their foreheads. The festivities continue till late afternoon amidst songs and dance and other cultural programmes being conducted in the open air auditorium.
As we wrapped up our session of this suburban town, we realised that Shantiniketan once visited, will always be remembered fondly for its serene rustic beauty and its incomparable cultural milieu.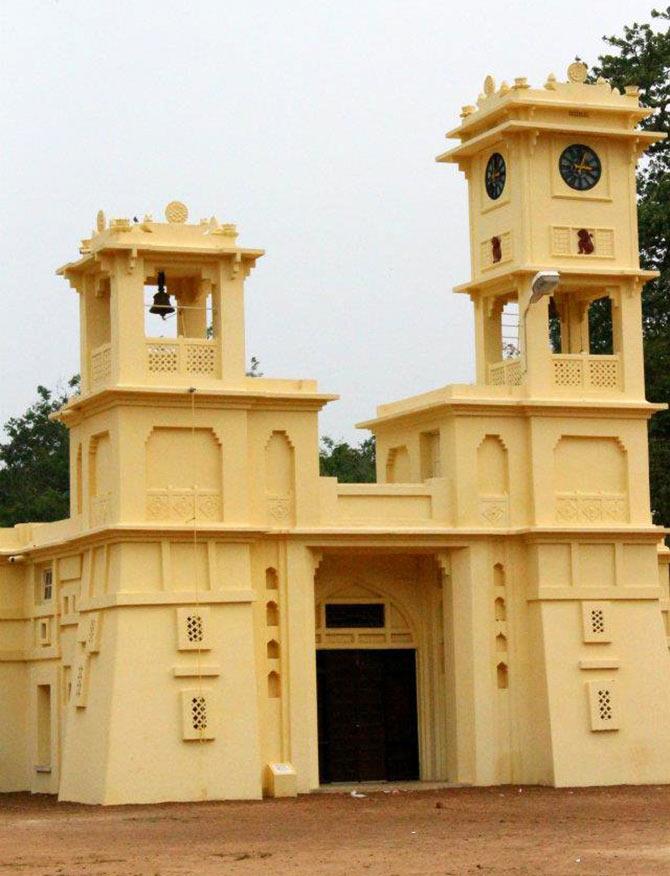 The clock tower at Shantiniketan
How to Reach
Air: The nearest airport is NSCB Kolkata. You may hire a car to drive you to the destination via NH2 and NH2B. The drive takes approximately 3.5 hours.
Rail: Trains run from Sealdah or Howrah station to the stations of Bolpur or Prantik.
Bus: Buses may be available from the Esplanade terminus at Kolkata. Multiple types of buses are available viz. Volvo, AC or non- AC.
Car: The driving time between Kolkata and Shantiniketan is 4 .5 hours.
Accommodation: Shantiniketan provides a host of hotels where you can stay. We were booked at the Mark and Meadows. It provides good facility at a decent price. The hotel campus is littered with rides for children. So if you are planning to visit with your little ones, they are bound to have a lovely time playing outdoors. There are also several guest houses, tourist lodges and homestays. Walk in bookings are also available. However, if you are choosing a popular festival to visit, the rush is tremendous and prior booking, a few months in advance, is advisable.
Photographs: Suchismita Banerjee