Paris is a place brimming with history, irony and a bit of discontent.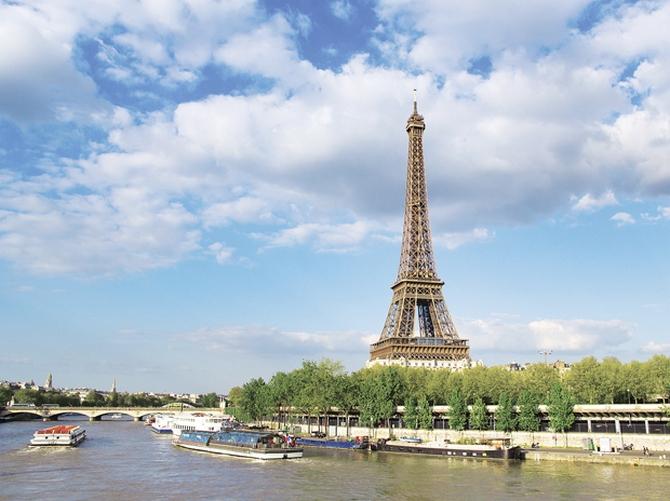 She looks at me across the room, her gentle eyes filled with melancholy, people milling all around us
I make my way out of the room but stop, feeling her eyes on me again.
I turn and there she is again, a tiny smile playing on her face.
I'm lost, drawn towards one of the most famous paintings in the world.
Although I've seen her face on stamps, T-shirts and even morphed by a clever geek on an Indian woman, my first sight of Mona Lisa at The Louvre leaves me floored.
Her shadowy face owes much to the artist's technique of sfumato, also sometimes known as Leonardo's smoke.
In the next few days, my impressions of Paris blur and sharpen much in the same way as I walk around and get the sense that history lives on in this very modern world metro.
I feel this most strongly in Montmartre, the village where artists like Toulouse Lautrec, Henri Matisse, Pablo Picasso and Pierre-Auguste Renoir once lived, caroused and worked.
The park benches outside Moulin Rouge continue to be adorned by young women, hoping to catch an artist's eye and become his muse.
All roads here lead to the Sacre-Caeur cathedral on the "mountain of martyrs".
My companions and I walk up a steep path and find ourselves on a sunny terrace where artists of all sorts paint, surrounded by swarms of tourists craning to get a look.
We find an empty spot in a crowded cafe, order some wine and take in our environs.
As I watch them haggle over prices in an alley that leads to a garden where Renoir once painted, I feel as if all I need to do to bring the past to life is close my eyes...
"It is a scene very pretty, but the fact is that people who come here do not understand art, nor do they want to pay a lot for it," says Nabil, whose impressionist landscapes catch my eye.
"They just want cheap touristy pieces to take back home, but that doesn't enable artists like me to earn a living."
I browse through his work while he tells me how hard life is in modern France.
Unemployment rates in France have risen to over 10 per cent and prices are high.
Our taxi driver tells us that few can afford to live in the city, choosing the cheaper suburbs instead.
This is wreaking havoc with the city's traffic, especially during the office rush.
As we inch towards Arc de Triomphe de l'etoile that evening, cringing at the sight of motorcyclists rashly manoeuvring their steeds through the traffic and smog, I begin to see around me a landscape of discontent.
And sadly, I feel at home in it.
The traffic, however, makes me realise how much better it is to walk here.
Paris is a wonderful place for amblers, with tree-lined boulevards, pavements and pedestrian zones. One of the nicest walks is down the Seine.
As one nears Notre-Dame, where Napoleon had crowned himself king of France, there are little book stalls along the river.
I learn that to rent a space here, one must be a qualified librarian or have some other relevant degree.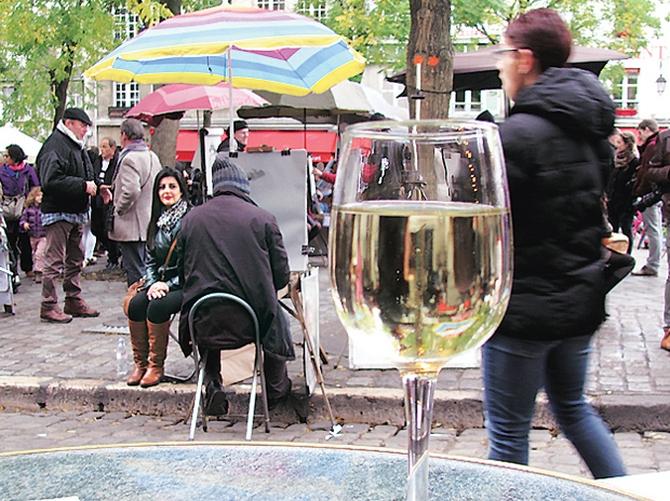 For people without these qualifications, it could be a seven-year wait for a stall.
The Seine seems to divide the city neatly into distinct intellectual and commercial zones.
On its left bank are universities like the Sorbonne; on its right lie some of the most glamorous Parisian stores like Christian Dior, Nina Ricci and Chanel.
And, under it all, lies the world's largest underground sewer system -- all 2,200 kilometres of it.
Ironically, while I'd never have associated Paris with sewers, many things I'd believed to be French -- toast, fries and coffee -- turn out to have no Gallic origins at all.
Every time I have a meal though, it's brought home to me how serious the French are about their food and wine.
I visit the wine store on Boulevard de la Madeleine, Lavinia — a three-storey heaven for lovers of the bottle, with hi-tech sampler stations and knowledgeable staff.
I chat with a friendly girl about my palate preferences and she advises with the solemnity of a doctor writing out a prescription that a Chablis or Sancerre would suit me.
After a languorous multi-course meal (the French love to linger over food, making every meal a leisurely experience), we sit on a bench on the Champs Elysees to watch the world go by.
Women walk past wearing their trademark scarlet lipstick and impossibly high heels.
Many walk incredibly tiny dogs on leashes that look too large for them. Every now and then, I espy a lap dog in the fur clad arms of a chic Parisienne, pretty much a fashion accessory like the Chanel bag or the Hermes scarf.
The eve of my departure from Paris is bittersweet.
I take one last amble on the left bank of the Seine in the direction of Les Invalides, the final resting place of Napoleon.
Behind me, the Eiffel Tower glitters on the horizon.
On a bridge, I see thousands of locks.
"If you make a wish on the lock and throw the key into the Seine, it will definitely come true," says a shifty Algerian selling, not surprisingly, locks.
I refrain from buying one, but close my eyes to make a wish.
Instantly, La Gioconda smiling her Mona Lisa smile appears in my mind's eye, her image simultaneously sharpening and blurring like Leonardo's smoke.
I remember the rumour that cash-strapped France is considering selling her for as much as $2.5 billion to reduce its debt.
Maybe she's destined for the shores of oil-rich West Asia. But in my imagination, she'll always remain in Paris, shadowy and elusive somewhere on the banks of the Seine.