Readers remember the time they visited their favourite beach.
We had asked you to share photographs and impressions about your favourite Indian beach.
Kamaleshwar Thapliyal shared photographs from his visit to Diu. You could share yours too!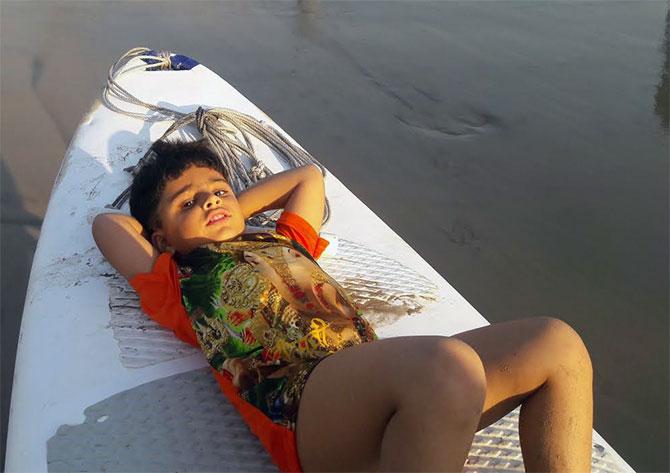 Photograph: Kamaleshwar Thapliyal
"I visited Diu with my friend and family," says Kamaleshwar. "It is a beautiful island near Saurashtra, Gujarat."
"We enjoyed a lot at Nagoa beach, especially the children, who enjoyed the water sports activities."
Photograph: Kamaleshwar Thapliyal
This is what S Ramesh had to say about his favourite beach.
"We were a bunch of young bankers then (25 years ago)," he writes. "We'd always explore various places whenever we could."
And one such memorable visit was to Ganpatipule near Ratnagiri in Maharashtra.
"It was meant to be a three-night trip," he adds. "We travelled by a State Transport bus -- back then we didn't have the comfort of Volvo buses."
"We had pre-booked our stay in the MTDC Resort, which was the only lodging option available at Ganpatipule. It was an arduous 10 hour overnight journey and all we wanted to do on checking in at the MTDC cottage was to put our feet up and go to sleep. But gathering the will, we stepped out to the beach and were simply overwhelmed by what we saw."
"The expanse of the beach struck us like nothing we had ever seen before -- all in its pristine glory, with silver sand, and clear and calm water. One dip in the water and all our tiredness of the previous night in the rusty ST bus was a forgotten thing."
"We spent close to three hours in the water making merry, before we reluctantly left the beach to clean up and go for lunch at the MTDC restaurant (the only decent outlet then which was reasonably priced, with a courteous staff and a laid-back ambience)."
"Since it was an off-season visit, there were hardly any visitors in Ganpatipule. And it won't be much of an exaggeration if we said that we had the entire stretch of the beach to ourselves!"
"Over the next three days, it was a must to visit the beach, where we spent about three hours in the water every time. We were completely cut off from rest of the world (there were no mobiles, hence no Facebook, Twitter, WhatsApp, etc)."
"Once we returned to our sea-facing cottages, we were again left to ourselves, to unwind in the way we wanted. It was such a refreshing and rejuvenating three-day break.
"I am sure a lot must have changed since then and Ganpatipule would have been exploited commercially with its growing popularity. But for us, the beach would remain the cleanest one we ever visited."
Tell us! Which is the best Indian beach you have been to and why is it your favourite?
If you have photographs, please send us those as well. Mail us at getahead@rediff.co.in and we will feature the best features on Rediff.com
Don't forget to mention your NAME, AGE and the place where you LIVE. And make sure to include a small write-up of where you shot the photograph.