Lakshmi Sharath travels to Canada and returns with a bagful of memories (and this list)!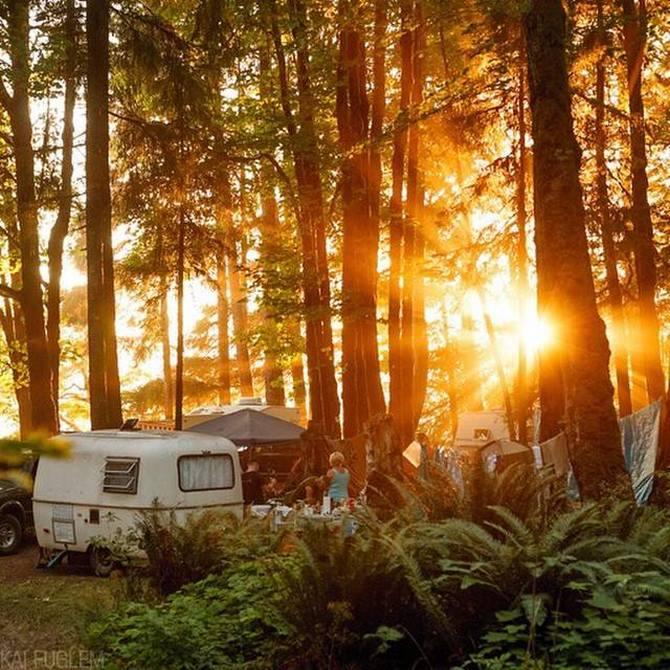 Would you like to cross a forest in a bridge built high up among trees?
Or fly a sea plane that takes you into the sky?
I would like to do both.
During my recent trip to British Columbia, Canada, I left the museums and the monuments and decided to spend most of my time outdoors -- that is, when we were not in a ferry or on road trips along the coastline.
Misty mountains took over as the skyline while the oceans and the forests begged for attention.
If you like the outdoors, then say hello to British Columbia in your next trip to Canada.
We visited Vancouver, Whistler and Victoria and the cities were brimming with adventure enthusiasts.
If you are headed there anytime soon, here are five experiences that you must not miss.
Photograph courtesy: Tourism British Columbia
1. Sway in a suspension bridge at 230 feet above the river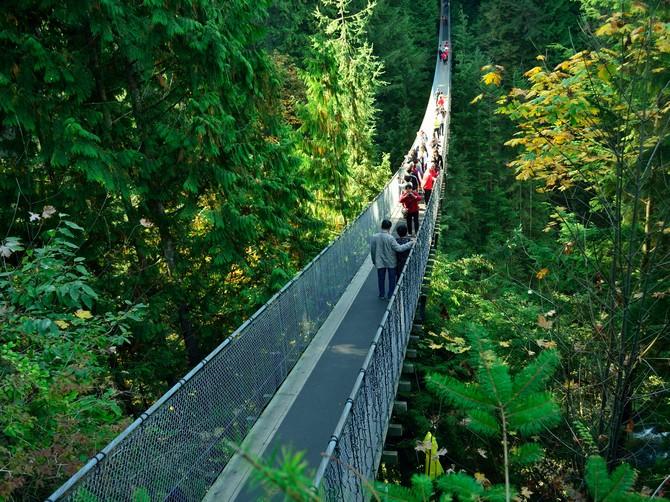 There is a river flowing below me brimming with salmon and a rainforest surrounding me.
It is dark and I am crossing the river in a suspension bridge swaying from right to left.
This is one of the oldest attractions in Vancouver called Capilano Suspension Bridge which is 450 feet long and 230 feet built high above the river.
Built in 1889 with just hemp ropes and cedar planks, the bridge is now replaced with wire cable. The views of the canyon is absolutely spectacular while the Capilano river flows mindlessly of its beauty.
The Capilano Suspension bridge leads me to a forest where another adventure awaits me.
Walking high up in the trees through seven footbridges suspended between old Douglas Fir trees, I am literally feeling on top of the world, 100 feet above the forest floor.
Treetops Adventures also include rain forest eco tours, birding and nature trails besides cultural events.
My last adventure for the day is the Cliff Walk where a series of narrow cantilevered and suspended walkaways take me through a cliff along the river and sometimes all that separates me from the canyon is a thick sheet of glass.
Photograph: Lakshmi Sharath
2. Kayak your way at Granville Island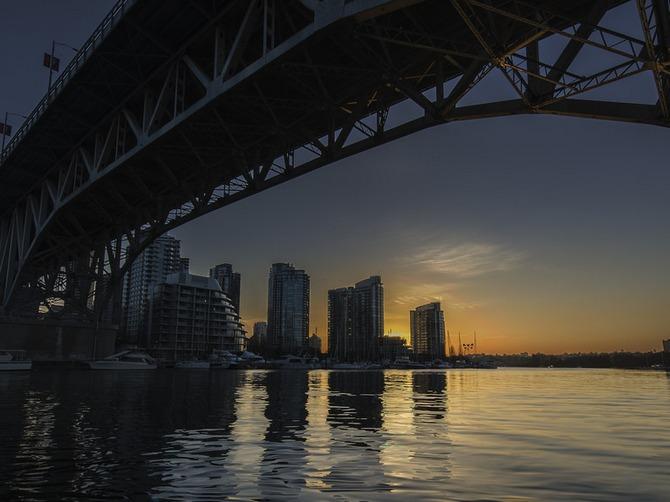 Vancouver is a sea port and everywhere I look around I see deep blue oceans surrounding me.
And the Canadians love the beaches and the water sports.
I see them on a yacht or in a kayak or a canoe sailing away.
So it goes without saying that it is an absolute must to try out water sports if you are here.
So we take a ferry, an Aquabus to Granville Island to try our hand at kayaking.
There is plenty of laughter as we rent the kayaks and head out towards False Creek The waters are placid and the instructors are fun and even though we bump into each other, fortunately we do not topple.
My arms ache as I learn the technique, pushing the waters away from me as I kayak my way around.
It is a new sense of high!
Photograph: Jerry Meaden/Creative Commons
3. Lose yourself looking for the Lost Lake in Whistler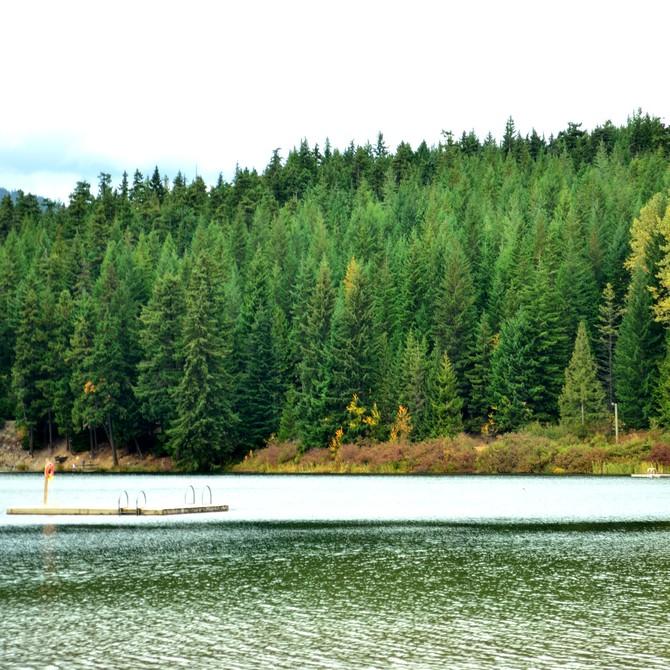 Whistler is British Columbia's premier winter destination with adventurers thronging the slopes of the Whistler and Blackcomb Mountains with their skies.
But in summer, the destination wears a new look.
It is lush and pleasant.
The woods invite you for trails and hikes.
There are several lakes in Whistler and I decide to go looking for the lost lake.
The trees converge around me as I realise I am now inside a dense forest.
Dry leaves are strewn on the ground and I can only hear their rustle.
I follow the path and lo, surrounded by mountains, with a sandy beach is a lake, lost to the world.
The Lost Lake may just be one of the many lakes in Whistler, but hiking along any of the trails in and around the town is an amazing experience.
Sometimes it is just you and the forests for company.
Photograph: Lakshmi Sharath
4. Biking in Whister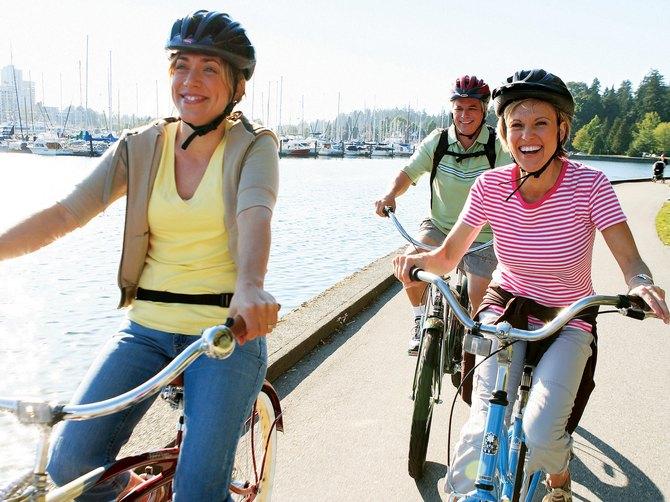 I am not too much into biking, but if you like the mountains and like a sense of adventure, then head to the Whistler Bike Park at Blackcomb Mountain.
There is a terrain for every level of rider from a beginner to a professional, from coastal forests to steep rock faces.
There is also an indoor training facility called the Air Dome.
However biking seems to be more of a way of life here.
Be it in Stanley lake or in the Village, I see bikers everywhere -- from young kids to families, biking along the woods, on trails, besides lakes or even training inside pits filled with graffiti.
Photograph Courtesy: Tourism British Columbia
5. Scandinave spa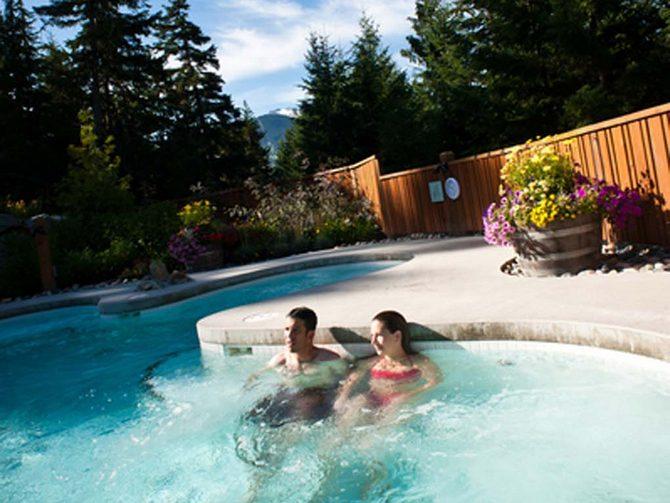 Not all outdoor activities are nerve wracking -- some are meant to soothe the nerves as well.
So here I am in a wooded grove called Spruce Grove that spreads over 20,000 sq feet, clad in a bathrobe and leaning in a hammock and gazing at the mountains and the cedars around.
After a tiring day of trekking and biking, the guide takes us to the Scandinave spa, which is inspired by the Nordic tradition of hydrotherapy.
I alternate between hot and cold pools -- plunging from one to another and then take some time off in a Finnish sauna and sweat out in the eucalyptus flavoured steam room.
The therapy is meant to purge the toxins off my body and I wake up from a little siesta at the terrace -- a new me!
Photograph Courtesy: Tourism British Columbia