'It is important that students not focus on the remuneration that the job fetches in the first year, but look at the next 5 year journey with that job role.'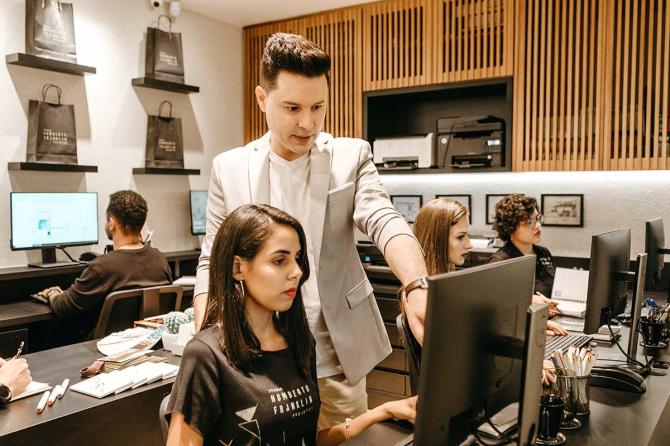 With millions of people losing jobs and livelihood in the pandemic, unemployment has remained one of the greatest challenges in India.
Even as young graduates continue to pursue their education and higher education abroad, one question always concerned parents and aspiring professionals: 'Will I get a job at the end of my course?'
A recent report by TeamLease EdTech, a leading learning solutions company, aims to provide some answers to this question.
According to the 'Career Outlook Report', based on inputs from 18 sectors and 14 cities, 17% employers in India are keen to hire fresh graduates.
Interestingly, India leads in the fresher's hiring sentiment among other nations. While the global average hovers around 6%, in India the sentiment is much stronger (17%).
"Employers have the appetite to pay a CTC starting Rs 2 lakhs per annum going right up to Rs 20 lakhs per annum for certain job roles," Shantanu Rooj, left,, founder and CEO, TeamLease Edtech tells Divya Nair/Rediff.com .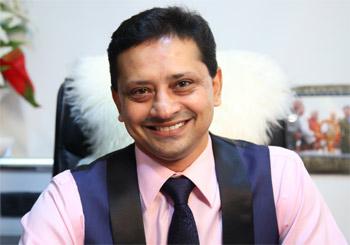 As per your report, as many as 17% Indian employers are keen to hire freshers. Do you see this as a positive trend?
The recovery in India has been much sharper that many other nations.
During the second wave of the pandemic, the massive lockdowns caused significant damage to organisations and their teams; companies lost a large number of their workforce.
However, the recovery in many sectors have been really sharp and companies are looking at strengthening their teams again to make the most of the growing demand.
The ensuing festival season also has added to the optimism. Moreover, there are several sectors that have benefited from the pandemic – technology, startups, e-commerce, edtech, healthcare etc have all seen an increase in demand for their services.
Most of these companies are looking at hiring fresh candidates (lateral hiring has its own constraints) and retraining them for new job roles. This is surely a positive for freshers hiring.
In your opinion, what sectors will be hiring freshers in 2021-22? Also, what job roles are these?
As per our study, sectors like e-commerce, IT, technology start-ups, logistics, telecom and healthcare are the front runners in hiring freshers.
We have seen a demand for traditional job roles like sales associates, logistics executives, full stack developers, health care assistants, telemarketing professionals and new age job roles like digital marketeer, data analysis, python programming, app developers etc
What are some of the skill sets employers will be looking for to hire graduates straight out of college?
Depending on the job role, employers are looking to hire candidates who are multi-skilled and can be deployed in various job roles.
However, domain skills in data analytics, customer service, data engineering, python programming, and statistics are in high demand.
On the other hand several job roles require the candidates to have finer soft skills like business communication, critical thinking, problem solving, growth mindset etc.
What can one do to stay ahead of the competition and improve one's chances of being noticed and hired?
Even though the sentiments are turning positive, there is cutting edge competition among job aspirants. It's important to stand out in the crowd.
Candidates must make up their mind about the industry they want to get into and ensure they skill themselves through relevant training programmes to pick up the necessary skills.
An internship/apprenticeship in the domain would help them immensely as they would be able to hone their skills through practical on-job learning.
What is the minimum and maximum remuneration freshers can expect in the current situation?
Salaries for freshers are based on several variables – the industry, job role, the city they work, the skills that can be demonstrated, on-job learning experience (internship/apprenticeship) etc.
Employers have the appetite to pay a CTC starting 2 lakhs per annum going right up to 20 lakhs per annum for certain job roles.
For a young graduate, what kind of additional skills or courses can add value and improve his/her chances at getting hired and promoted?
The additional skills depend on the industry and the job role that one selects to join. For example, someone interested in the role of an Online Merchant for the eCommerce industry can benefit from a Certificate Course in Google Ads whereas someone picking up the role of a Customer Support Executive for the Healthcare industry may undertake a Certificate course in Transformational Customer Experience Management.
A detailed list of such courses in included in the Career Outlook Report published by TeamLease Edtech.
How to pick the right first job?
It is important that the students do not focus on the remuneration that the job fetches in the first year only, but should look at the next 5 year journey with that job role. One should start travelling in the direction that leads them to their long term ambition.
Students graduating out of professional courses (medical, engineering, nursing etc) would be better off picking up a relevant job in their own domain. However students graduating out of non-professional programmes should pick up the job based on one's own ambition, skills and interests.
For instance, if someone is an introvert and not good at oral communication should abstain from the job of a telemarketer; similarly, someone who is good with negotiation skills should think of sales roles.
Your tips on how to write a good CV -- what to include, what to avoid?
The CVs of freshers must be simple yet informative.
One must ensure that there are no spelling mistakes, grammatical errors or factual error. This signifies the seriousness of the candidate for the job that he/she is applying for).
Apart from the basic details and educational qualifications, one should include a short para about each of the internship that one has taken and the lessons learnt -- this shows the ability to persevere and also indicates higher learnability.
One should also include all the additional courses that one has taken that are aligned to the job role. For example, a certificate in dance may not add value if you are applying for a data engineering role.
How to crack virtual interviews?
Do your research on the company and the job role and go informed.
Dress like the other employees in the company -- do not go in torn jeans in an organisation where people generally wear formals.
Remain attentive and focused during the interview.
Support your answers with real life examples where the competency was demonstrated.
The interviewer wants to know what value can you add to the organisation - Go prepared
Your advice to the graduating class of 2022
These are challenging times and one has to be really on their toes to be successful.
Keep adding weight to your CV -- additional relevant programs, on-job learning experience, live practical projects would all help.
One should also try and network with as many industry professionals as possible – social media platforms like LinkedIn are quite helpful.