A teenager's nifty solution to a problem has been developed into an app which launched July 18.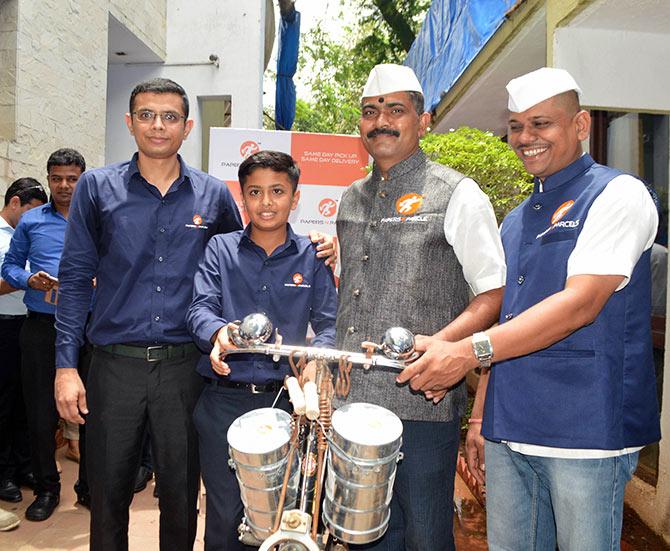 A simple idea can change the world.
For Tilak Mehta, 13, the idea sprung from helplessness.
"Last year, I forgot my books at my uncle's place in Borivali (north Mumbai). When I wanted them, there was no one who could send them to me from Borivali to Ghatkopar (north east Mumbai) on the same day," says Tilak.
"The earliest I could get them delivered was the following day. And they (delivery costs) were expensive," Tilak adds.
That is then Tilak had his Eureka moment: What if there was a facility that could ship items within the city at minimum cost?
Months later, Tilak is ready with Paper N Parcels, an app that aims to deliver non-perishable items -- under 3 kg -- within Mumbai for a minimum cost of Rs 40.
The teenager, a student of Class 8 at the Garodia International School, Ghatkopar, won the young entrepreneur title at the India Maritime Awards 2018, that honours trade achievement.
Tilak has a twin Tanvi and lives with his parents Vishal and Kajal Mehta in Ghatkopar.
Tilak describes to Rediff.com's Divya Nair how he created the app and his ambitious plans.
Tell us about the app. How did you build it?
As we are moving towards technology, everything is going digital.
The yellow-and-black taxis have moved to Ola, Uber. I thought it would be nice if courier services could be digital too.
In July 2017, I discussed the idea with my father who runs a logistics firm. We did some market research, spoke to a few people and (got) their feedback.
We found that a courier is a need-based service. There are five lakh (500,000) parcels being delivered in a day within Mumbai.
There are over 1,000 dabbawallas in our city who are delivering food. And there are multiple service providers in the courier industry.
Our idea was to bring these service providers together and provide logistics to digitise the service.
Since I can't code or write programmes, we hired an engineer who could build an app.
We named it Paper N Parcels.
During my holidays, I spent 15 days with the dabbawalas of Mumbai understanding their network, routine and how they function.
I was told that dabbawallas function around an old concept and may not be comfortable using technology.
When I discussed the app and its technology with them, they were excited to be a part of (the process). They were open-minded and ready to adapt.
We hired (banker) Ghanshyam Parekh, who quit his job to be our CEO.
We employed 200 people and did a trial run on January 31, 2018.
On May 20, 2018, we did a soft launch to ensure it worked fine.
Currently we have 10,000 registered users which include corporate (organisations). We hope to sign up more.
So how does the app work?
The app is currently available on Android and iOS. You can download the app and book a courier within city limits.
You need not go anywhere. Once a request is placed, the service provider will come and collect it from your home.
You will receive a notification on your phone when the parcel is collected. You can track it.
Your parcel has to be non-perishable and should weigh less than 3 kg. You can't send cakes or things that will melt or perish along the way.
The best part is if you book it before 3 pm, your courier will be delivered the same day before 7 pm.
The minimum price is fixed at Rs 40, the maximum is Rs 180 (for a parcel weighing 3 kg).
Besides technology, what are your other interests?
I like reading comic books. Diary of a Wimpy Kid is a favourite. I also like watching soccer on television.
Who inspires you?
I enjoyed reading about Steve Jobs. He dropped out of school, but went on to start a company that is so successful. I am also inspired by Mukesh Ambani.
What are your plans?
I have been invited to speak at two universities -- Ganpat University (in Kherwa, Rajasthan) and P P Savani (Surat).
My dream is to make this app and our services available throughout the length and breadth of the country.
If it goes pan-India, we will be able to hire more people and give them jobs.
I want to explore more ideas that can help solve problems.
I hope my story will inspire young people to share their ideas and build things.
No idea is too small.
Nothing is impossible.