Lilly Singh, the comedian and vlogger, shares some life lessons in her new book.
She's 28.
She's sexy and witty.
She's outspoken and thinks 'bras are horrible'.
Meet Indo-Canadian Lilly Singh, better known by her YouTube username 'Superwoman'.
Lilly, who is best known for creating uplifting comic videos on YouTube, holds a degree in psychology, is an activist for gender equality, is an occasional rapper and is now an author.
Here comes the BOSS, Lilly Singh.
Photograph: Kind courtesy Lilly Singh/Instagram
Lilly started creating YouTube videos as a way to deal with depression.
In 2010, she launched her Superwoman channel. Seven years later, she has over 10 million subscribers and over 1.5 billion views.
Last year, she was the highest-paid lady on YouTube, earning $7.5 million.
Lilly, who has appeared in videos with Michelle Obama, recently launched her book How to Be a Bawse -- A Guide to Conquering Life.
How to Be a Bawse accumulates lessons Lilly has learned in life and Anita Aikara picks Lilly's 10 best pieces of advice.
1. Be unapologetically yourself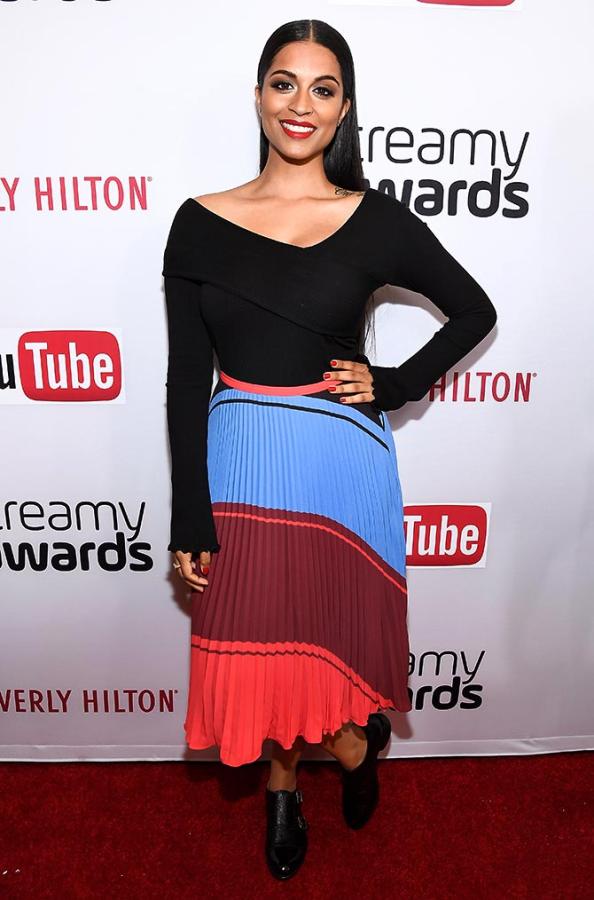 IMAGE: One look at Lilly Singh and you'll know what it means to be 'unapologetically yourself'. Photograph: Frazer Harrison/Getty Images
Even when it comes to fashion, she doesn't try to fit in and owns her dressing style.
'When I make a speech, I wear high heels, a power suit and eye shadow,' she writes.
'Then I get backstage to my dressing room, put on my unicorn slippers, tie my hair like a horn on the front of my forehead and gallop around while making pig noises.'
'If someone asks me what I'm doing, I will respond only in the tone of a dramatic opera singer.'
'That's the weirdo I am and I'm proud of it,' says Lilly.
2. Don't (just) survive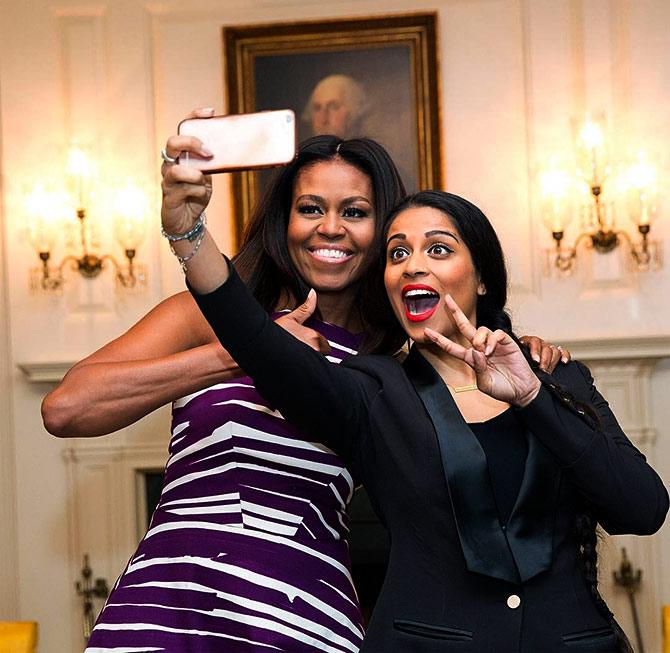 IMAGE: Lilly with Michelle O. She has appeared in videos with the former US First Lady.
All photographs: Kind courtesy Lily Singh/Instagram
This is probably the best advice we got from her book:
'Don't just try to pass your classes; try to ace them...'
'Don't just aim to pay your bills; save enough to travel...'
'I don't want you to write a script just to see a movie get made; I want you to win an Oscar....'
'That's the difference between settling like a survivor and conquering like a Bawse :)'
Lilly doesn't believe in just surviving, but lives every moment to the fullest -- her Instagram feeds are a proof of her happy go lucky nature.
3. You're an investment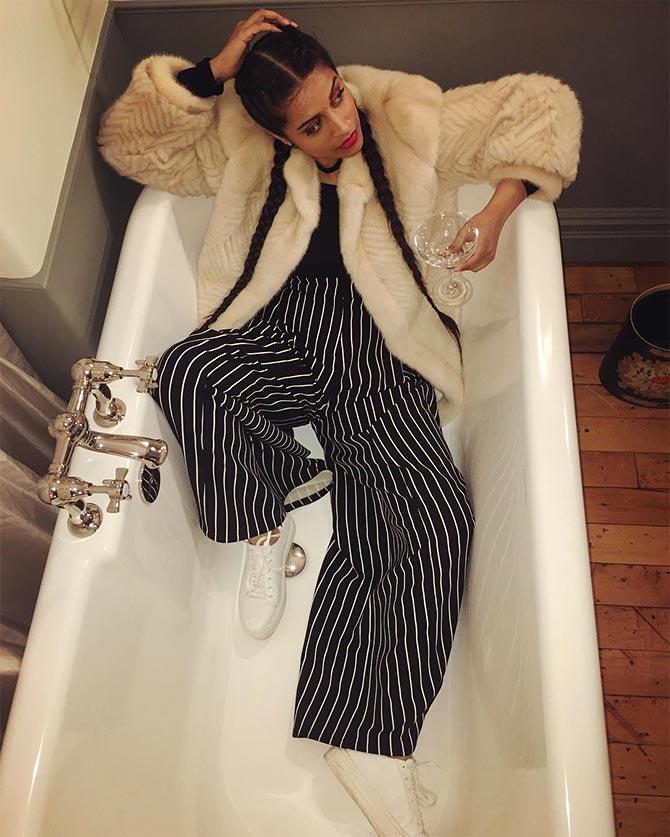 IMAGE: 'My favourite thing to do is walk into a room full of suits and tell them how I'm going to disrupt everything,' Lilly posted on Instagram.
'No one should ever make or break you,' she says. 'Every day we wake up and have 24 hours to conquer life.'
'In this time, the world may throw obstacles on your path or it may clear the way.'
'People may support you or they may try to knock you down.'
'The clouds might rain on you or the sun may shine.'
'The good news is that you are a resilient Bawse that cannot be made or broken by a single thing.'
'You are stronger than that. Don't fool yourself into thinking that your day controls you.'
'You control your day. You have 24 hours. What will you do with it?'
4. Get uncomfortable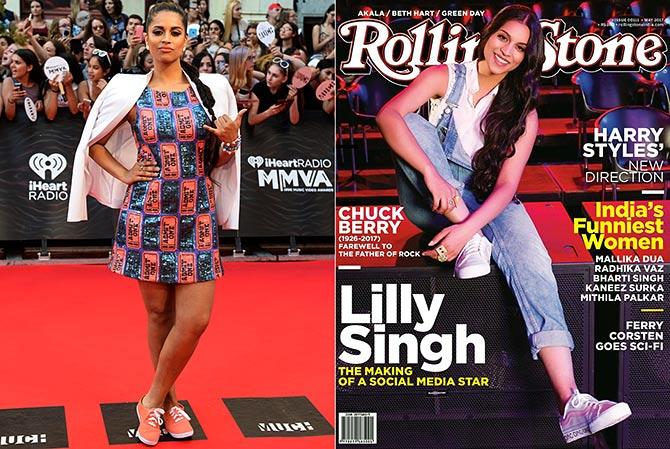 IMAGE: Imagine walking the red carpet in a pair of sneakers... Or featuring on the cover of a magazine in sneakers...
Dread doing something like that? Take a cue from Lilly.
In her book, she states that 'Everything one wants is just outside your comfort zone.'
'So you have to seek out situations that make you uncomfortable and throw yourself into them.'
How you do it? 'Think of discomfort as a currency -- it's the price you pay to learn some pretty crucial things' says the superwoman.
#5. Don't overthink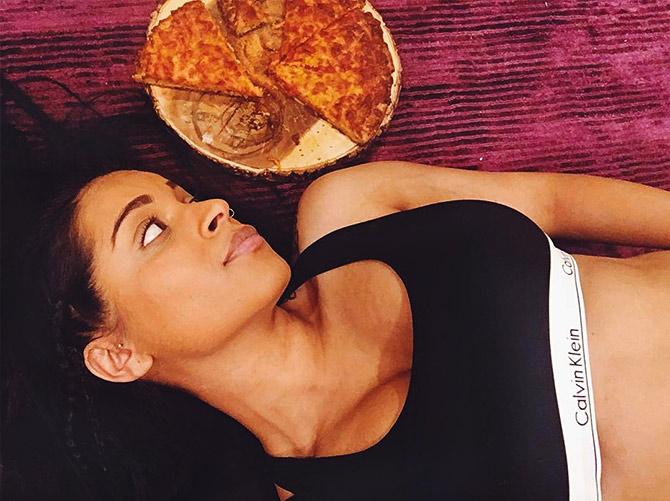 IMAGE: Be it eating, working hard at the gym, taking some big financial risks or even when deciding on settling down with your partner, people tend to overthink. But that's not the best way to deal with situations, says Lilly in her book.
'The next time you find yourself going around in circles, ask yourself: Are you a Ferris Wheel? What about a merry-go-round?'
'Step out of the complicated maze you've created and make some tough decisions.'
'Things can be simple when you take a step back.'
6. Pause
IMAGE: Learn to pause in life because 'the play hard doesn't feel good if you don't work hard' and vice versa, says Lilly.
'Wake up. Hustle relentlessly. Sleep. Repeat. And every once in a while, treat yourself to some play time.'
'Above all, be grateful and humble throughout the journey,' Lilly advises followers on Instagram.
7. You are not a parking ticket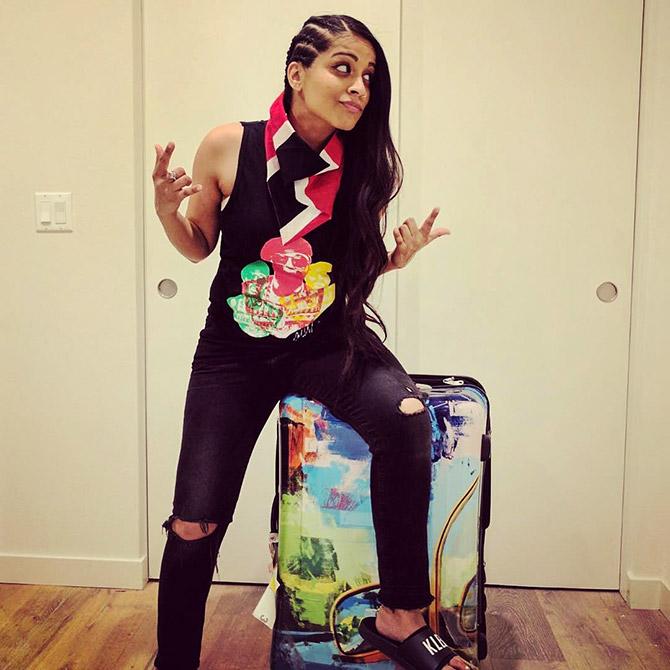 IMAGE: Wonder what that means?
Well, it is just a way to say the 'you're special'.
For those who are clueless why they are special, Lilly has the answer: 'You're special because you are a unique individual possessing a set of characteristics that no one else in the world has.'
8. Promote what you love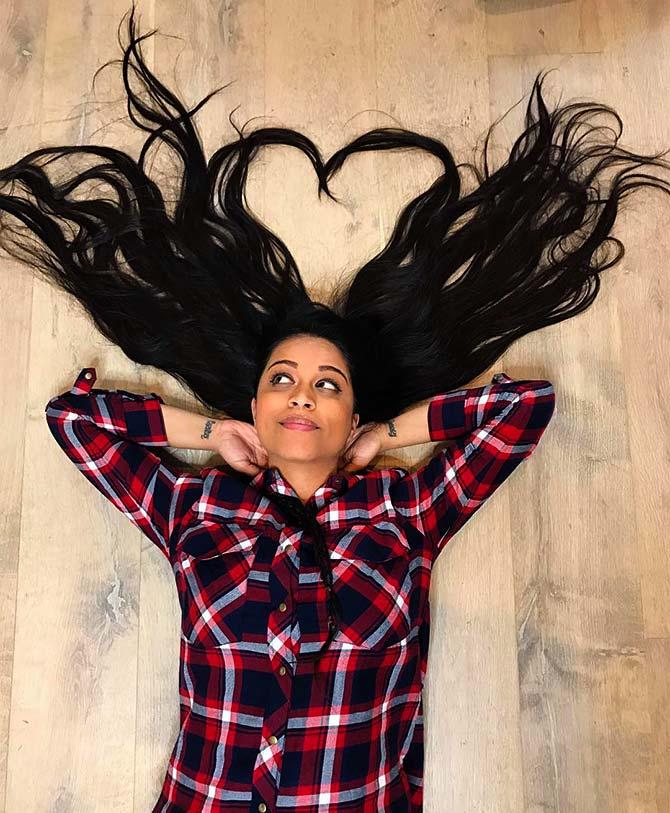 IMAGE: Goofy and lighthearted with a serious passion to help human beings, Lilly has earned her millions promoting what she loves the most, dancing and talking to her webcam.
Who would have thought that you could actually step into the millionaire's club just doing that all day!
Back then when she was completing her undergraduate degree in psychology, Lilly got hooked to YouTube and the love she received online prompted her to chose an untraditional career path.
9. Appreciate things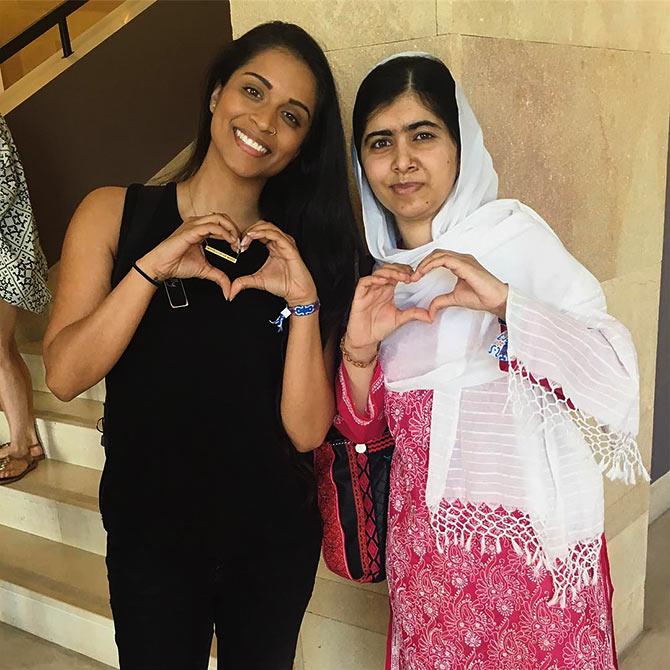 IMAGE: Lilly with Malala Yousafzai, the youngest-ever Nobel Laureate.
Lilly has helped 600 girls in Kenya gain access to education through the sales of her bracelets, Girl Love Rafikis, which helps send girls to school.
There are communities in Kenya where girls cannot go to school because their duty of fetching water for their home takes an entire day!
Many of their parents cannot afford to send them to school.
Through her efforts, Lilly has impacted 600 girls who will live to their fullest potential and become a beacon in their communities.
10. Be nice to people
IMAGE: This pic speaks a million words :)
'Create the future you want to create. Yes, our children need to be strong, but not just to withstand cruelty, but to overcome and change it.'
'Not being nice is like poisoning yourself with bad vibes,' Lily says.