From accounting to the ramp: Divya Jadhav is one of the new faces at the coming Lakme Fashion Week Summer/Resort 2017.
Divya Jadhav would have well spent a life juggling numbers had the modelling bug not bitten her.
The 'skinny' new face from Mumbai, who has had no connection with the fashion or entertainment industry, will walk the ramp for the first time at the Lakme Fashion Week Summer/Resort 2017 commencing February 1.
The newcomer tells Rediff.com's Anita Aikara about her preparations, diet and fitness regime for LFW.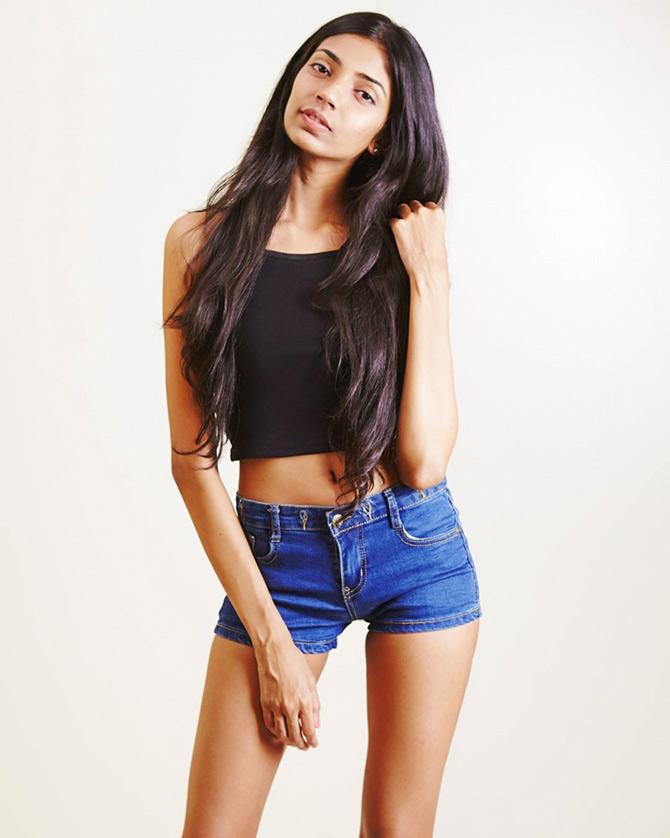 Photograph: Kind courtesy Divya Jadhav/Instagram
Age: 21
Height: 5' 7"
Weight: 47 kg
Hometown: Mumbai
Background
After graduating in 2016, I started pursuing chartered accountancy.
I participated in Elite Model Look 2016 and made it to the Top 9 finalists. It was a life changing experience.
Since then, things are falling into place. I've been trying my best to learn as much as I can and working each day towards becoming a better model.
Preparations for LFW
I believe that all good things come with great preparation.
So, I am taking care of everything from workout and diet to hair and skin.
I keep myself updated about the designers, models and various artists with whom I may be interacting at LFW.
Since I'm on the skinnier side and trying to gain a few kilos, my workout regime isn't intense as such.
One hour of yoga and muscle gaining workout is sufficient.
My diet consists of fruit and vegetable juices.
For lunch and dinner, I eat food that has high protein and fiber content.
Banana milkshake is something that I incorporate in my daily diet as I'm trying to gain weight.
Besides that, I have dry fruits and oats and drink enough water to remain hydrated and eat as healthy as I can.
It's my first time at LFW and it is a huge responsibility, so there is pressure.
The only way to deal with the pressure is to stay calm, work on myself, follow my diet and exercise religiously.
I want to make most of the opportunity given to me.
A dream come true
What helped me win the model auditions was my confidence, self-belief and passion for modelling.
It helped me transcend my fears and deliver my best.
Walking for the Lakme Fashion Week is like a dream come true.
I expect to learn much more about modelling and fashion as I'll be getting a chance to work with the finest people in the industry.
It is definitely going to give a big boost to my career.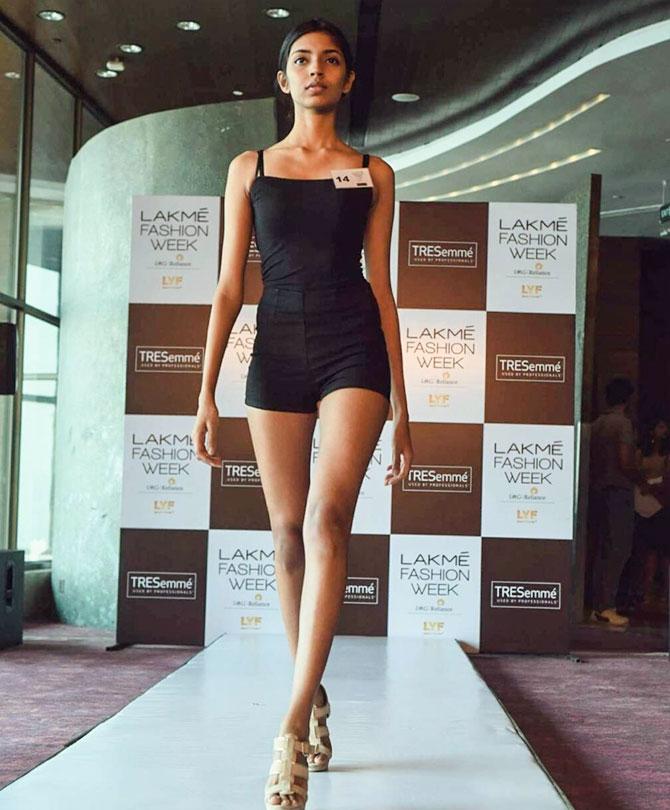 IMAGE: Divya walks the ramp at the Lakme Fashion Week Summer/Resort 2017 model auditions.
Photograph: Kind courtesy Lakme Fashion Week
The best and worst thing about being a model
The best thing about being a model is that it helps to bring out your individualistic personality, your confidence and style.
It demands a lot of hard work and discipline, which eventually helps you lead a better and healthier life.
Frankly, I don't see any downside to it.
Designers you'd like to walk for at LFW
Walking for any designer at LFW is a matter of great esteem and prestige.
Personally, I'm an admirer of Indian wear, so I would really want to walk for fashion designers like Sabyasachi Mukherjee and Manish Malhotra.
Advice to aspiring models
The most important thing is to be comfortable in your own skin -- it helps one to be confident and positive.
Keep enriching yourself by learning about the various designers, models, fashion shows, agencies all over the world.
Besides that, eat clean, remain healthy and fit.
These small things eventually play a huge role in the long run.
Also be insanely crazy about your dreams and chase them relentlessly!