A group of high-powered individuals led by Anand Mahindra have come together to set up Krea university.
The campus is expected to be ready by 2019 and the first batch of 100 to 125 students will commence classes in August next year.
Anjuli Bhargava reports.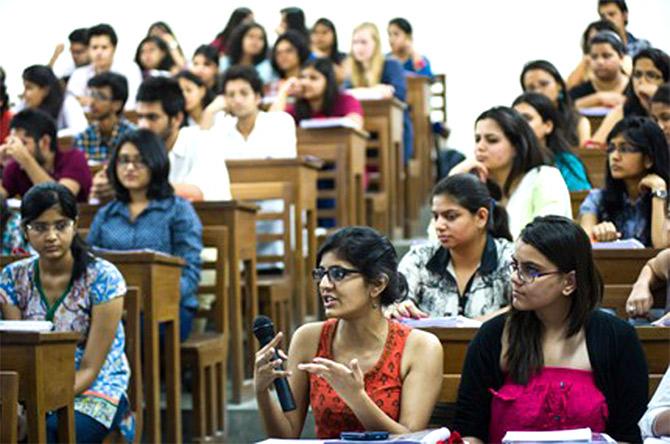 In what can be described as good news for Indian students and parents, a group led by former ICICI head N Vaghul and former Ashok Leyland chief R Seshasayee has come together to set up what is loosely described as a 'liberal arts' university (though it also offers a degree in the sciences) close to Chennai.
The project sets a benchmark in terms of ambition. It seeks to create a cohort of students who will find 'Indian solutions to global problems' by interweaving disciplines and blending learning between the sciences and the arts.
While hundreds of elementary and secondary schools have come up in the country over the past few years, including those offering an international curriculum, India has failed to add quality universities at this pace.
A lack of seats at quality institutions has forced an increasing number of Indian children to search for options abroad. Earlier, many went for a master's degree; now, large numbers leave for even undergraduate studies.
Further, there is the recognition that many do not know precisely what to study or what career path they should opt for at the age of 18.
This has made parents aware of the value of an education that allows for flexibility and enables students to take a call about their deeper interests at a stage when they are more mature to do so.
These two factors have led to a number of Indian liberal arts courses offered by new private universities. These include Ashoka, the Jindal School of Liberal Arts, Flame and the Symbiosis School of Liberal Arts.
Now, a group of high-powered individuals have come together to set up a university named Krea -- it means creativity in English and action orientation in Sanskrit -- at Sri City in Andhra Pradesh (very close to the Tamil Nadu border), where they have been given a grant of 200 acres by the developer of Sri City.
The upcoming campus is expected to be ready by 2019 and the first batch of 100 to 125 students will commence classes in August next year.
An initial corpus of Rs 7.5 billion has been raised for the university's construction and launch.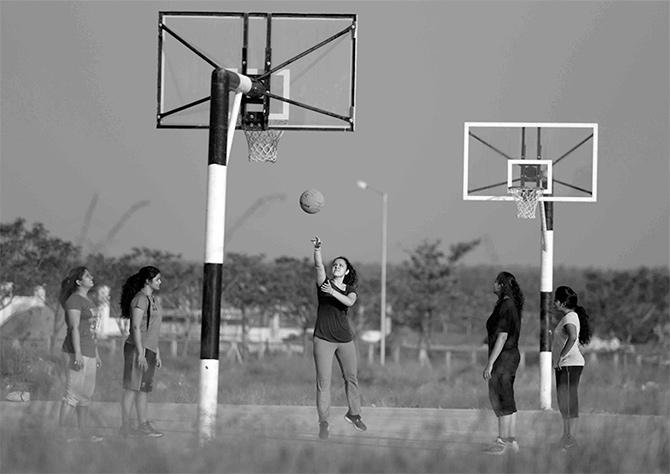 Kapil Vishwanathan, vice-chairman of the executive committee and spokesperson for Krea, says the project takes a clean slate approach to what an undergraduate education should be and wants to create a "paradigm" to prepare students of today for the world they will find themselves in.
Those involved in the project are not convinced that such a 'paradigm' currently exists globally.
The idea is not to take a tried and tested Western or Indian model and replicate it, but to try something original.
The idea is to create 'thinking individuals' who can understand the human-human interaction, the human-machine interaction, and the human-nature interaction and proceed to solve major problems facing humanity.
Vishwanathan adds they are realistic and do not expect to get what they are aiming for in the next five or even 10 years; they recognise that great institutions are not built overnight.
The university will offer two programmes: One, a bachelor's degree with a focus on history, political science, economics and literature; and two, a bachelor in science degree with a focus on life sciences, computer science and environmental studies.
The curriculum has been 're-imagined' by the academic council, comprised notable names including Princeton University mathematician Dr Manjul Bhargava, former RBI governor Dr Raghuram Rajan, renowned musician T M Krishna, and IIT Professor Gaurav Raina.
The governing council reads like a carefully picked Who's Who of Indian business and has Anu Aga, chairperson, Teach For India, lawyer Cyril Shroff, businessmen Anand Mahindra and Sajjan Jindal.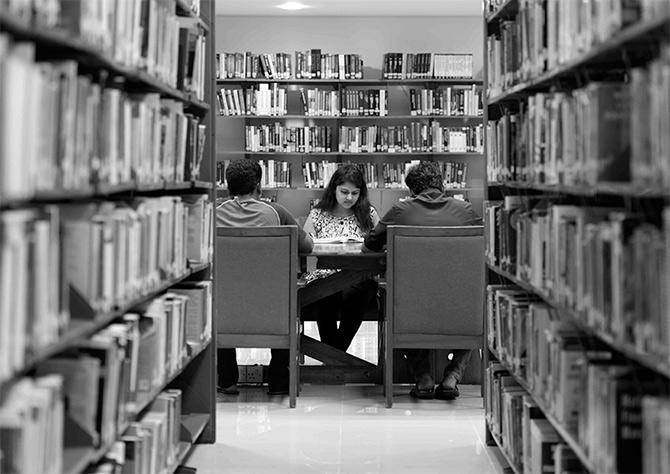 What is the main ingredient required to make any such initiative successful? Faculty.
No matter which university one speaks to, the biggest struggle for all vice-chancellors across India is faculty.
Krea VC Sundar Ramaswamy, 53, says his biggest challenge is no different -- finding the right people to build the institution with him.
The initial dedicated cohort will be 10 to 12 people, going up to around 30 by the end of year two. MBA institutions, he says, can be built with "parachuting" faculty, but an undergraduate institution needs its own dedicated cohort, especially in the building phase.
He is currently in conversation with around 60 faculty members in India and abroad who are considering lending their time.
Salary packages will match the best in the business. A porous boundary is envisaged between the real world and the classroom, so he is in conversation with professionals who might be willing to take a class or two each semester.
Pramath Sinha, founding dean of the Indian School of Business and a founder of Ashoka University, says India can do with "1,000 Ashokas and Kreas". He too says faculty remains the biggest challenge, but "Krea has the right governance model, one of the main ingredients required for success".
While Krea might express it differently from an Ashoka, Sinha adds a common goal drives all -- namely, figuring how best to prepare students for the coming world.
"While it is difficult to predict in the future what professions and skills to educate somebody in, everyone agrees that one needs to produce critical thinkers, problem solvers, communicators. People who are adaptable and can reskill themselves," he says.
Will the students who emerge from Krea actually offer unique solutions to the myriad global problems? Too early to answer but an attempt is on.
'We have to make education relevant'
R Seshasayee -- vice-chairman of the executive committee for Krea, former Ashok Leyland executive vice-chairman and ex-Infosys chairman -- discussed the thinking behind the project with Anjuli Bhargava:
What is the thinking on higher education that binds the governing council?
If we believe India has, or has to, have a role to play in addressing global issues, then it is important that we prepare the next generation so that they are capable of addressing those issues.
We have enough institutes of technology in striking distance of being global benchmarks, but we have lagged in the areas of arts and science.
Pure arts has not been the choice of bright youngsters and, somehow, the curriculum built around the arts has had traditional patterns and not really had a break from the past.
We decided to go in for something that is a global benchmark.
We are all convinced, based on our real life experience, of two things.
In the real life world, we are not solving any problem by bringing in an expert of one branch of knowledge.
We don't solve the water, pollution or energy problems through a uni-dimensional approach. Working in silos doesn't work.
One could argue that one can leave students to make their way, as you or anyone else on your governing council did, through real-life learning and experience...
Then, we would have to conclude that university education is really of no relevance. Let everyone learn the hard way, so to speak.
But that would be a negation of the importance of education.
This really brings us to the crux -- that we have not had the right education.
If we had, we would not have just 100 or 200 people using their learning to solve problems; this number would be in millions.
You can't negate the relevance of education. We have to make education relevant.
Second, let's adopt a problem solving approach. There are two ways of learning economics.
One way is to learn the theory of demand and supply and some good institutions even offer application-based problems that can help a student apply what he has learnt while solving a theoretical problem.
The other way of learning economics is to say these are the 10 macroeconomic problems the country is facing and these are what we need to solve.
And, therefore, we can work backwards and see what kind of knowledge we need to solve such problems.
What do we need to know, how do we process this knowledge, what are the technology tools we need to process this knowledge and, finally, look at the ethical, social and economic dimensions of the possible choices for solving the problem.
This will be a different approach. We found this is being talked about by some universities, but is not in practice at most.
Give me an example, so that readers can follow what you mean.
If you are teaching history, not looking at who ruled when and for how long but, say, looking at communal harmony, the periods where it has flourished and when has it not, and what are the variables that contributed to it.
Learning in the context of problem solving using technology tools, which were not available in the past and which enable faster and deeper analysis and solutions.
The novelty and relevance of this idea is what has brought us all, and is bringing more and more people, together.
We are all learning along the way.
It is, of course, a challenge to find quality people to deliver this. But it will happen. I am confident that if we get the right people, it can be done.
I know people like you work almost 14 hours a day. Given all your commitments, how involved are you in Krea?
I am not merely knee-deep, but somewhere between waist and neck (laughs). That's how deep I am.
If you have a passion, you make time for it. This is also one of my learnings in life.
We are all very involved. Raghu (Former RBI governor Raghuram Rajan) makes a lot of time for this.
(Former banker N) Vaghul jumps onto flights regularly to meet possible evangelists and donors.
Vaghul and I have created institutions in the past and, at our stage, we want to create an institution of relevance to the society.
We will give what it takes.