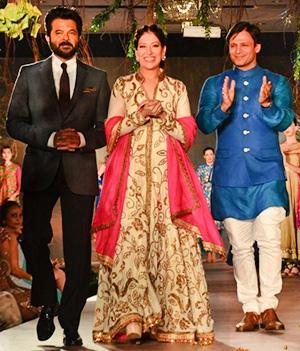 How a designer is using fashion to help cancer patients.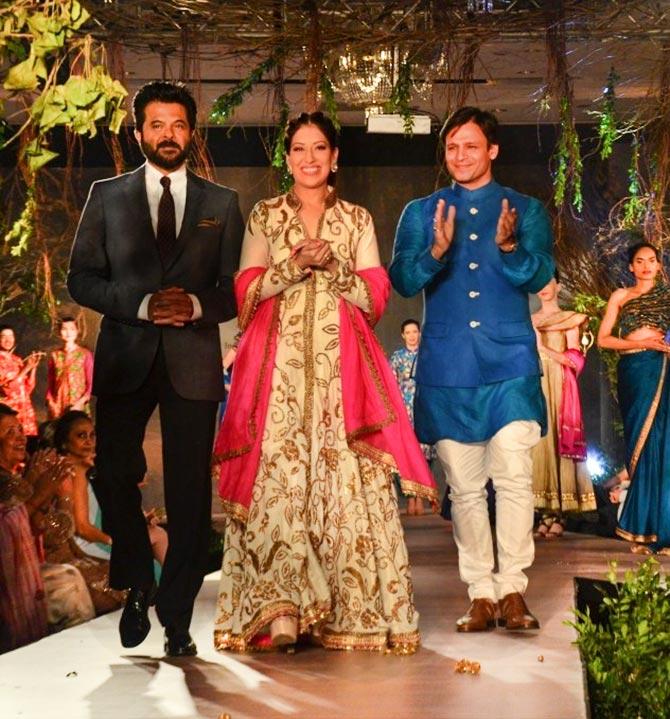 IMAGE: Designer Maheka Mirpuri flanked by showstoppers Anil Kapoor and Vivek Oberoi at her 2015 charity gala and fundraiser, CanSurvive. All Photographs: Kind Courtesy Maheka Mirpuri
How can a fashion designer impact the lives of people affected by cancer? This was the question that lingered in my head until I met designer Maheka Mirpuri, says Rediff.com's Anita Aikara.
The Mumbai designer, who has worked in fashion for more than 20 years now, has been transforming the lives of people suffering from head and neck cancer in a special way.
She has so far raised Rs 2.33 crores (Rs 23.3 million) through her charity in the last four years.
'I put together my wedding trousseau'
"Fashion is something I've always enjoyed. Dressing up and clothes has always been my thing! Who would ever get bored of doing something they like?" she laughs.
Maheka's fashion journey started young, but it took shape after marriage.
"I was so passionate about the craft that I ended up putting together my wedding trousseau!"
Compliments started pouring in and what started off as a passion turned into a full-fledged career for Maheka. "It was like putting my dreams into reality," she says.
Initially, Maheka used to display her creations at home. But with time, she started conducting exhibitions on a small scale.
Later, when she realised that her clientele had grown 'over and beyond', she opened her store, which then became a brand, one that many celebs reckon with.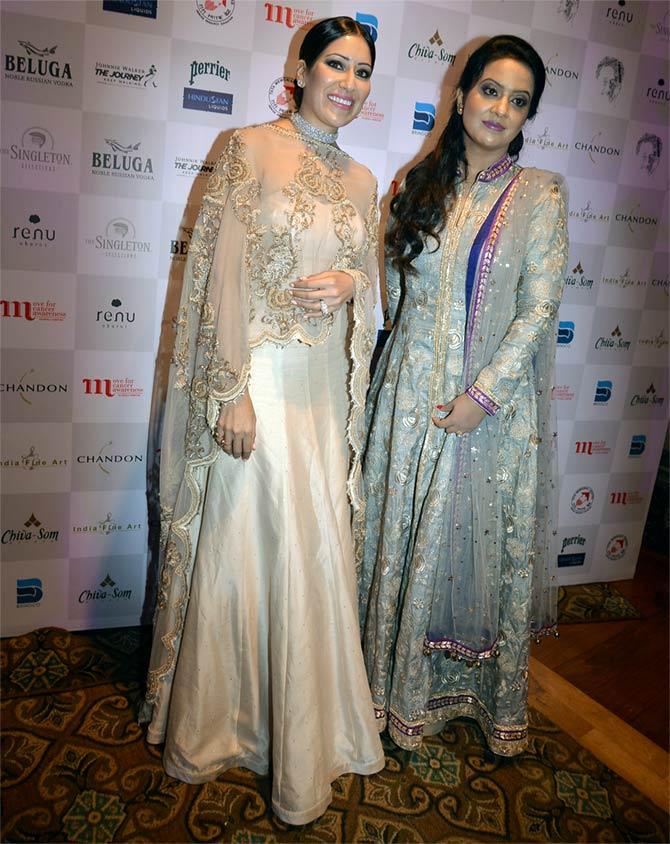 IMAGE: Maheka with banker Amruta Fadnavis, whose husband Devendra is Maharashtra's chief minister.
It worked in the reverse fashion for Maheka, who first established herself in the industry and later enrolled for a course just to get the basic structure of how to do cutting!
"Fashion cannot be taught," the designer insists. "The technical aspects can be taught, but you can't teach a person how to dress, can you?"
"I did a course to get the technicalities right. I think learning is never a waste in life. You learn things and acquire more knowledge, which comes handy at some time in life," she says.
"You grow (in life and in your career) and learn from your own experiences."
"I once did a collection about a bird. A lot of craftmanship went into the look and I loved it. But then how many people would wear a bird blouse? Maybe one or two...eventually you have to see the practicality of what one likes."
There is an honesty in Maheka's voice, which translates to her work.
She admits that her biggest achievement till date is not the awards she has won or the accolades she has received. But the simple fact that "there's not a single client in my 20-year career who has not returned to me. There has never been a stress value of somebody about not liking or returning the clothes."
WATCH: Maheka Mirpuri's top picks for a sangeet ceremony
"Today a client comes to my store s/he doesn't need to buy anything ready. I can create it for her/him according to their choice. That adds an element of exclusivity."
"I try to portray my character in my clothing. Comfort is really important because if you're not comfortable in a piece of clothing, you'll not wear it."
Maheka started with shows at the Lakme Fashion Week. Today, she does standalone shows, year after year, where she has select clientele attending it.
Talking about her recent show, Ode to India, she says, "In India, we have got so much culture and diversity. I have tried to implement those aspects in my collection in terms of regality, colour, style and textures."
"I have tried to tweak the outfits to modern India and bring about a twist of the old and new. I have reinvented bandani work and used colours like deep pinks, ochre and burnt oranges, which are considered very auspicious for weddings."
Awareness for cancer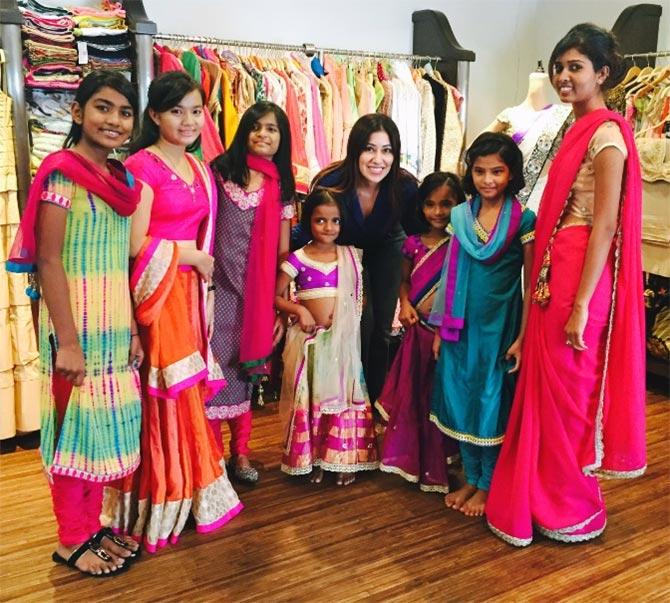 IMAGE: Maheka with underprivileged children at her boutique.
The designer has a charity foundation, the Move for Cancer Awareness by Maheka Mirpuri (MCan), which is in its fourth year, working with the Tata Memorial Cancer Hospital.
The foundation provides financial assistance for the underprivileged towards the treatment of cancer as a whole and head and neck cancer in particular. Along with raising money for the underprivileged, the foundation also works at raising awareness about the disease.
Maheka lost her brother-in-law and her father in the same year to cancer.
"My brother-in-law was very young, he was 42. I was very close to him. Our whole life shifted, the gears shifted, the mood shifted. I shifted to Hyderabad as my sister lived there. We were all together in the time of need."
"I lost my father in six months and I told myself I'm going to do whatever I can to raise as much funds as possible for the underprivileged who need it."
"Having someone you look up to and love so much go away was very tough. I realised at that point, that financial support is one thing, but you need emotional support too! There are so many people out there who don't get either. There are people who need so much more."
Maheka went to the Tata hospital in 2013, met the hospital director and said to him, 'This is my personal loss and I want to help the people who have been affected by cancer and need the funds for it.'
Every year, Maheka organises an annual charity gala and fundraiser, where people can donate and raise money through a live auction of art, jewellery, travel destinations and Maheka's own clothing line, which is up for bidding.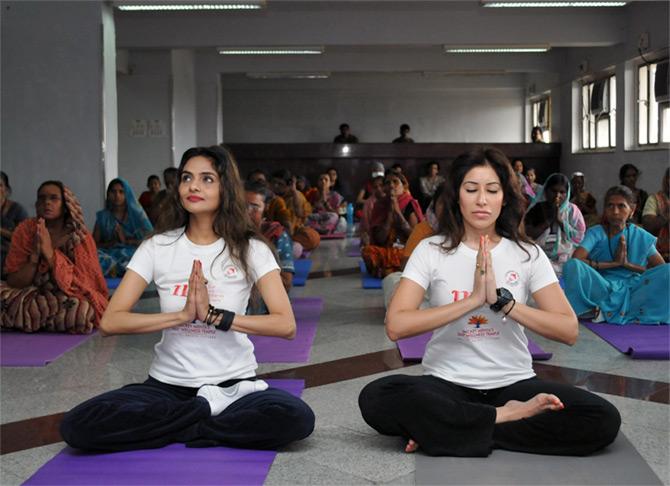 IMAGE: Maheka and actress Madhoo, left, take a yoga session with cancer patients.
Maheka also does a fashion show and whatever money is raised through the annual charity fundraiser goes directly to the hospital for the treatment of head and neck cancer patients.
In 2013, when Maheka's charity gala and fundraiser was in its first year, Bollywood actress Manisha Koirala walked the ramp for the designer. Since then celebs like Kunal Kapoor, Soha Ali Khan, Vivek Oberoi, Anil Kapoor and Amruta Fadnavis among others have walked for MCan.
"I strongly feel it is a very common thing among the youth to smoke. Throat cancer is the second most common disease and in the lower strata (of Indian society) there is a lot of tobacco misuse. That's why I took up this cause and (I) hope to spread more awareness."
Having raised Rs 2.33 crores, Maheka feels her contribution is "a drop in the ocean as the line of poverty is so vast."
"I urge my friends to give back in some way, because together it will all add up and make a huge difference."