'In India, we have a strange affinity towards recycling gifts.'
'The idea of a gift registry is to help people give the gifts the receiver would like rather than palming off unwanted gifts.'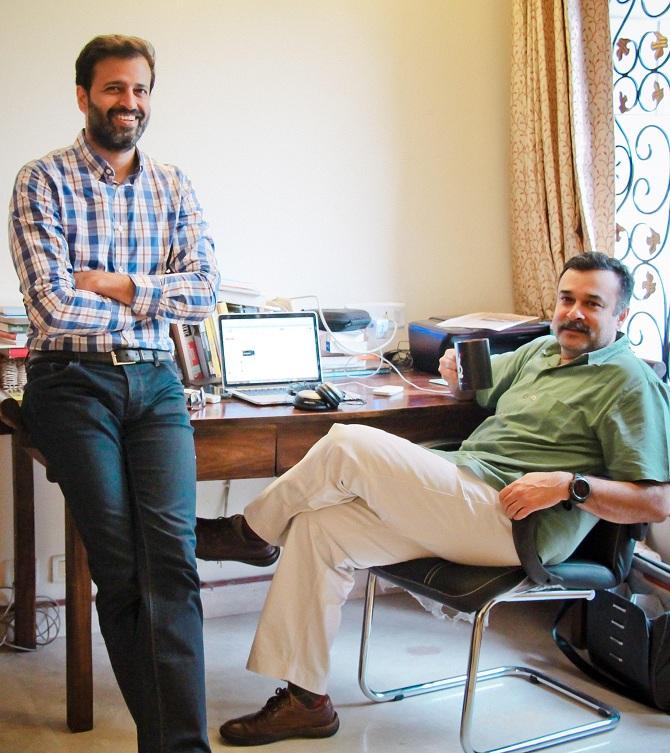 IMAGE: Prashant Sareen, right, and Roopak Kapoor, left, of Small Screen, the company behind Jeenees and Newslaundry.com
The gifting market in India is changing, slowly but surely. And Jeenees is among the latest apps driving that movement.
The app started by Small Screen Pvt Ltd -- the people behind the media critique site Newslaundry.com -- allows you to list the gifts you really want and give your friends and family the chance to pool in resources to make your wish come true.
As part of Rediff.com's series on entrepreneurs, A Ganesh Nadar speaks to Prashant Sareen of Small Screen.
When did you launch Jeenees?
After an initial period of development of about a year we launched the app in April 2017.
How does it work?
Remember Aladdin's Genie? Well, the app is just that.
You list three wishes for your event. Your friends can see what you really, really want, and can contribute towards your wishes.
Since multiple friends and family can pool towards your wish, you have the advantage of wishing BIG!
It's a social network for gifting.
There is reciprocity built into the logic of the app.
Just as you can see my wishes, I can see what you are wishing for your birthday, anniversary or any other event.
Where does the escrow money go in case I make a part payment?
It remains with Jeenees until the closure of the event.
The true power of the app comes into play at that point.
You have several options to use the money you have received from your network.
For instance, in case you haven't been able to collect enough, you can top up the remaining amount and get the item shipped to you. Or choose an item of lesser value.
You can even shuffle your money across wishes to top up for that one item you really want.
Still undecided? Just opt for a gift card. This ability is unique in Jeenees.
Once you confirm your choice of how you want to use your money, we ship the item to you.
How much did you spend on the app? How much money have you spent on advertising?
We spent Rs 20 lakh to develop the app. We had the idea a couple of years ago.
We thought about it for 6 months, and then decide to go for it.
Since its launch, we have spent Rs 2.5 lakh on social media push and we will go up to another Rs 5 lakh.
How do you make your money?
We charge a 5 per cent facilitation charge on the amount gifted.
Is this your first venture?
No.
Five years back, we launched Newslaundry.com. It's a news site, but not a breaking news site.
It uses various formats to inform its readers about what's happening.
There is humour and irreverence, and there are no holy cows.
How does Newslaundry make money?
For the most part, you can access all its content for free.
Some of its more popular offerings, like the podcast NL Hafta, can be heard only by subscribers.
The rest have to wait for a couple of weeks to access it.
The subscription is up to the reader; there are three levels and the subscriber can choose based on their ability and commitment to the mission of keeping news free of advertisements.
What is special about this site is that there are no ads.
Any other ventures?
Eighteen years ago, we started Small Screen, which made cult TV shows like Highway On My Plate, which ran for several years on NDTV Good Times.
What was your capital then?
All we set out with was with an edit system and working out of our homes, producing short films for clients.
I got my provident fund and spent all of it on the edit system and we set out to become entrepreneurs.
How old are you and how old are your partners?
I am 51 and both my partners are 42.
Roopak Kapoor and Abhinandan Sekhri were in school together.
Roopak came on board nine years ago. Abhinandan and I met when we worked with the India Today network 25 years ago.
What are the career lessons you have learned on the job?
That the devil is in the detail.
For Jeenees, we had put out ads and messages on social media.
People downloaded the app and then sent us a mail asking 'When I will get my free gift?'
We had to change all the messages so that it clearly says get the gift you want is from your friends.
No more useless gifts and no more recycling or exchanging gifts.
Also, it takes a while to change habits.
In India, we have a strange affinity towards recycling gifts and passing them around.
The idea of a gift registry is to help people give the gifts the receiver would like rather than palming off unwanted gifts.
You will face problems at every step.
You have to keep your head above the issue.
For Jeenees, we spent so much time trying to understand regulatory, legal and taxation issues that it is enough to put you off what you are trying to build.
What is the progress report for Jeenees after two months?
So far, we have 6,500 downloads.
What is your advice to would-be entrepreneurs?
You must be convinced of your idea before moving forward.
It's going to draw you in and take on a life of its own.
It will suck you for resources and time and bandwidth.
Better to have doubts early on than later.
Finally, while it's good to ask questions, it's even better to actually get down to the task of doing.