Step inside the coffee wonderland.
The latest Starbucks outlet has been likened to an amusement park!
Photograph: starbucksnews/Twitter.
With 600 Starbucks cafes already in Shanghai -- more than any city in the world! -- there are not many ways another Starbucks cafe in the city can make a mark. But the latest one, which opened this week, made headlines worldwide.
Spread across 30,000 square feet, the Starbucks Reserve Roastery is the world's largest Starbucks.
It is also the first fully immersive coffee experience in Asia and the most ambitious Starbucks project till date.
Scroll down for a tour.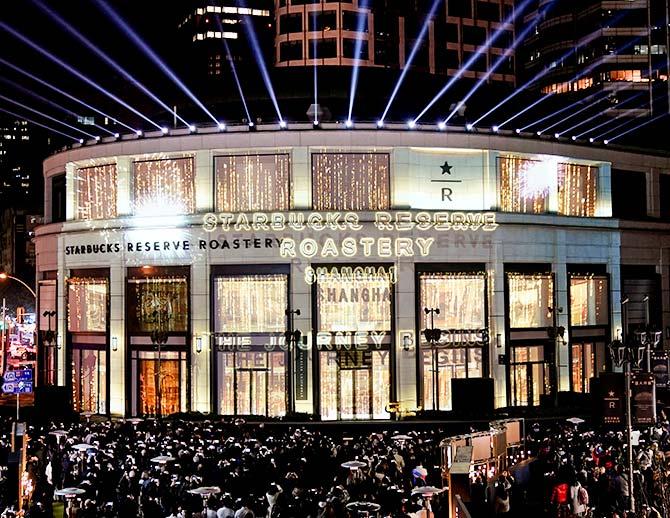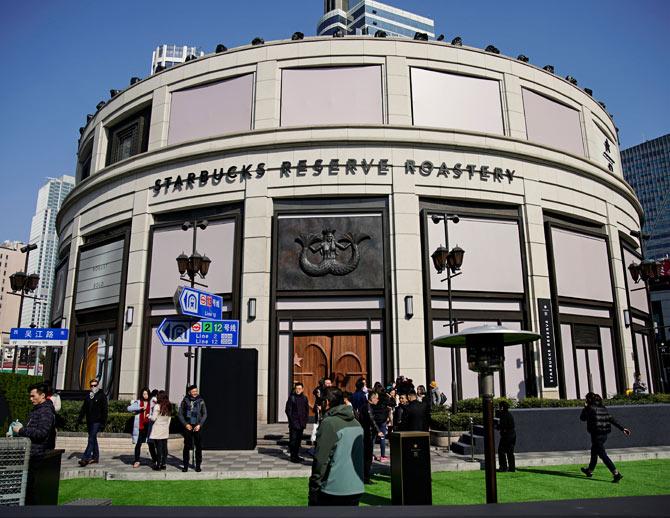 Each of the four entrances to Shanghai's new Starbucks boasts massive wooden doors that are at least a foot thick. According to Forbes, they are designed to recall the entrance to Chinese temples.
As customers enter the roastery, they're greeted by a two-storey copper cask, adorned with more than 1,000 traditional Chinese chops, or stamps, hand-engraved to narrate the story of Starbucks and coffee.
All photographs: Aly Song/Reuters.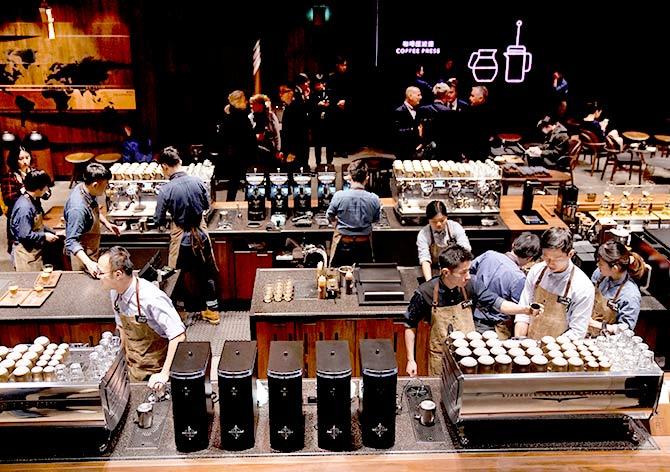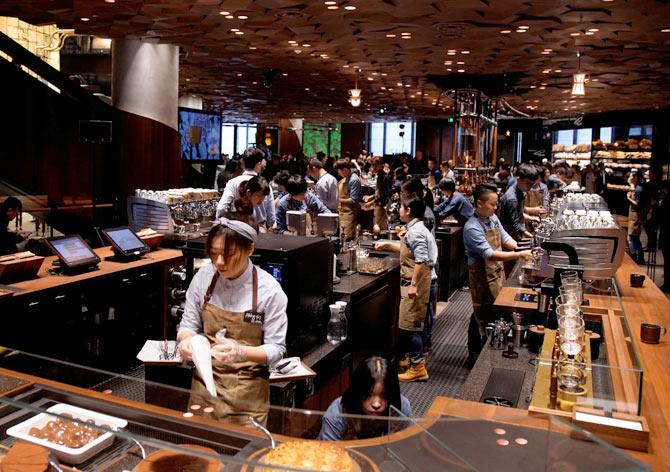 The roastery has three coffee bars offering multiple brewing methods, specially-crafted teas at a 3-D printed tea bar, freshly baked Italian artisanal food by Princi.
According to Starbucks, the three wooden coffee bars, including one that is 27 meters (88 feet) long -- the longest at any Starbucks -- are handcrafted by premiere Chinese artisans and reference the unique roasting curve of individual coffee beans.'
The ceiling is made of 10,000 handmade wooden hexagon-shaped tiles, inspired by the locking of an espresso shot on an espresso machine.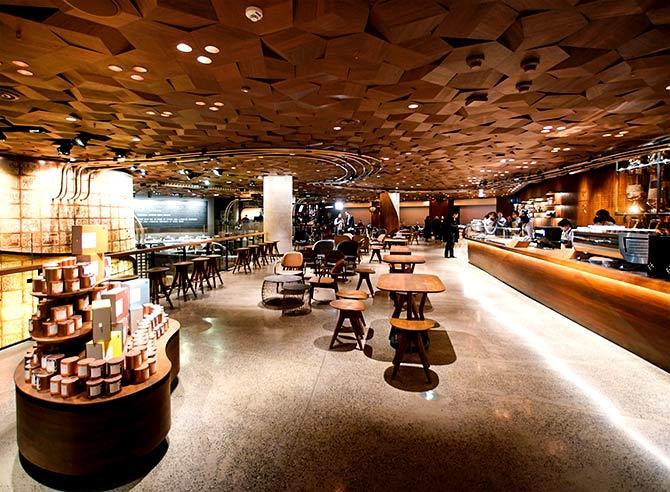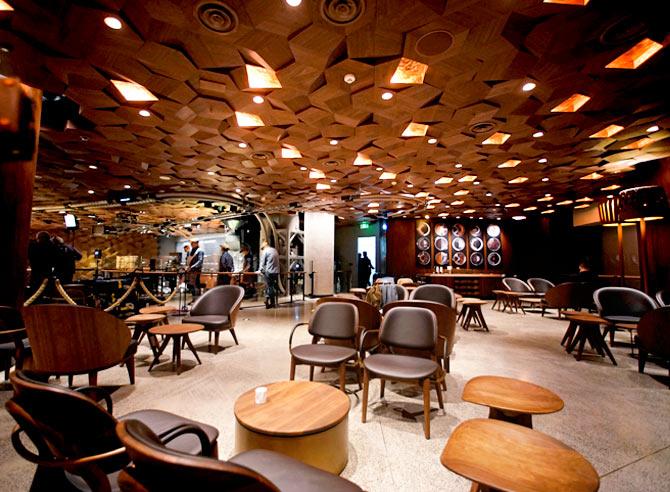 Starbucks says, 'All along the way, customers can point their mobile devices around the roastery for even more moments of discovery as they immerse themselves in the augmented reality experience, which makes this one of the most advanced digital locations for Starbucks.'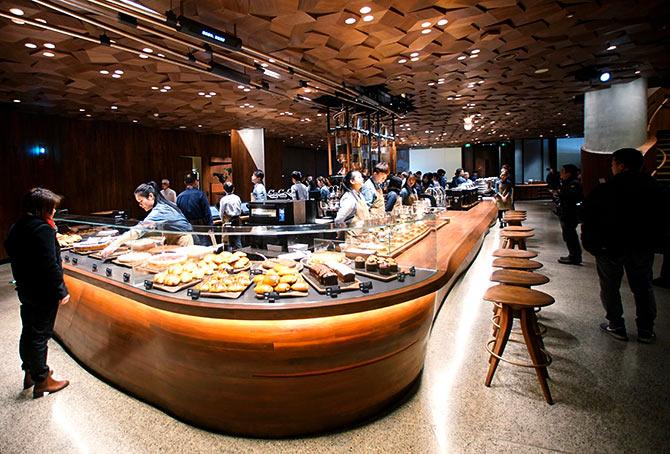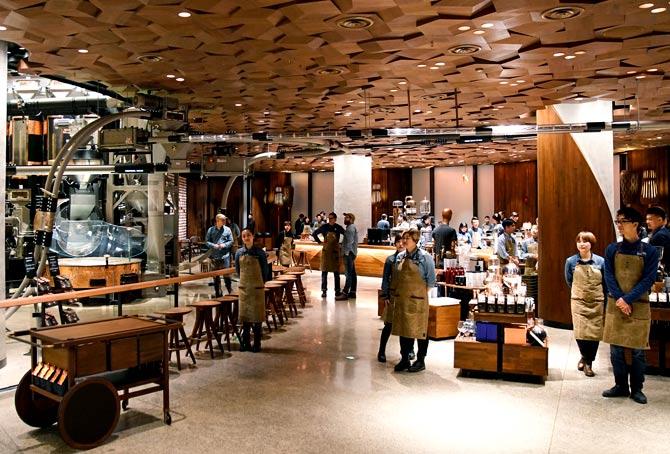 This Starbucks also serves alcohol!

Even Alibaba Group Executive Chairman Jack Ma -- seen here with Starbucks executive chairman Howard Schultz (left) -- could not resist stopping by.
China, with more than 3,000 stores across 136 cities, is the fastest-growing market for Starbucks. It is estimated that it will overtake America as home to the most Starbucks in the world within a decade.