'Sarah sent me several of her pictures: The civilian ones showed her in an elegant black top and conservative knee-length skirt and the military ones had her flashing the V-sign in her patrol vehicle.'
'On seeing the latter, I felt sorry the handsome woman had to spend her birthday in a war zone, away from her eight-year-old kid and her drifting husband, both in the US.'
Text: Ashish Sharma. Illustration: Uttam Ghosh/Rediff.com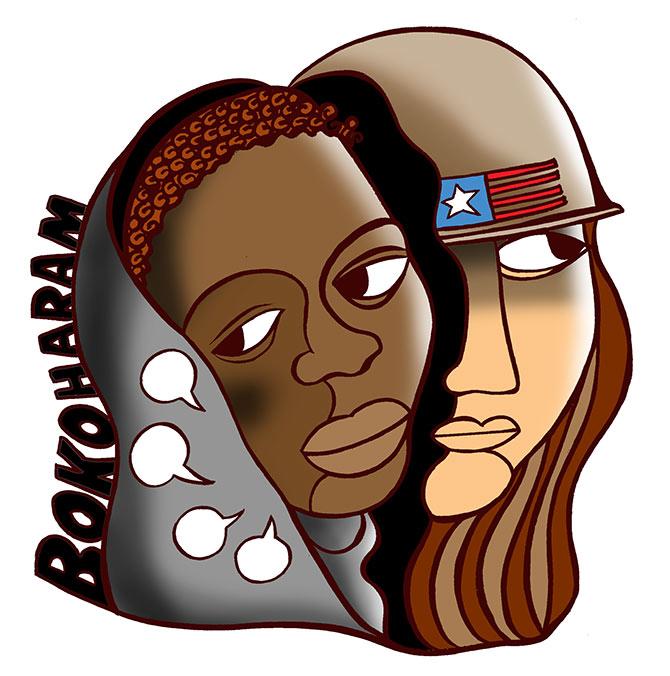 Last year, I met a US soldier named Sarah on Singles Around Me. She was on deployment in Nigeria to help contain Boko Haram, a terrorist group. The 40-something looked tall, military and tattooed.
I asked Sarah where she lived in the US and she sent me a Google-Earth link to her American address. She also told me the colour of her roof, even before I could look it up on Google Earth. That was convincing -- but she always shooed me away during patrol hours, saying her commanding officer was nearby.
Over the days, Sarah sent me several of her pictures: The civilian ones showed her in an elegant black top and conservative knee-length skirt and the military ones had her flashing the V-sign in her patrol vehicle.
On seeing the latter, I felt sorry the handsome woman had to spend her birthday in a war zone, away from her eight-year-old kid and her drifting husband, both in the US. She had taken on this difficult assignment, she said, so her son could live comfortably.
Sarah also confided how she and her husband were living in the pretence of a marriage and then asked: Are you coming to "still" my heart away?
This got me pretty amped up and hyper. Now, I would wake up at 4 am (11.30 pm, Nigeria time) searching for the little light flashing on my laptop that said she was waiting to Skype. It was the most intense and expressive feeling I have ever had.
The online chats blossomed into phone conversations, made reportedly over a military satellite phone -- Sarah said that Nigeria and its telecom had been blown apart by the guys at Boko Haram.
As the conversations stretched into mornings, I felt drawn to the American twang in her voice. Also, we exchanged many photos, some of them crazy. But when we hooked up to Skype, Sarah would always bring up an excuse and block video chat. "All I know is," she said, "if really you are the right man for me, you will surely 'comes' back. How I wish you are in the military, you will understand the whole things!"
As a consolation, she created a private Facebook page for just the two of us -- I was told to keep it a secret for military reasons. On it, she uploaded images of paper with handwritten poetry on it. And with the writer's equivalent of canvas and brush, she wrote: 'Your lips are like two earthworms...' I will spare you the rest. It goes on for quite a while.
Nevertheless, I remained pushy about video chat. "Remember," she warned, "I am in the camp. Access to video chat 'are' always advised to be blocked before deployment. It's a standard military special force security... Protocol." But added as an afterthought, "I can sneak out to the nearest cyber cafe."
Within six weeks, we got virtually engaged in a 3D chatroom and Sarah proudly wore a (fake) diamond ring. She even claimed to have obtained six 25-kg gold bars from a Boko Haram hideout, all ready to be shipped to the US, so we could start our new life together.
"Can you relocate to the 'State'... When we finally agree to marry each other?" she asked in full earnest. How could I say no to happily-ever-after?
In the meantime, her troops started starving between famine and war. I mounted rescue efforts: Sent $2 to her PayPal account, versus her General's request of $783. It felt shameful. But the figures started a rapid climb from there. And in the end, I succumbed to her requests. I could no longer feed her wild claims and her starving unit.
Although suspicious, I still had no reason to question her identity.
But after I repeatedly refused to send another penny, she asked me a surprising question: Would I still marry her if she wasn't the woman in the photo? Thinking she had been disfigured or shot by the guys at Boko Haram, I wept and vowed I would always love her.
Sarah then sent me her real photo -- that of a 22-year-old Nigerian woman. Clearly a professional, her written and spoken English were sometimes equal to mine; she had been to college in Nigeria and had studied the American accent in great detail. The photos of Sarah and her eight year old had been stolen.
But she gave me the happiest days in my life.