Indian American children have dominated the Scripps Howard Spelling Bee in the United States since the turn of the new century.
Long before this impressive trail of triumphs began, way back in 1985, Balu Natarajan became the first Indian American child to win the Spelling Bee.
Rediff.com US Contributor Abhijit Masih catches up with Dr Natarajan as the 2021 Spelling Bee takes off this weekend.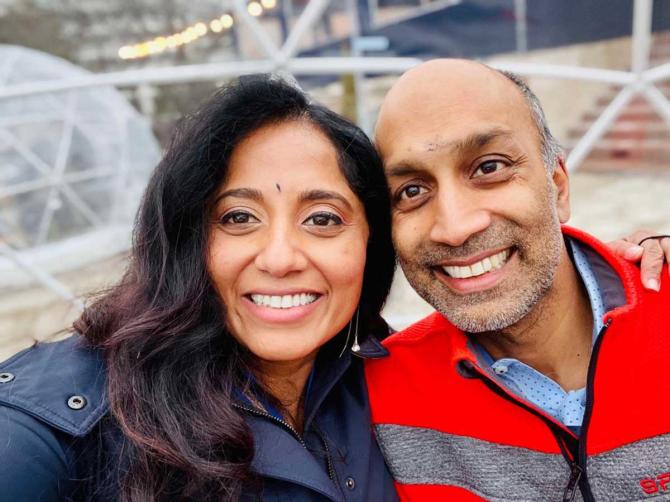 "My mom was really strict about English and grammar and would correct me from a very early age," recalls Balu Natarajan, the first Indian American to win the Scripps Howard Spelling Bee competition.
In 1985, the 13-year-old 8th grader from Chicago stunned the country by winning America's premier national Spelling Bee competition. A competition which has been held each year since 1925.
Now a practicing doctor specialising in sports medicine, Balu was born and raised in Illinois.
For his preparation for the 1985 Spelling Bee final, Balu credits his family.
He remembers how his mother coached him for almost two years, how his father took days off work to go over his strengths and weaknesses.
"I learned a lot about the importance of family and am so grateful to them (his mum and dad) on what they helped me achieve," says Balu, the father of two budding Spellers.
"It was obviously an honour and a thrill to be the winner, but it was amazing to see how the Indian Diaspora saw it as a community victory. The sense of pride among them was something special," remembers Balu.
Regional associations like the Kannada and Marathi associations invited him to speak at their events.
"I met so many people. It helped open doors and made me feel part of a community," he adds.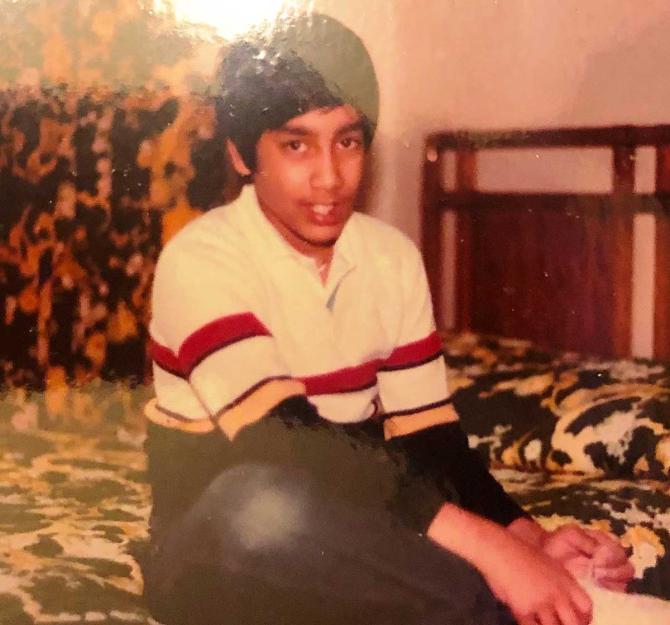 Did Balu's win make the Indian American community realize that this is something their kids could be good at?
"Yes, it definitely opened the door. In any field, in order to do well, you have to have opportunity, skills and you have to have a good strategy. You have to have the talent and you have to execute. But before that, you have to have interest," concurs the champ, which somewhat explains the phenomenal success rate of Indian American children in the Spelling Bee.
At the 2019 Spelling Bee -- the 2020 Spelling Bee was not held because of the pandemic -- seven of the 8 winners -- the first time there was a group of champions; Octochamps -- were of Indian descent.
Balu even got to meet the incomparable Lata Mangeshkar.
"At the opening of the local temple, she was singing the aarti and I was volunteering at the temple. Next thing I know, I am singing Jai Jagdish Hare with Lata Mangeshkar!" exclaims the good doctor.
Balu is quick to issue a note of caution. "When something good happens, you get exposure and you get a lot of opportunities. But with that opportunity come a lot of responsibility, which you must respect," he says.
"People pay a lot of attention to what you say and as a result, what you say must be very measured, deliberate and responsible."
Besides the recognition from the Indian American community, Balu recalls how other communities reacted positively to his win.
One American fan carved his winning word -- 'Milieu' -- on one side and 'Namaste' on the other side of a piece of wood as a gift.
Balu appeared on Good Morning America and on the Tonight Show, which was then hosted by the legendary Johnny Carson.
"I was lucky. I felt nothing but kindness and it was remarkable. Here in Chicago, it was very much appreciated," he remembers.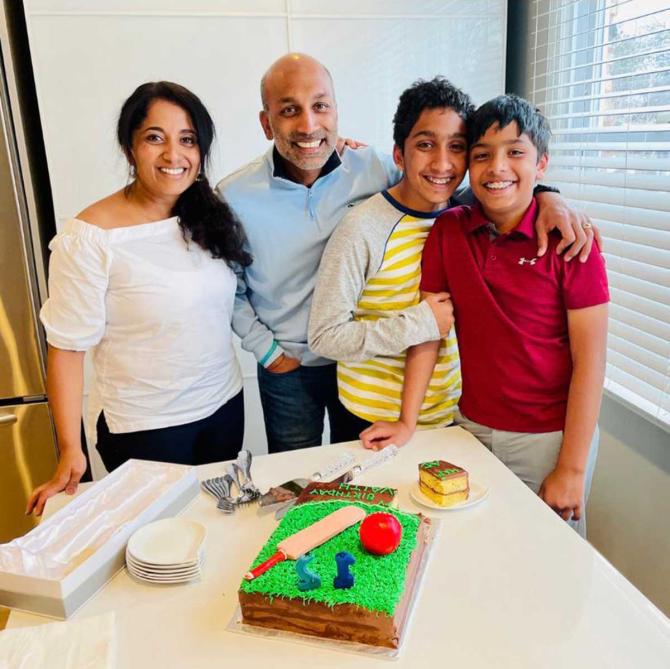 Fast forward to present day Chicago and the love for spellings lingers in the Natarajan home. The baton has been passed on from Balu to his sons Atman and Advaith. Both of whom have the same passion for spellings and competing in the Scripps Howard National Spelling Bee contest.
The only passion that is not shared between father and sons is a love for cricket. Both boys are avid followers of cricket -- surprisingly, not the IPL kind, but more old school which would delight the purists.
Atman, who wants to be an automobile engineer when he grows up, was gutted with disappointment about missing out on his final opportunity to win the competition last year due to the cancellation of the event.
He had reached the final on two previous occasions, in 2018 and 2019.
"I was disappointed because there was a lot of preparation by not only me but by my parents, brother and my grandparents," Atman laments.
"In 2018, I had been eliminated because I was not very strong in vocabulary. I worked on it and in 2019 I reached the semi finals."
Third time could have been the winning charm for Atman Natarajan had it not been for the pandemic cancelling the Spelling Bee.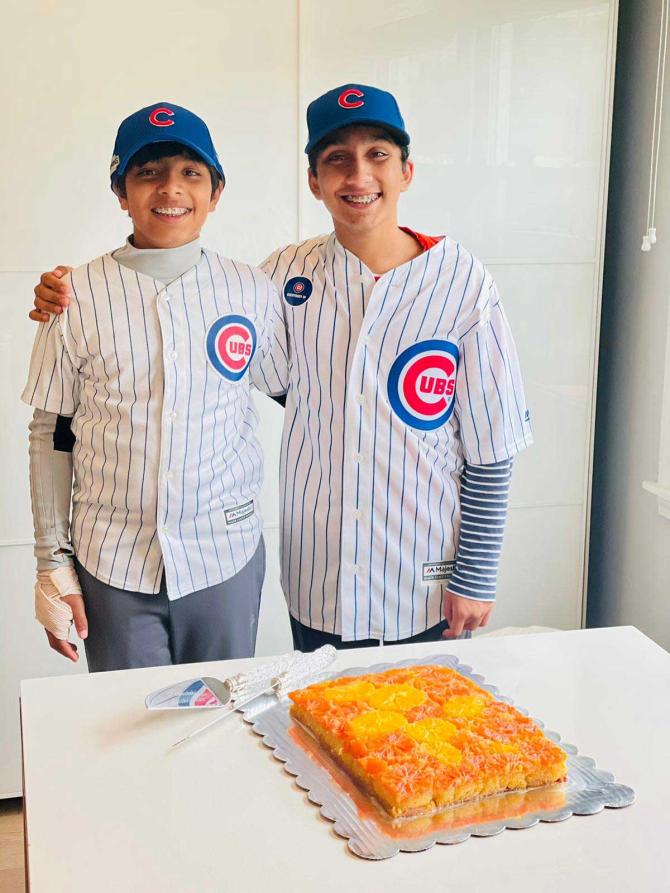 The Natarajan home does not have an in-house spelling bee contest, but Atman spends his free time helping his younger brother to participate in next year's competition.
Advaith could not make it to the Nationals this year and was eliminated due to vocabulary, seemingly the brothers' Achilles heel.
While spellings and word play keep them busy most of the time, Atman and Advaith enjoy playing soccer, baseball and cricket.
They set an alarm to wake up in the middle of the night to watch the Indian cricket team in action and are excitedly looking forward to India's tour of England.
To ease the burden of expectations that is thrust on the boys and for them to manage the pressure is a job that has been owned by their mother.
"She motivates us a lot and creates feasible ways for us to achieve our goals. That is a lot of work and she is always there for us." says the future car builder.
The family is rooting for Advaith to become the next Natarajan to win the Scripps Howard National Spelling Bee in the next couple of years.
Till then Balu, the first of his name to win the competition, is shying away from any competition with his sons, for fear of them beating him hollow.
Feature Presentation: Ashish Narsale/Rediff.com