'I lost my mother when I was in Class 10.'
'Standing on stage, minutes before I was crowned Miss Supranational 2016, I could visualise my mother's face in the distance.'
'She was smiling at me.'
Ask Miss Supranational 2016 Srinidhi Shetty what's the first thing she did to celebrate her win after returning to Mumbai?
"I ate 13 Toblerones (a Swiss chocolate with honey and almond nougat)!" she reveals with a laugh.
That's hard to believe after you take one look at her svelte figure!
Dressed in a gorgeous off-shoulder pink dress, with her Miss Supranational crown seated proudly on her head, Srinidhi has a figure any girl would want.
"Oh! I'm a foodie. I think I'm the goddess of food. Even in my sleep, if you wake me up and tell me there's food, I will get up and eat."

"I eat a lot, but work out even more," she admits. "Wait till I head to my hometown. I will spoil myself silly with Biryani, Chicken Sukka and Kori Roti."
Srinidhi quit her job as a software engineer at Accenture to chase her dream of becoming a beauty queen. The journey, she reveals, was not easy.
Hang around her for an hour and you'll notice there's nothing pretentious about her. She could easily pass off for a simple South Indian girl next door, given her heavily accented voice -- one that she has started to embrace and take pride in.
"If you have to ask what the judges at Miss Supranational liked about me, I'd say it is my humility."
Srinidhi, at 24, is the second Indian to win the Miss Supranational title. Asha Bhat was the first Indian to win the title in 2014.
Srinidhi gets candid with Rediff.com's Anita Aikara.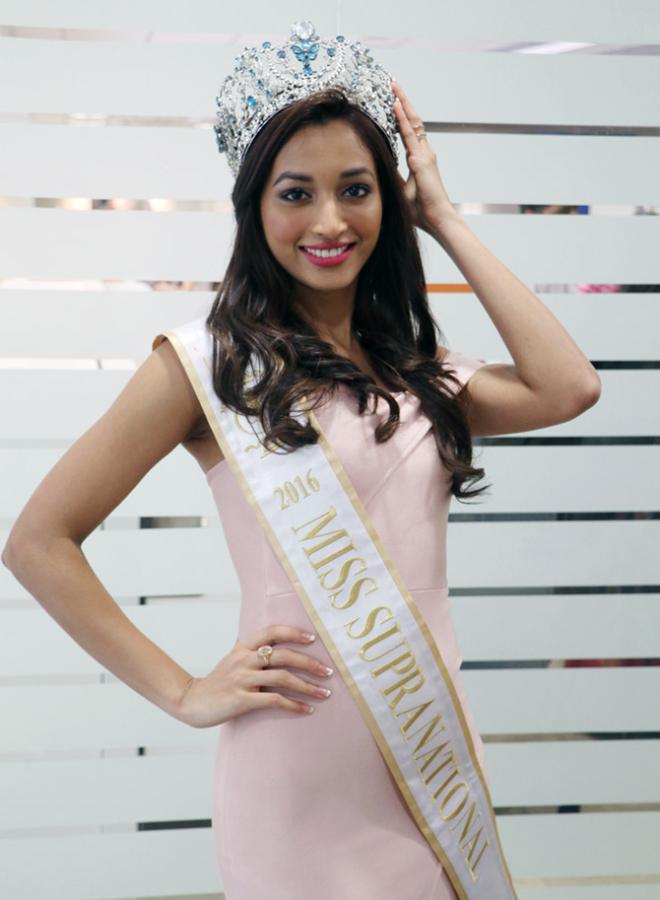 IMAGE: Srinidhi Shetty paints a pretty picture with her stunning Miss Supranational 2016 crown. Photograph: Hitesh Harisinghani/Rediff.com
Height: 5'8"
Weight: 55 kg
You have placed your small town in Karnataka on the world map.
Almost every time I mention my hometown, people tell me they're hearing the name for the first time.
My dad's from Kinnigoli and my mother from Mulki.
I was born in Mumbai and raised in Mangalore at my grandmother's home which had a farm with animals.
As a child, I hated sitting idle.
I was super active and loved nature. Be it studies, extra-curricular activities, dance, sports, I just had to be out in the open. I was an NCC cadet too.
I watched several beauty pageants on television during my growing up years.
There were times I'd wonder when would the moment come when I'd win a beauty title and stand on stage with the crown on my head.
Who has been your pillar of strength?
Anyone who knows me will know that I'm a really strong girl.
I have two sisters, and compared to them I think I'm stronger (emotionally).
The person I find my strength in is my dad.
My friends and sisters have always been there for me. But my father is my pillar of strength.
After I lost my mother, he played the role of mom and dad in my life.
His children are his first priority. He was the one who pushed me to realise my dreams and has never refused me anything.
When I decided to go to Bangalore to do my engineering, he supported me.
In college, when I started participating in fashion shows and slowly started loving it, he pushed me to do better.
I really enjoyed walking the ramp. I used to send him pictures of the shows and he was extremely proud of me.
I remember the first time I told him I was interested in modelling.
Trust me, he was more excited than me. He knew I had to shop for new clothes, so he sent money without me having to even ask for it.
When did you take up modelling professionally?
I took part in beauty contests like Clinique Fresh Face (she was one among the Top 5) and Miss South India. I won Miss Karnataka.
I then wanted to take part in Miss Diva. At that time I was working at Accenture as a software engineer. But then my schedule got really difficult.
I'd spend almost 10 hours at work on weekdays and would do modelling and fashion shows on the weekends.
It was extremely difficult to focus on my modelling career.
So I decided to quit my job and give modelling my 100 percent.
I left my job fully aware of the fact that it was uncertain whether I could win Miss Diva.
My dad was supportive. He was okay with me leaving the job. He supported me financially and asked me not to worry about the expenses.
VIDEO: Watch Srinidhi talk about her crowning moment


How did Miss Diva happen?
In 2015, I decided to take part in the Miss Diva contest. But destiny had other plans. I met with an accident and fractured my toe.
I was advised complete bed rest. I ended putting on weight. Just eight months ago I was 65 kg.
I was shattered.
How do I lose all this weight, I thought.
From January 2016, I decided to hit the gym. I'd survive on just fruits and sprouts.
I worked really hard and lost 15 kilos in 5 months.
I gave my auditions in Bangalore and got selected.
Then I came to Mumbai. I was the only one among the shortlisted girls from Bangalore to make it to the 16 finalists.
I finally moved up to the Top 3, getting a chance to represent India at Miss Supranational 2016.
Did you think of going back to being an engineer?
I didn't want to do engineering. I wanted to be a doctor. But when I did engineering, I gave it my best.
I put my heart and soul into it and was a topper in my university.
When I was working as a software engineer, I didn't know coding because I didn't do my engineering in computer science. But I worked so hard that I performed well in the company and was a critical resource despite being a fresher.
So giving up the job was not easy.
Looking back, I feel it was worth it giving up my job. It was a risk worth taking.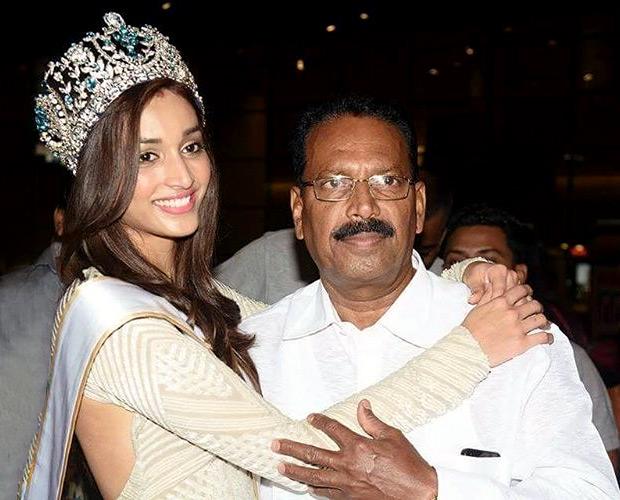 IMAGE: Srinidhi with her father. Photograph: Kind Courtesy Miss Supranational/Instagram
What are the challenges you have faced?
I have received compliments from people who have told me that I'm simple.
But I have had problems with my accent; people have criticised me for that.
With the accent, some words end up being pronounced incorrectly.
In the past, I have been told that I need to work on my communication skills. And I did.
I even tried to tone down my accent. But it's difficult.
In the end, that's how I have been brought up.
I think the accent matters on a national platform. But on an international level, it doesn't matter greatly because people from different countries have an accent.
Some people abroad have found my accent to be exotic. And there are others who have made fun of me saying Yenna Rascala.
How rigorous was it to prepare for Miss Supranational?
Once you win, the training begins. Miss Diva got over in September and I got one-and-a-half month to prepare.
I had to rush through the preps. My day started at 6 am and ended at 2 am. I had to do the fittings and hair and make-up sessions.
At Miss Supranational, you have to do your make-up daily on your own.
Only at the finale do you get a make-up team.
I had to work on my personality development, English skills and diction, etc.
Every day I would be running around attending different sessions and preparing myself for the contest.
I was sleep deprived as my schedule was jam-packed.
But that prepared me for the pageant. I could easily handle the stress there.
How did it feel to win the crown?
When the hosts announced my name as Miss Supranational 2016, it actually took a moment for the news to register.
I was there on stage holding hands with the first runner-up Miss Venezuela, waiting for them to announce the winner.
That moment took me back in time to 1994 when I watched Sushmita Sen win the Miss Universe crown on television.
There were so many emotions that for a split second I almost went blank.
Once I realised that they had said Miss Supranational 2016 is Miss India, I was so thrilled.
I felt so blessed, honoured and humbled.
The person I remembered at that time was my mother.
Standing on stage, minutes before I got crowned Miss Supranational 2016, I could visualise my mother's face in the distance. She was smiling at me.
After hearing about my win, my father has been up on his toes. He calls and asks me, 'Now what? What next?'
No one from my town has ever won a beauty contest or even contested in one.
I am the only one to have started from scratch and won an international beauty pageant.
People in my hometown are so excited and have lined up felicitations and dinner parties for me.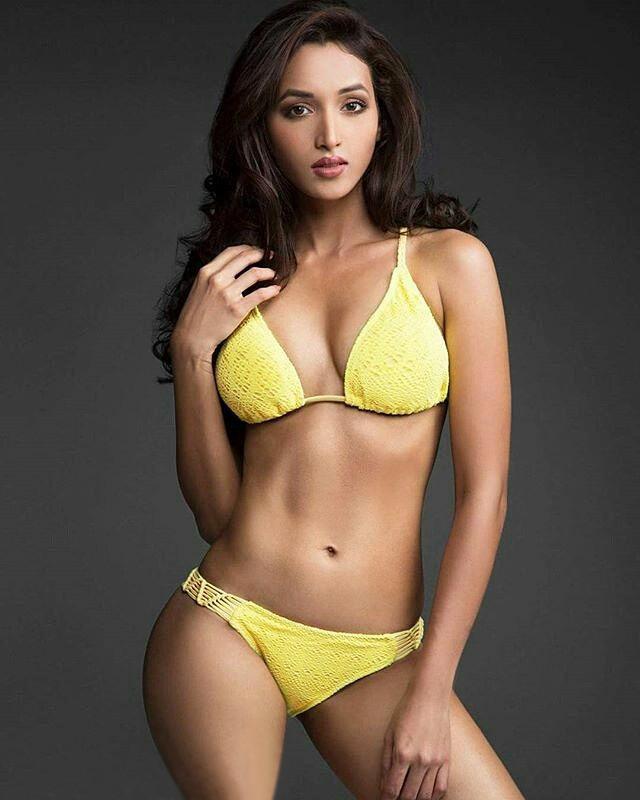 IMAGE: Srinidhi lost 15 kilos in 5 months in preparation for Miss Diva. Photograph: Kind Courtesy Srinidhi Shetty/Instagram
What do you consider your most important asset?
Looks are secondary to me. I think beauty should be both external and internal.
For me, my biggest asset would be the qualities I possess and the person I am.
And one of the qualities that I consider to be my greatest asset is that I'm humble.
The lesson that I learnt early in life is to 'keep my sight on the stars and feet on the ground.'
I was always told to stay rooted and true to my roots, despite what I achieve in life.
That is one quality in me that has got me so far.
That's how I learnt to survive with the other 70 candidates of Miss Supranational.
When I was there, I was representing my country. But I wanted to be myself and despite the hectic schedule, I always was smiling.
I used to be upbeat and keep asking them, 'What's next?'
They don't need a glam doll; they need someone who is ready to get into the mud and work.
Is there a cause that's close to your heart?
I cannot see children starving. I wish I can do something about that.
If I could, I'd make sure that no child goes to bed hungry.
Do you remember what was your first salary? What did you do with it?
It was Rs 23,000. I had promised myself that I'd give my first salary to my father.
As soon as I got it, I transferred my entire salary to him. But then I needed money, so asked him to return it to me.
Later I saved up two salaries and bought him a navagraha ring, which has nine stones in it.
What's the flipside of becoming a model?
Let me tell you that every field has its pros and cons. Here you don't know much about the people you're interacting with.
You don't know if you can trust them.
Sometimes you end up building great rapport, but there are times you're disappointed too.
A lot of youngsters who get into modelling do it as a shortcut to money and fame. They tend to develop plenty of unnecessary habits and get addicted to things.
IMAGE: Srinidhi, minutes after she was crowned Miss Supranational 2016. Photograph: Kind courtesy Miss India Organisation
Worst criticism you have ever received?
I think it has to do with my accent. I speak very fast and eat up a couple of words.
I also tend to miss words. People have told me that I don't speak English well.
Back in my school days, I have given a lot of speeches. At that time, there was no problem having a South Indian accent.
But when I came to Mumbai, people started pointing out that I had an accent.
I didn't take their criticism well and started getting worked up.
Later I thought what's the point of demotivating myself. I took it in my stride and worked on my accent.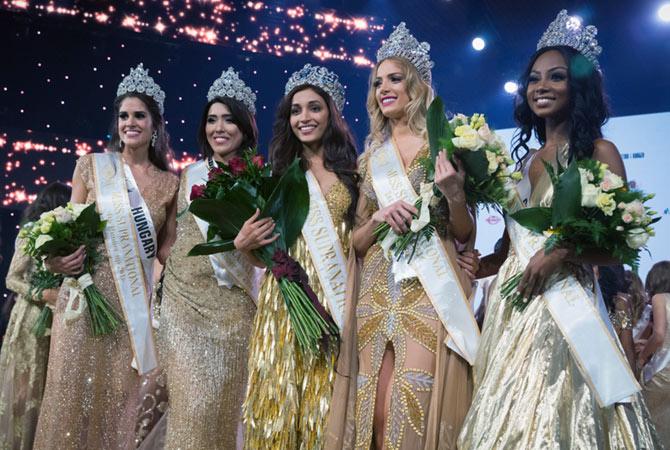 IMAGE: Srinidhi with the Top 4 finalists. Photograph: Kind courtesy Miss India Organisation
What do you plan to do with the money you have won?
I will use it wisely and invest it well.
VIDEO: Srinidhi Shetty reveals her beauty secrets.


VIDEOS: Hitesh Harisinghani/Rediff.com