10 things you must know about the Girls Who Code founder.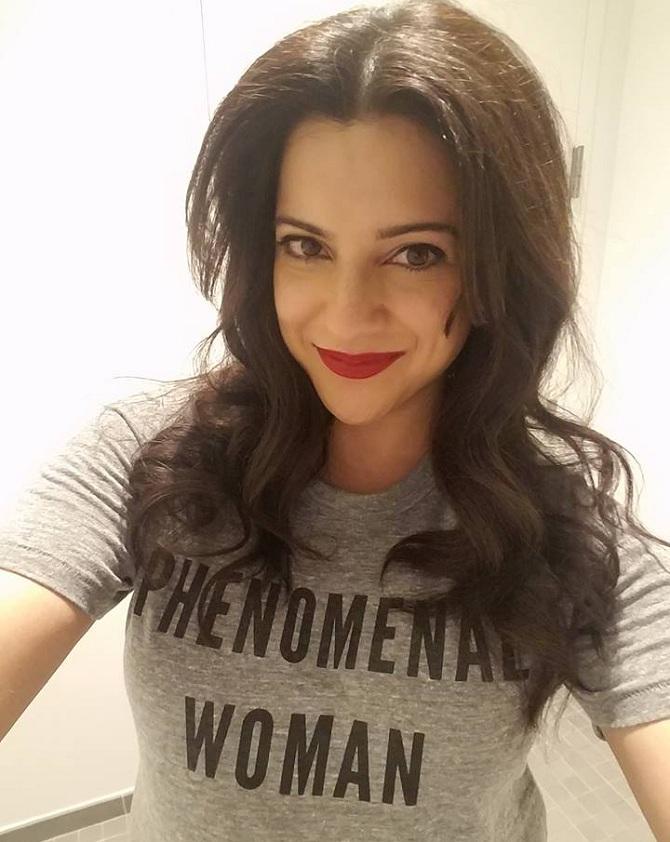 IMAGE: Before founding Girls Who Code, Reshma Saujani served as Deputy Public Advocate of New York City and ran for the US Congress.
Photograph: Kind courtesy @GirlsWhoCode/Facebook
Ivanka Trump, United States President Donald Trump's eldest daughter and probably the most influential voice in the White House, may have dedicated a section of her new book Women Who Work: Rewriting the Rules for Success to Reshma Saujani, but the New York-based Indian American is not impressed.
Saujani founded Girls Who Code, a fast expanding non-profit that offers free computing skills to girls to bridge the massive gender gap in technology in the United States. And Ivanka wrote, 'She personally witnessed the gender gap in computing classes and set out to do something about it.'
Saujani reacted by speaking truth to power. "@ivankatrump don't use my story in #WomenWhoWork unless you are going to stop being #complicit #askivanka," she tweeted.
In doing so, she added her voice to the thousands of critics who have used the word 'complicit' to take on Ivanka's silence on her father's discriminatory policies.
Just a day earlier, the Trump administration had announced that it was discontinuing the 'Let Girls Learn' programme started by former President Barack Obama and Michelle Obama to facilitate educational opportunities for girls in developing nations.
Meet Reshma Saujani.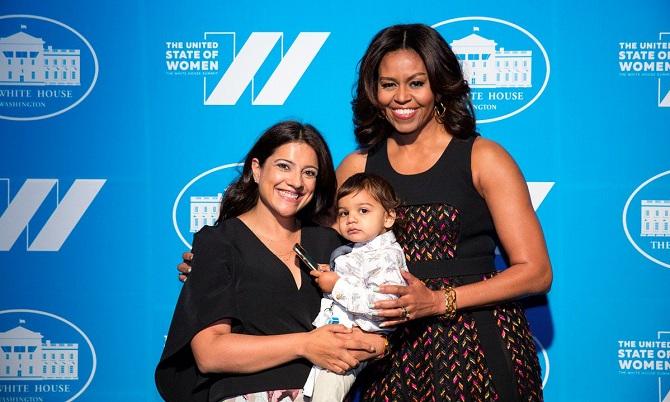 IMAGE: Reshma Saujani and her son Shaan -- she is married to entrepreneur and angel investor Nihal Mehta -- with then US First Lady Michelle Obama.
Photograph: Kind courtesy @Reshma Saujani/Twitter.
1. Saujani's parents were among the wave of Indian refugees who were expelled from Uganda under Idi Amin's dictatorship in the early 1970s. Her family fled Uganda leaving behind all their belongings and finally settled down in Chicago.
2. She has spoken openly about being bullied because of the colour of her skin.
In an interview to The Wall Street Journal a few years ago, she recalled a classmate who called her a hajji -- 'a slur against people of Middle Eastern and Indian descent' -- and her decision to fight back.
'But when they met after school, she found herself facing off with two girls -- one swinging a tennis racquet, the other spraying whipped cream -- and after being battered and knocked down, Saujani trudged a mile home to her mother, who found her daughter bloody and bedraggled,' the WSJ wrote. 'But if her tormentors intended to cow her, they had the opposite effect. 'It was an identity-awakening moment for me,' says Saujani.'
3. She attended the University of Illinois at Urbana-Champaign for her undergraduate degree in political science and speech communication and did graduate work at the John F Kennedy School of Government at Harvard University. She later attended the Yale Law School.
4. Her legal career has included work at the law firm Davis Polk & Wardwell, stints at three hedge fund firms, and as a Deputy Public Advocate of New York City.
In 2013, she made an unsuccessful bid for the office of the Public Advocate of New York City, which is considered to be the second powerful office in the city after the mayor.
5. She has been politically active for more than a decade.
She founded the South Asians for Kerry group during the 2004 US presidential elections. In 2008 she served on the National Finance Board for Hillary Clinton's presidential campaign.
She has been a visible campaign face for the Democrats in the 2012 as well as the 2016 US presidential election campaigns.
6. She ran for the US Congress in 2010 from New York's 14th Congressional District, which includes Manhattan's tony Upper East Side as well as parts of Queens. It was an unsuccessful attempt to unseat a nine-term incumbent, but led to the next step.
7. The massive gender gap in technology that she saw during her campaign, prompted her to found Girls Who Code in 2012.
'When girls learn to code, they become change agents in their communities,' Saujani says. 'Whether it's a game to illustrate the experience of an undocumented immigrant or a Web site to provide free college prep, our girls create technology that makes the world a better place.'
Girls Who Code has the support of some of the world's biggest companies, including Google.
The non-profit project, which started with 20 girls in New York, had helped 40,000 girls across the US by the end of 2016. She hopes to reach 1 million girls by 2020.
8. In 2013, she authored the book Women Who Don't Wait in Line in which she advocated a new model of female leadership based on sponsorship -- where women encourage each other to compete, take risks, embrace failure, and lift each other up personally and professionally.
9. In 2015, as the Girls Who Code footprints grew, she made it to Fortune's 2015 40 Under 40 list.
According to Fortune, 'she tapes rejection letters on her wall.'
She told the magazine, 'We need to teach girls that it's okay to ask for what you want when it comes to your salary or whatever it is you want to enhance your career. No one is going to notice you no matter how amazing you are. After I lost my last race, nobody called to offer me a job. My phone isn't ringing off the hook to join corporate boards. I have to ask. It just doesn't work that way, unfortunately. If I waited until someone asked me to do anything I'd be waiting forever.'
10. In 2016, she created massive ripples with a TED Talk titled, 'Teach girls bravery, not perfection.' The talk had the likes of Facebook's Sheryl Sandberg urging people to take note of Saujani.
Please meet more women who speak truth to power in the RELATED LINKS BElow...