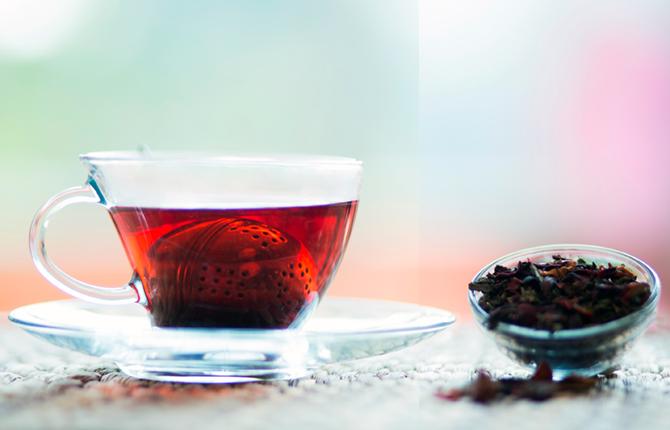 In the mood for chai?
Mini Ribeiro lists top 10 places for tea-lovers.
We all grew up having chai, a thick, milky brew infused with ginger, spices and boiled slowly for a long time. And, of course, there was the 'champagne of brews'-- Darjeeling tea in Eastern India.
But now the variety is mind-boggling.
Thanks to changing lifestyles and exposure to cultures, tea is being taken seriously and going the exotic route.
In this season, a steaming hot cuppa is comforting and a must to drive away monsoon blues.
I prefer a simple cutting chai in Mumbai and Darjeeling tea, when I'm in Kolkata.
Elsewhere in India, I'm happy to experiment with some of the fancy teas being served, provided they appease my palate -- and many do.
Across India, I have many favourite places where I enjoy sipping a cup of tea, sometimes with a snack.
Read on to find out which are these places...
1. Flurys, Kolkata
IMAGE: A tea party at Flurys. Photograph: Anita Aikara/Rediff.com
The old world charm and grandeur of a European cafe has been modernised, yet Flurys continues to be a relaxed meeting place for people from Kolkata.
There are several teas on the menu, but the Darjeeling tea is matchless.
Brewed perfectly, just the way it should be, it's extremely comforting, during the monsoon.
Add to that the chicken and mushroom quiche or the all-day indulgent breakfast, and you have a winning combination that is irresistible.
Address: 18 Park Street, Kolkata
2. Chaayos, New Delhi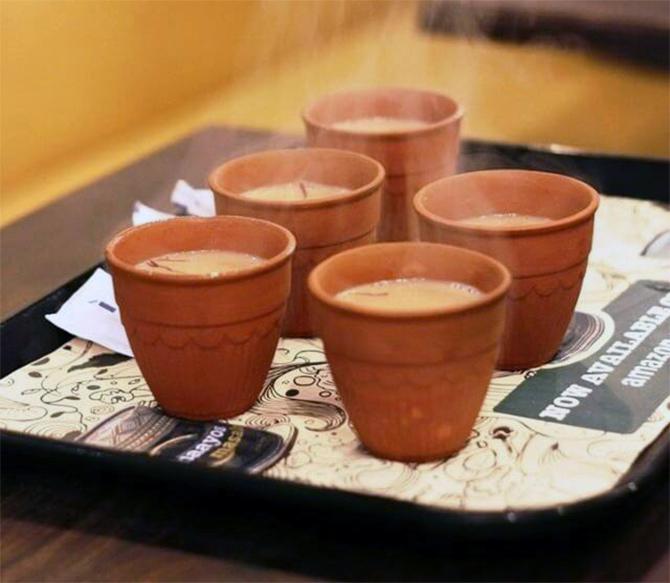 IMAGE: The traditional chai gets a fresh twist at Chaayos. Photograph: Kind Courtesy Chaayos/Facebook
This chain, which is reviving the concept of chai and adda -- chatting and relaxing over a cup of tea, is fast topping my list.
The Meriwali Chai is an instant winner.
My favourite is the Kullad Chai, which is served in an earthenware glass.
The flavours of this tea are distinct and unique.
The traditional Masala Chai with saffron served in a kullad, could not taste better.
Where: Multiple outlets in Delhi and Mumbai
3. Tea Trails, Mumbai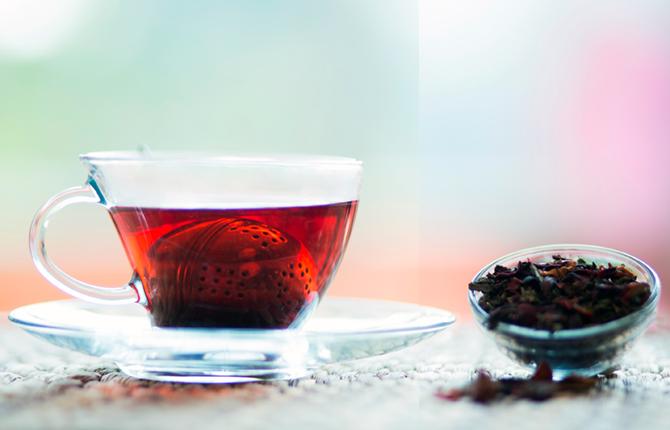 IMAGE: A cup of soothing Red Zen Tea at the Tea Trails. Photograph: Kind Courtesy Tea Trails
This place offers a carefully curated range of the finest teas from around the world, along with suitable tea accompaniments.
And that's what I enjoy it here.
Not only do they serve the finest quality teas, but also the perfect pot of tea.
My favourite is the exquisite South African red tea (made from a South African plant it is antioxidant-filled and caffeine free), with its unique nutty taste.
Another fragrant tea I enjoy is the full bodied black tea called Orange spice, replete with cinnamon and sweet orange peel.
Ever since I have discovered the Smoke Tea pizza here, there's no looking back. It is a perfect tea time treat, which can be enjoyed at any time.
Where: Multiple outlets in Mumbai and Delhi
4. Infinitea, Bengaluru
IMAGE: The tea options are infinite at Infinitea. Photograph: Kind Courtesy Infinitea
The Elderflower Lemon tea here got my vote instantly as I sipped this well-made brew for the first time.
Teas with a tinge of floral hints appeal to my palate.
Of course, there are oodles of options on the menu.
Green teas, oolongs, herbal infusion blends, Assam tea, even a kadak chai, among others.
What is heartening is that, over the years, they have maintained their standard and quality. The eats here are equally delectable and make you sip more cups than you intended to.
Where: Cunningham Road and Indiranagar, Bengaluru
5. MoMo Cafe, Courtyard by Marriott, Mumbai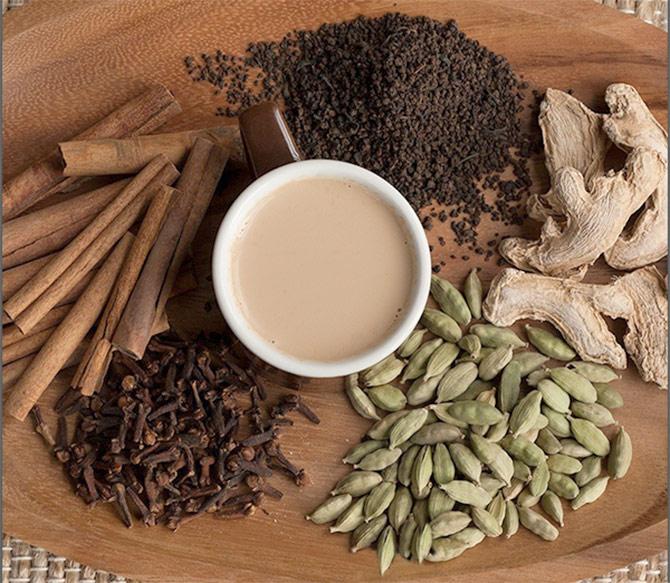 IMAGE: A cup of masala chai at the MoMo Cafe is the perfect concoction for the monsoon. Photograph: Kind Courtesy MoMo Cafe, Courtyard by Marriott
I am not a fan of five star hotels for their beverages usually, but this one is a pure exception.
The masala tea served here at breakfast is an absolute delight for the taste buds.
It is nourishing and energises you instantly.
Made by Rajendra Dhuri, a kitchen steward-turned-chef, the spices are aromatic and infused in the right proportion.
This tea often draws me to the hotel whenever I am in the mood for the perfect Mumbai masala chai.
Where: Near Mumbai International Airport, Andheri East, Mumbai
6. Cha Bar, Delhi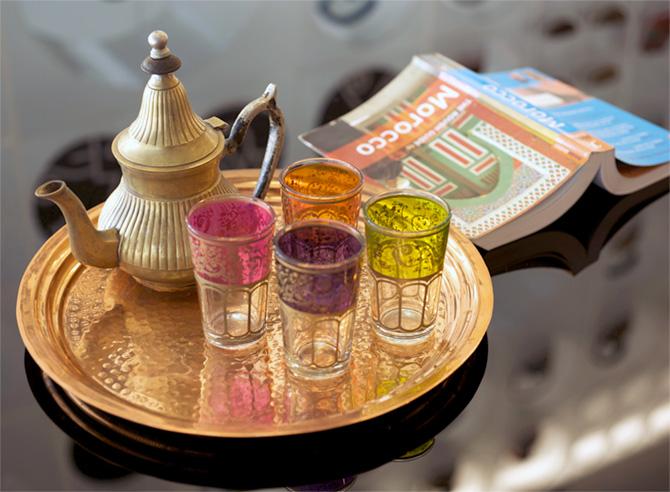 IMAGE: Experience reigns supreme at the Cha Bar. Photograph: Kind Courtesy Cha Bar
I love the fact that tea here is referred to as cha, as we do so in Bengal.
The menu offers infinite options. I usually settle for their in-house Cha Bar Blend. This robust Assam blend makes me nostalgic and takes me back to my growing up days in Kolkata.
The aromatic and light Moroccan Mint is another favourite. You name it and this place offers it.
Herbal, organic, classic, decaf, breakfast teas, and more -- there is a tea for every palate and you'll be spoiled for choice.
And if the tea was not good enough, the food is equally delicious. The Cha Piazi or onion fritters and muddled nachos are my weakness.
Where: Delhi, Kolkata, Across India
7. NRI (Not Really Indian), Mumbai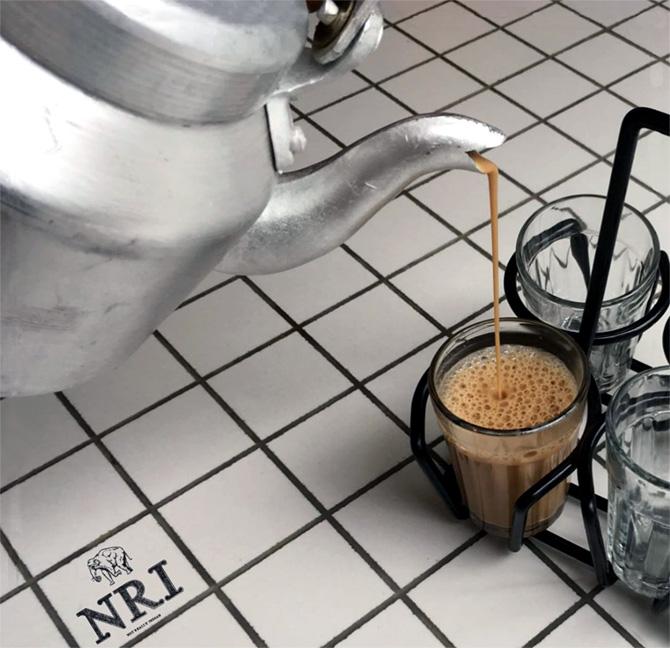 IMAGE: Care for some cutting chai? Photograph: Kind Courtesy NRI (Not Really Indian)/Facebook
I was pleasantly surprised to find Chef Atul Kochhar's restaurant NRI at the Bandra Kurla Complex in northwest Mumbai having great offerings as part of their Hi Chai menu, which they have recently introduced.
The menu boasts of 11 different flavoured teas, developed by sommelier Anamika Singh, and paired with a monsoon snack menu.
Emerald Spice, Pinewood Smoked Tea and First Flush are some of the ones that I love.
These were extremely soothing and the interesting snacks like Putu Mayang and Kenyan Butter Moho tickle your taste buds.
Where: NRI (Not Really Indian), Bandra Kurla Complex, Mumbai
8. Sharma Tea, Kolkata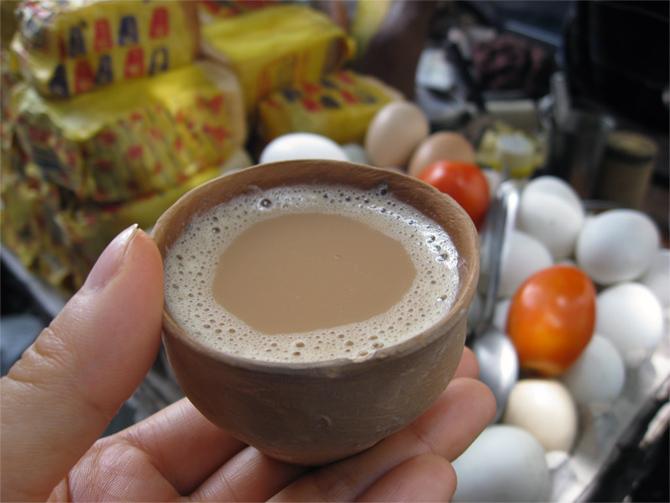 IMAGE: The chai here is simple and earthy. Photograph: Kind Courtesy taylorandayumi/Creative Commons *pic used for representational purposes only
A small tea shop serving tea and desi snacks in South Calcutta, it can easily be missed by those who are not aware of its presence.
Having grown up there, I know what a haven for foodies this place is.
His snacks are just what you need on a rainy day and his kesar chai is rustic and earthy.
Take a sip of the kesar chai as you bite into a hing kachori -- served with a piping hot aloo preparation -- and you're sure to slip into food heaven.
Where: Ballygunge Phari and Hazra Road corner, South Kolkata.
9. The Tea Place by Manjushree, Pune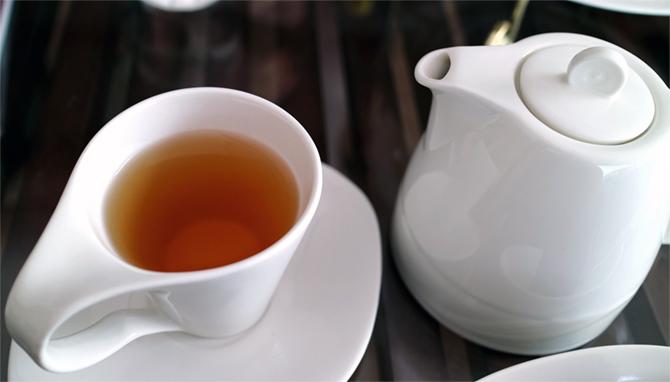 IMAGE: Drinking tea is surely an indulgent exercise at The Tea Place. Photograph: Kind Courtesy jsbaw/Pixabay.com *pic used for representational purposes only
Lots of variety in teas are found here; it is an ideal place for tea lovers.
Their green tea with pomegranate is soothing and relaxes me instantly.
For lovers of zesty flavours, there is the green tea with tangerine and citrus.
Where: Delhi, Mumbai and Viman Nagar in Pune
10. The XVII Tea Room, Mumbai
IMAGE: We have been tempted to take a sip of this tall glass of Hibiscus Ginger Iced Tea. Photograph: Kind Courtesy The XVII/Facebook
I am often confused with the exhaustive tea menu here, but have figured out what I enjoy the most...their Strawberry Basil Tea.
It's luscious, mild and the flavours are pure joy to my taste buds.
The fragrant basil adds the right hint of sweetness to it, making it a soothing beverage, especially in the monsoon.
For some reason, with this tea, I relish the Dutch pancakes, which are soft, fluffy and just the right size.
I love these with classic sugar and butter, even though there are other topping options.
Where: Pali Hill, Bandra, Mumbai