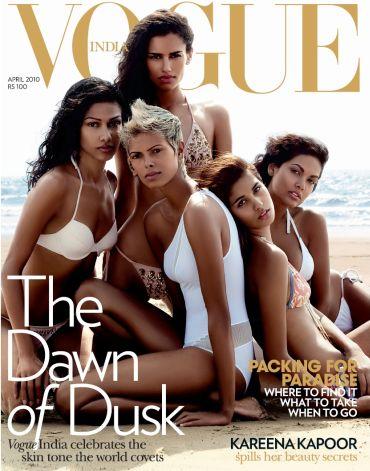 Are we as a country overly obsessed with fair skin? It certainly looks like it, but that's a perception many are working towards dispelling. Photograph: Latest issue of Vogue
Popular fashion magazine Vogue has taken up the fight against colour prejudice in India, where we're predominantly biased against the darker complexion.
In this month's Indian edition of the glamour magazine, British model Gia Johnson Singh, who has a fairly dark complexion, appears with four other bikini-clad models on the front cover.
The pic is headlined 'The dawn of dusk'.
The Vogue editorial stated: "Every generation has its share of beauty myths. Perhaps it's time to bust this one."
"Time to say that as a magazine, we love, and have always loved, the gorgeous colour of Indian skin... dark, dusky, bronze, golden -- whatever you call it, we love it."
The growth of fairness cream companies in the country is indicative of India's obsession with white skin, also called the 'Snow White syndrome'.
Top brands such as Hindustan Unilever's Fair and Lovely and L'Oréal's White Perfect have been growing by up to 18 percent a year.
Also, AC Nielsen, a research agency, estimates that the market will grow by upto 25 percent this year.
Johnson Singh revealed that she was shocked when she arrived for her first modelling assignment in India last year.
"I was shocked at the extent to which these creams are advertised by high-end brands. It's really sad," Times Online quoted her as saying.
The beauty admitted that she suffered from colour prejudice in the country.
She said: "I heard someone talk about me on the phone saying 'Oh, but she's really dark'. It really got my back up."
Also, Prabuddha Dasgupta, a fashion photographer admitted to the country being colour-biased.
He said: "I've been battling this colour prejudice for a long time. As a brown-skinned nation, we've turned against each other. Beauty companies have always perpetuated this collective insecurity and there are impressionable young girls of 13 or 14 who are dark-skinned and think there is no life ahead of them. It's appalling."
Meanwhile, Nirupama Singh, an expert on the sociology of fashion, hopes Vogue's effort will change things.
She said: "Skin colour matters a lot for women in India. Fairness is a very valuable thing here, looked on as desirable. The fashion world can be a big agent for change in this area."
Do you believe that our country has an unhealthy obsession with fairness and fairness products? Do you think something needs to be done to dispel the Indian obsession with complexion? Let us know your opinions and advice regarding the same on the messageboard below.