The new guidelines can act as a deterrent for students who have for years been unfairly reaping the benefits of the 'Ctrl+C, Ctrl+V' method of research, reports Dhruv Munjal.
Illustration: Uttam Ghosh/Rediff.com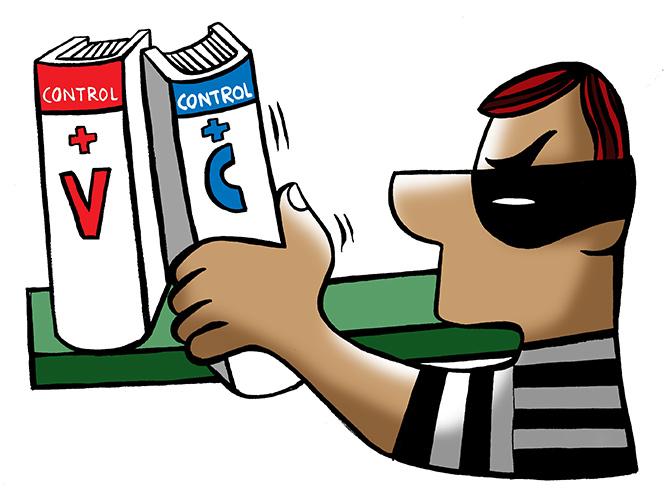 Krishan Agarwal can't recall the boy's name. He identifies him as the gangly, bespectacled boy with a square face who has been coming to his shop for a few years now. "He 'buys' projects every semester," says Agarwal, whose shop lies tucked away in a crowded corner near the Vallabhbhai Patel Chest Institute in Delhi University's North Campus.
There are other instantly recognisable faces, he adds -- regular customers who drop in every once in a while, usually a couple of days before their project submission dates.
"Undergraduate or postgraduate students?" I probe further. "Both."
For years, Agarwal has been tapping into the thriving culture of plagiarism at Delhi University.
The practice, of course, isn't just limited to the national capital -- universities, big and small, across India have thrown up cases of flagrant plagiarism with staggering regularity, with both students and professors being found guilty.
The new guidelines of the University Grants Commission for plagiarism, which the human resource ministry approved, aim to put an end to this epidemic -- at least at the highest levels of education.
The guidelines specify four levels of plagiarism: Up to 10 per cent; between 10 and 40 per cent; between 40 and 60 per cent; and above 60 per cent.
Students defaulting under the first category will invite no punishment; for an offence under the second, students will be asked to submit a revised research paper within six months; plagiarism in the 40 to 60 per cent range will see students being debarred from submitting a revised paper for a year; and anything above 60 per cent will lead to the cancellation of a student's registration.
As for teachers, those guilty can get suspended, or may even lose their jobs.
These new rules are, however, only applicable to MPhil and PhD students.
Belated -- and somewhat limited -- these may be, but the new guidelines have the potential to act as a deterrent for students who have for years been unfairly reaping the benefits of the 'Ctrl+C, Ctrl+V' (copy-paste) method of research.
"It's not about whether the new rules are stringent enough or not. The key is to recognise that plagiarism, in large parts, is a consequence of a very poor understanding of the practice among members of the research community," says T C A Anant, professor of economics at the Delhi School of Economics and India's former chief statistician.
The UGC defines plagiarism as 'the practice of taking someone else's work or idea and passing it as one's own'.
Despite it being fairly straightforward, academicians point to a lack of clarity and comprehensiveness in what can be a complex, multi-layered problem to counter.
"Students generally don't know when to cite and how to cite (sources). And while they are aware of structural plagiarism (the copy-paste kind), they are unaware of the ideational variety of plagiarism," says Hansika Kapoor, a research author in psychology at Monk Prayogshala, a Mumbai-based not-for-profit research institution that seeks to improve the quality of Indian research by following rigorous ethical standards.
A few years ago, researchers at Monk Prayogshala randomly picked up samples of research work from Shodhganga, a UGC-maintained online repository of theses and dissertations submitted to Indian universities, to check for plagiarism. The results were damning.
"We wanted to understand the seriousness of this problem. So we picked up 20 samples from different fields. The average extent of plagiarism per paper was 13.4 per cent," says Anirudh Tagat, a research author in economics at the centre.
Experts are also concerned that the guidelines are narrow in scope and limit academic integrity only to text plagiarism.
"It appears that the UGC has never heard of falsification and fabrication of data/reports," says Kasturi Lal Chopra, president of the Society for Scientific Values. "The UGC can only quantify plagiarism, without understanding that even one key sentence copied can amount to significant plagiarism."
Chopra's colleague, N Raghuram, who is the vice-president of the society, brings up the case of Gopal Kundu. Kundu, he says, would not have been affected by the new guidelines if he were working in a university department today.
In 2006, Kundu, a renowned cell and cancer biologist, was accused of having misrepresented data in a paper published in the Journal of Biological Chemistry.
Back in North Campus, students rue the absence of quality anti-plagiarism software programmes. And while institutions such as the Delhi School of Economics are well placed to ensure quality checks and increase awareness by way of workshops and seminars, others aren't.
"What you need is regular checks while you are compiling theses," says Sudhir Kumar who is pursuing a PhD in chemistry at Delhi University. "That is not possible when you don't have proper software. By the time you submit it, it's too late."
For long, universities -- particularly those run by the government -- have cited this very insufficiency of resources for plagiarism going unchecked. The human resources ministry, which has announced that all universities will now be given a Turnitin-type software free of cost, looks determined to put an end to the problem.
"This is a welcome move. We need to have wider access to technology," says Anant.
Turnitin, used by over 30 million students, is the most popular plagiarism-detecting software in the world.
A part of this difficulty is down to the steep price of the Turnitin software. While the exact cost is not available, it is widely believed to cost a university between Rs 500,000 and Rs 800,000 every year.
To offer a cheaper, indigenous alternative, a Bengaluru-based start-up came up with DrillBit in September 2017. "We interacted with professors from across Karnataka who felt that foreign software programs were too expensive and not easily available," says Jayanna Belavadi, the company CEO.
DrillBit came about after a year-and-a-half of research, which included studying the market and understanding the requirements of students and colleges. DrillBit is available for 30 to 40 per cent of the price normally quoted by Turnitin.
And despite a limited database, it has already made its way to over 50 colleges and universities across India.
There is little doubting that the new guidelines are indeed a step in the right direction, but they seem incomplete owing to certain worrying omissions.
The seeds of plagiarism are sown at the undergraduate level itself, with students often copying assignments off each other, a routine affair that is viewed as an innocuous exercise.
Research work may be limited in graduate and master's programmes, but there is little question that benchmarks for moral standards should be set starting from the lowest rung of education possible.
"Most important is looking at undergraduate students who are pretty much 'trained' to 'cut-copy-paste', and not think originally. If we need to get rid of this menace, we need to begin from the bottom," feels Kapoor.
And while private universities have in place strict plagiarism checks for undergraduates, such scrutiny is non-existent at government varsities, particularly Delhi University.
"There have to be serious consequences for students who indulge in unethical and fraudulent shortcuts," says Rupamanjari Ghosh, vice-chancellor at Shiv Nadar University, a private varsity in Greater Noida that has a zero-tolerance policy towards plagiarism, even for undergraduate students.
At government-run institutions, it is quite the opposite.
Delhi resident Soumya Sarin, for instance, purchased a research project from a shop similar to Agarwal's in the final year of her BA (Hons) Multi Media and Mass Communication course at I P College for Women. No checks were made and her project was accepted.
Three years later, her brother, a student of Guru Gobind Singh Indraprastha University, submitted the very same project in his final year. He came under no scrutiny, either.
"So many students buy the same project. And no one ever gets caught. The moment they start getting stricter, my business will suffer," says Agarwal.
Given the flourishing nature of such business models, it is hardly surprising that in 2017, India was the top country globally to get low-quality research published in 'predatory' journals -- journals that publish research findings with no quality controls -- contributing an unhealthy 27 per cent.
While the new UGC guidelines might not immediately bring this figure down, they do offer some cause for optimism.