Cafe Irani Chaii is Mansoor Showghi Yezdi's attempt at preserving Irani culture in an age of globalisation, where old cultures are swiftly fading away.
Syed Firdaus Ashraf/Rediff.com visits the Mumbai cafe.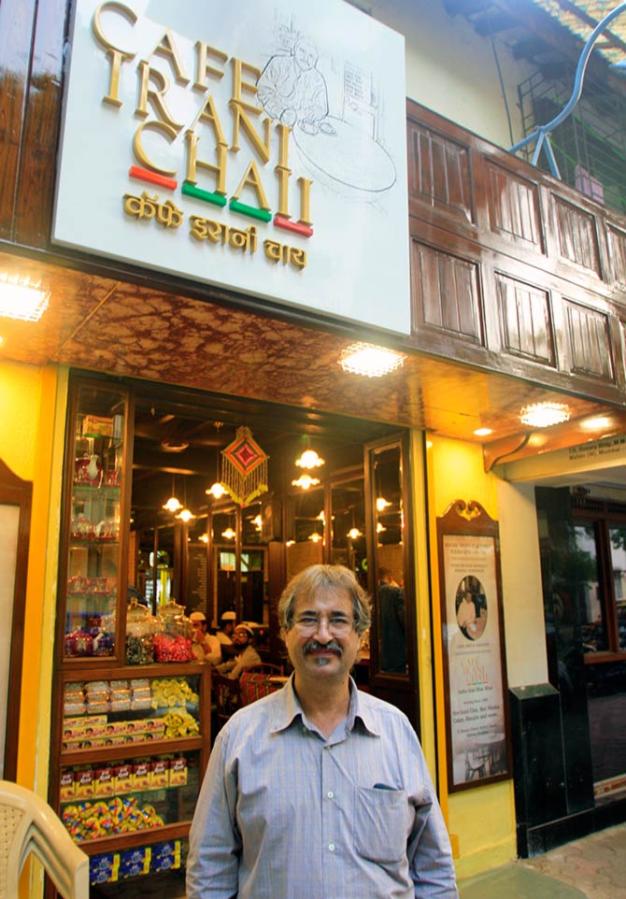 IMAGE: Documentary filmmaker-turned-restaurateur Mansoor Showghi Yezdi. Photographs: Reuben NV/Rediff.com
"The extra 'i' in Chaii is the love between India and Iran," quips Mansoor Showghi Yezdi as he greets customers at his restaurant, Cafe Irani Chaii.
As you enter the restaurant, you see portraits of Mansoor's family hanging above the payment counter. Bentwood chairs, a signature of Irani restaurants, grace the cafe. "You must try the mutton paya. I make the best mutton paya in Mumbai," he adds with a smile.
Once a familiar landmark on Mumbai's cuisine scene, Irani restaurants in the city have dwindled over the years. Twenty years ago, Mumbai boasted 400 Irani restaurants, cafes, bakeries and canteens. Today, there are less than 30 of them in the city.
Quiz Mansoor on how he hit upon the idea to open an Irani restaurant, and pat comes the reply. "It runs in our blood. It is not an idea, but a creation. My grandfather created this atmosphere for his son, and my father continued the tradition," he says.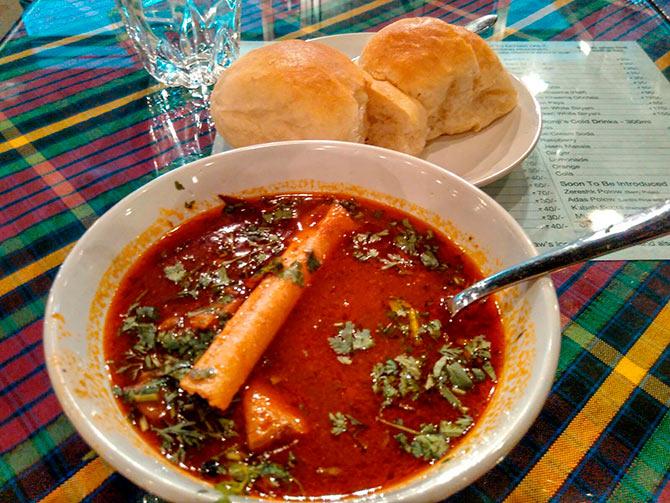 IMAGE: Mansoor says he makes the best mutton paya in Mumbai; Photograph: Syed Firdaus Ashraf/Rediff.com
Mansoor did not continue this culinary tradition in his youth. He became a documentary filmmaker. When he was shooting a documentary on Irani cafes in Mumbai, he realised that his community's culture was dying. He felt the need to open a restaurant.
"We should not let the love and affection between India and Iran die. We're playing a very small part in this, but it is of great value. We are spreading love over a cup of Irani chai," says Mansoor with the aplomb that we have come to expect during our conversation.
Media reports suggest that Irani restaurants shut down because its owners sold their prime location properties for a good price, and also because they could not compete with the McDonald's and Cafe Coffee Days of the New India. Mansoor thinks otherwise.
"When the Iranis came to Mumbai, they did not have enough money to start restaurants. They usually had eight to ten partners. Later, as the families grew, there were differences among the second/third generations. Their children could not cope with each other. Some wanted to convert the restaurants into fast-food joints, while others wanted to retain the old heritage," he says.
"In some cases," he adds, "the children ventured out into different businesses. So the old men were left with only two options: Either to buy their partner's share outright or shut down and sell the property."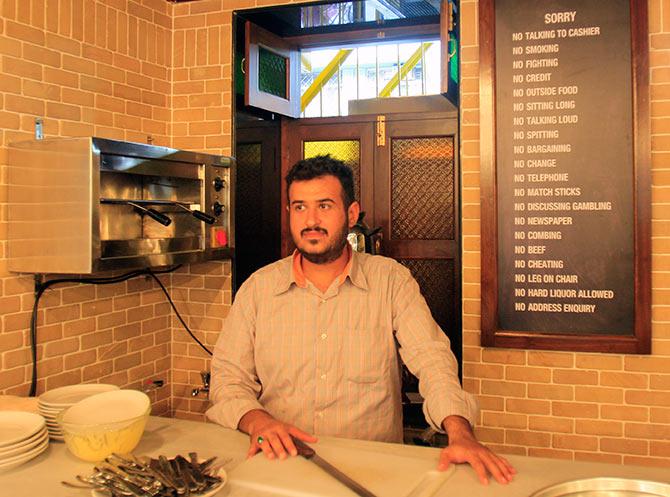 IMAGE: Mansoor's son Hussain, the cafe's chef.
A fourth generation Irani from Yazd, Iran, Hussain -- Mansoor's son -- has kept in touch with his roots. "Every year we go to Yazd," he says. "I learnt to make Zereshk Pulao (berry pulao) and will introduce the dish to customers soon."
Yazd is from where many Iranis traveled to India in the late 19th century. Unlike the Parsis, who traveled from Iran to India in the 7th century after the Arabs conquered Iran, the Iranis only moved to India in the 19th century because of a famine in Yazd.
"We don't call ourselves Hindus, Christians, Muslims or Jews in India. We call ourselves Hindustani," says Mansoor. "We are all under the banner of India, under the same love and patronage of India."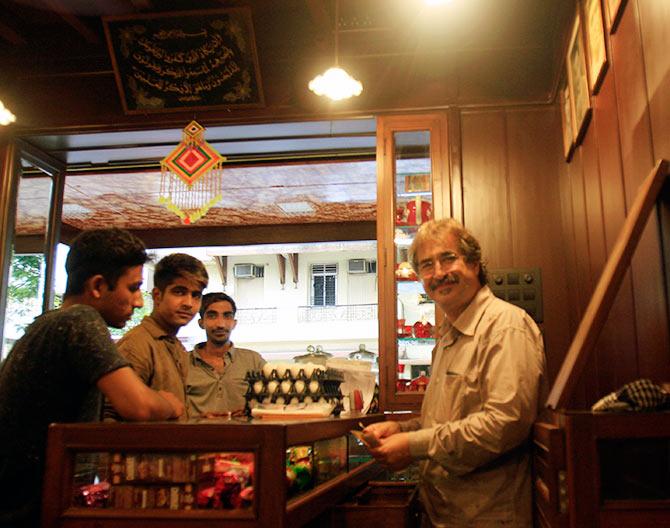 IMAGE: Mansoor Showghi Yezdi: Yeh dil hain Hindustani.
What makes him confident that Cafe Irani Chaii will flourish in the time age of McDonald's and CCDs? "When my grandfather came to India from Iran in the 1890s," says Mansoor, "he was welcomed by his Indian brothers and sisters with open arms. Indians strongly believe in Atithi devo bhava (a guest is like god), and they have never let us down. That is why Iranis flourished here. This feeling of oneness makes me confident that my cafe will flourish."
Cafe Irani Chaii: MMC Road, near Canossa High School, Mahim (West), Mumbai 400016. Timings: 7 am to 11 pm.