She's a daughter, mother and a self-made woman.
She knows her boundaries and yet challenges and breaks them every single time.
Write to us and share your experience if you're a woman who has broken stereotypes, and we will publish it!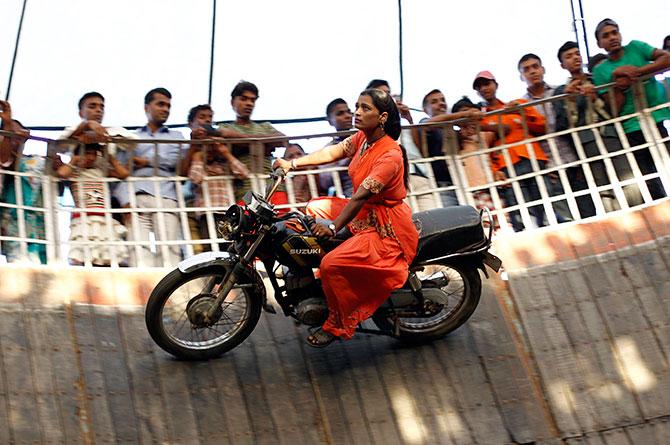 I am a woman and I can ride bikes.
Salma Pathan, 21, from Maharashtra, rides a bike in the 'Well of Death'.
Photograph: Adnan Abidi/Reuters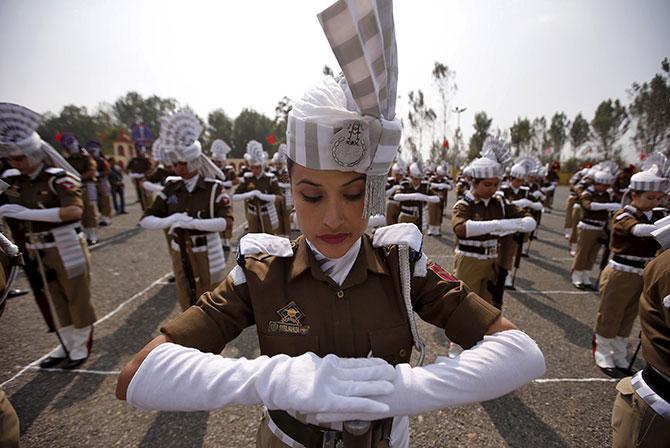 I am a woman and I protect people.
An Indian policewoman bows her head during a ceremony to mark Police Commemoration Day in Zewan, on the outskirts of Srinagar.
Photograph: Danish Ismail/Reuters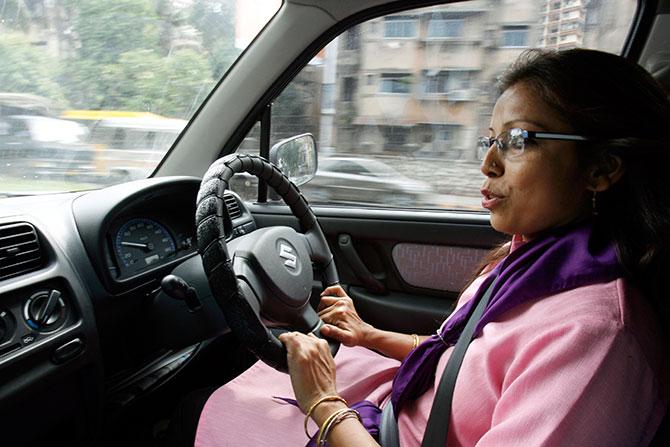 I am a woman and I can run a business.
Entrepreneur Revathi Roy drives her taxi in Mumbai.
Photograph: Arko Datta/Reuters
I am a woman and I am a bouncer.
India's woman bouncer Amandeep Kaur stands near the dance floor of a disco pub in Chandigarh.
Photograph: Ajay Verma/Reuters
It's both good, and difficult, to be different.
Quite often, when women do something out-of-the-box, they receive brickbats instead of accolades.
Take the case of Malala Yousafzai. She demanded that girls in Pakistan enjoy the right to education. And she was shot in the head. But Malala survived and continues to bravely propagate the cause of women's education.
Back home, BMTC bus driver Prema Ramappa broke stereotypes by proving that this is one more job women can do.
India's fastest woman bowler Jhulan Goswami proved that women can make good cricketers too.
Are you a women who's broken the stereotype? Do you personally know a woman who has challenged assumptions and defied the 'barriers' laid down by society to become an achiever?
You could be a wife who manages all the electric fittings at home just like a pro.
You could be a single woman who is more inclined to look for a 'suitable job' than a 'suitable boy'.
You could be a daughter who plans to buy a home for her parents so that they can retire peacefully.
You don't need to be a celebrity or have done something earth-shattering.
It could be just a simple act that deserves praise.
Tell us. What stereotypes have you broken? How did your family and friends react?
If you have photographs, please send us those as well. Mail us at getahead@rediff.co.in (Breaking Stereotypes) and we will feature the best entries on Rediff.com
Don't forget to mention your NAME, AGE and the place where you LIVE.