Actor Shama Sikander and fiance James Milliron share their V-Day plans and talk about love, sex and relationships...
IMAGE: Shama Sikander
All photographs: Hitesh Harisinghani/Rediff.com
Shama Sikander and her fiance James Milliron found a special way to declare their love for each other.
Dressed in matching white and blue outfits, the couple recently celebrated Valentine's Day with mediapersons at a restaurant in Juhu, Mumbai.
A romantic at heart, Shama currently plays the lead in Maaya, a web erotic thriller series on the lines of BDSM (bondage, dominance, sadism, and masochism) -- a bold concept for Indian audience, directed by Vikram Bhatt.
Within four weeks of its release, the series has garnered popularity and has got the audience hooked.
Rediff.com's Hitesh Harisinghani spoke to the actor to know more about the actor's personal views on BDSM, influence of television content on viewers and safety in India.
How has the audience reacted to Maaya?
I think the audience reactions have been fabulous. People keep asking me when's the next episode coming and that's a great achievement if we have been able to create that desire for people to watch the show again and again.
People are not only liking it but also accepting it in a very nice way which is what we intended to do when we were shooting it. I'm glad people are taking it in a good way.
IMAGE: Shama Sikander and James Milliron say it with flowers and a kiss.
What are your personal views on BDSM?
BDSM is just another form of showing love to each other. Whoever likes it will enjoy it. That is their personal choice and I'm not someone who judges people.
Would you endorse BDSM? Do you think it subtly encourages rape?
BDSM happens with mutual consent. It involves partners agreeing to each others' needs. I don't think it's considered rape unless it is happening without mutual consent.
Your definition of a sexy V-Day date would be...
My idea of a sexy v-day date is simple. I like the old classic romance.
I'm not somebody who expects too much out of a guy. I like him to be simple and honest in his approach and I'm happy that I have somebody in my life who loves me the way I want to be loved.
What is the difference between love, lust and sex..
Love has a lot to do with your being. Love comes from the bottom of the soul..
Lust comes from your body. It also comes from the heart to desire somebody.
Sex is a need of our body. It's natural and you cannot survive without it and that's how we human beings are made.
So all three things come from three different chakras of you.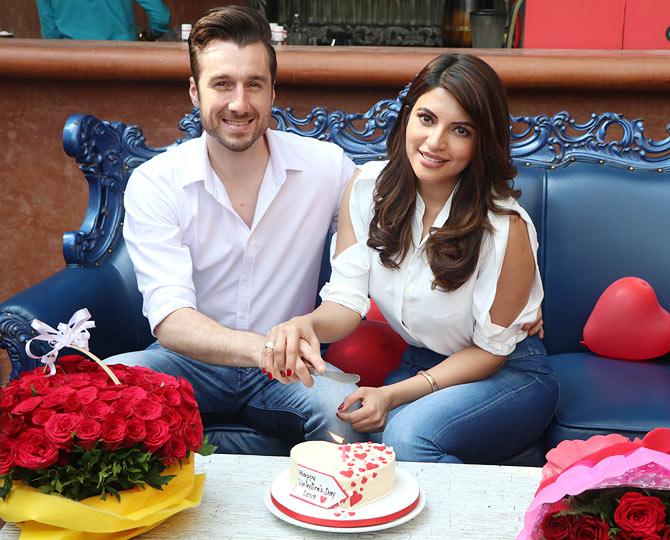 IMAGE: What's a date without a cake and heart shaped balloons?
Your advice to couples on how they can make their V-Day memorable
Just be with each other, don't fight.
Don't make small issues big. Trust me, it's not worth it.
If you don't like anything about each other, just let the person know.
When in love, surrender yourself to each other and appreciate what the other person is doing for you.
Where do couples go wrong in a relationship?
The problem arises when people start taking each other for granted.
Nobody is anybody's property. Being with each other is a blessing from both sides. Just have some self-respect and respect the other person :)
What are your views on women safety in India?
I would say bad things happen everywhere in the world but unfortunately India is highlighted.
There is insecurity everywhere in the world.
Safety comes from within. You have to be strong enough to face any problem and not feel weak at the moment.
As a human being, you have a lot of strength; in fact, you have much more strength than you think. When the moment arises, gather all the strength and fight.
If you are strong nobody can take advantage of you.
If you are not strong enough, work on it, practice it and make it a habit. That's what we need to teach women in our country. They (women) have been suppressed for so long that they feel low. They feel something is lacking in them and feel incomplete. This attitude comes from their own families.
I have seen mothers telling their daughters, 'he is my son he can do it but you can't because you are my daughter'.
Why don't you give the same faith, courage and confidence to women?
Women have to be treated equally. Feed strength in her and make her powerful as she has all that is required to be powerful.
Your future plans...
I have just finished shooting for a film about which I'm not allowed to talk.
I am also considering two interesting projects.
This year has been good, work wise. I'm excited that I'm getting very good offers.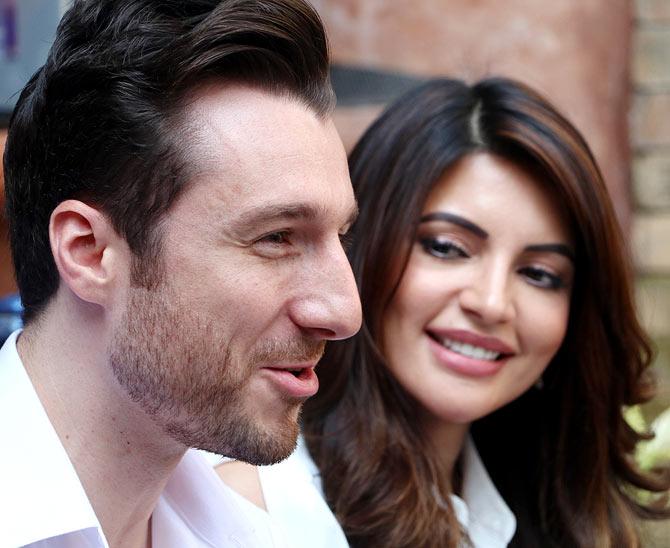 IMAGE: 'James is perfect' for Shama.
What are your V-day plans?
I'm sure James must have planned something; he always does. Every time he surprises me with simple joys of life that I always wanted. James is perfect :)
So, James, what's special?
James: I have planned dinner with a 'surprising' activity which is going to be very exciting.
Any tips for our readers?
James: Do something extra special (for your date). Just one advice for all: DROP THE EGO MAN!
Watch the video below to know how James plans to surprise his lady love
Video by Afsar Dayatar/Rediff.com