Mumbai-based psychologist and marriage counsellor Dr Sanjoy Mukherjee tells you why marriages break and what you can do to prevent it.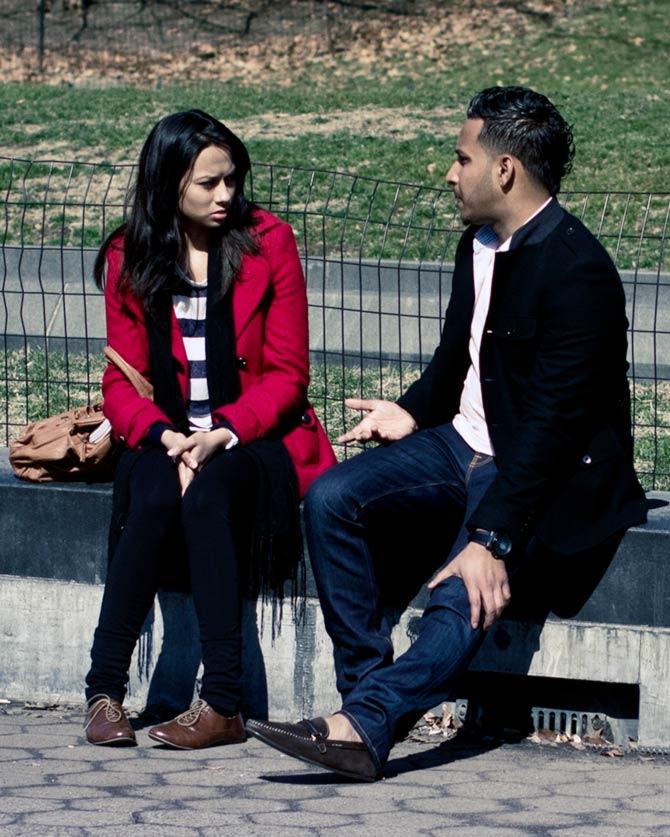 To be in love is a beautiful feeling. It transcends all boundaries and helps you stay positive and healthy from within.
In a healthy marriage, love is what keeps the couple and family together.
But when you don't find love, or the love weakens, you tend to hate your spouse.

It's important to understand and respond to the negative signs in your relationship before they harm you and your well being.
Here are six danger signs you need to watch out for.
#1. Lack of interest
If you notice your spouse is losing interest in you, look out for the reasons. If it is not work or financial pressure or family priorities, you need to worry.
The solution
Find out if your spouse has genuinely lost interest in you or there is something bothering them.
If it is the former, you need to reconsider your relationship. Talk about it without being judgemental about each other.
If it is the latter, see how you can help.
I always feel the best time to prevent a conflict is before marriage, not after.
After you are married, you have to work on it every single day. You cannot give up just like that.
#2. Lack of respect
When I say respect, I am referring to how your relationship was before marriage.
Do you see your spouse being increasingly abusive or rude or insulting? Is it frequent?
Does she or he apologise later?
Do you feel you are no longer valued?
It is not a good sign if you are not respected or valued.

The solution
If it happens occasionally, you can kiss and make up without making a big deal about it.
If it is happening too frequently post marriage, you need to find out what is fuelling it.
You have to feel positive about the person you are in a relationship with.
If there is something wrong, you and/or your partner need to change for mutual benefit.
#3. Lack of acceptance
Do you see your spouse nitpicking too often?
Do little things about you bother her/him? Was she or he comfortable about it earlier but is bringing up these issues now?
Are your views/opinions being ignored or dismissed?
These are signs that your partner doesn't accept you.
The solution
You have to understand that you are two different beings who have set on this journey together.
If you want to change a few things about your partner, it's okay, but it has to be mutual.
You too have to be accepting of your partner and be willing to change when the situation arises.
It's a two-way process. You cannot let one person take the hit all the time.
#4. Lack of physical intimacy
One of the primary reasons for divorces is the lack of intimacy (read sex)! It's a physical need and has to be fulfilled.
A few years into the marriage, when men are denied intimacy by their spouses, they may resort to cheating -- intentionally or unintentionally.
While 80-85 per cent women are monogamous, even they seek intimacy.
A woman may cook, work and take care of the husband and his family like a dutiful wife but may seek 'intimacy' from another man who truly loves her.
If a spouse does not allow people to touch him/her, it could be a warning sign.
The solution
I always tell couples that the first five to 10 years are very crucial in a relationship. There has to be ample physical intimacy between the couple during these years.
One cannot ignore or deny the importance of sex in a marriage.
#5. Lack of appreciation
When was the last time you said something nice to your spouse? Are you ignoring her/his contribution to your life?
Not feeling the need or desire to appreciate your spouse is a matter of concern.
The solution
Even simple compliments like 'I like what you are wearing', 'The lunch you cooked was amazing' or 'I appreciate what you did for me today' mean a lot.
You must appreciate and support each other often without being told to do so.
It improves bonding and love between you.
Dr Sanjoy Mukherjee spoke to Divya Nair/Rediff.com
Lead image used for representational purposes only. Image: Guian Bolisay/Creative Commons
Dear readers, share your tips for a great marriage. Post your advice on ZaraBol #Happy-Marriage-Tips

Click here for our complete Valentine's Day coverage
Visit Rediff's Valentine Store & Buy Amazing Touching Gifts for Your Loved Ones