We asked you to share pics and stories of your furry companions.
This is what Heera Nawaz, 58, from Bengaluru shared about her pet Sweety Pie.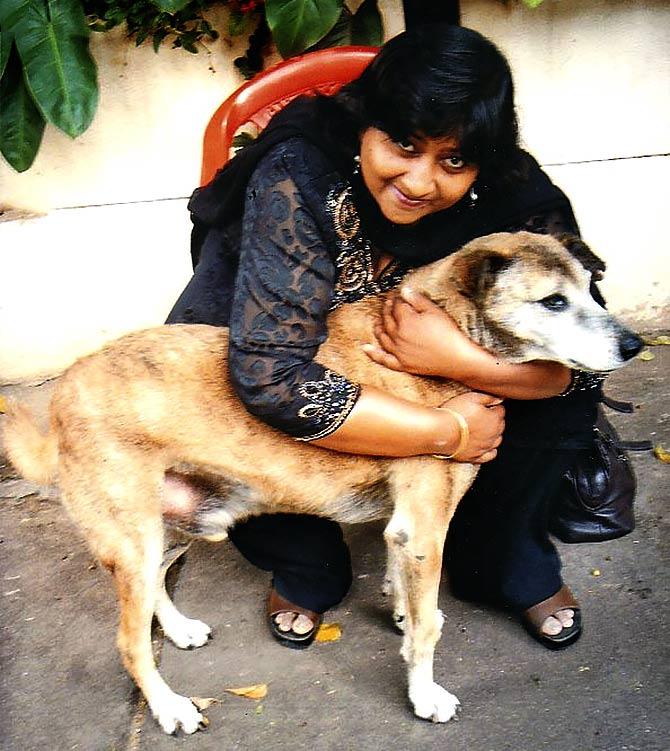 I used to wonder why the word 'dog' spelled backwards is 'God'.
Then I realised that Sweety Pie, my dog was indeed wonderful and awesome.
He used to just amble and roam outside my apartment, Garden Homes on Aga Abbas Ali Road, thinking that it was his territory.
Once some people came to catch stray dogs. They wanted to get them culled because they believed these dogs were dangerous to the residents.
They tried to trap Sweety Pie. Using my presence of mind, I gave shelter to him until the danger passed and he was safe.
I then gave him a collar that protected him to an extent from dog haters.
I started petting him and he seemed very friendly and responsive.
That was when I got him to be stationed at the entrance of my apartment.
There, the security guard and Sweety Pie grew to be symbiotically and mutually protective of each other. Unfortunately, my dog passed away.
I am ever grateful to my neighbour, Yamine Claire, for doing a lot for Sweety Pie when he was alive, like feeding him thrice a day and taking him to the vet, when required.
May God bless her beautiful dog-loving soul.
One endearing characteristic that my dog had was whenever he did something mischievous, he would feign total innocence.
He'd tilt his head to a 45 degree angle, and look at me with those beautiful, soulful eyes (which could melt a tub of ice), as if to say, 'Hey, you don't think I did that, do you?'
My vitriolic anger would dissolve and dissipate instantly, while my innocent dog would slink away.
Tears flowing down my face I'd acknowledge unapologetically my tryst with God, sorry dog.
---
We ask you, dear readers to share pics of your pets.
Write in to getahead@rediff.co.in with 'My Pet Pic' in the subject line and share your responses along with your NAME, AGE and the place where you LIVE.

Don't forget to tell us your pet's name. We will publish the best entries right here on Rediff.com!