"All men like to believe that they are busier than they are, that they are out saving the world. But they usually come around with some soft words, soft emotions."
"It's easy to ask why are you wasting your time over such a guy, but the mind has its own rhythms and reasons.
"All I can say is, when you meet the right guy next, this will seem like a distant dream."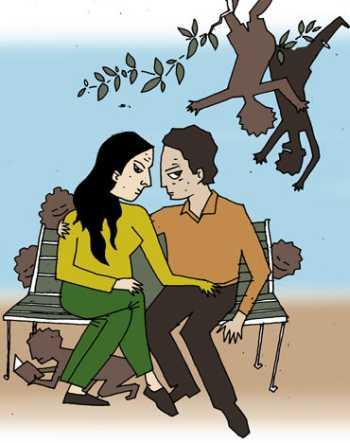 In a weekly chat with readers every Thursday, Rediff's Love Guru addresses their relationship problems and offers solutions.
For those who missed the chat on May 7, 2015, here's the transcript!
---
vikas waghmare: One of my female friend initiate contact with me.
We become close and she told each that she like me and suddenly after 4 months she says 'I cannot meet u. if u wanna stay friend then ok or quit from our friendship, I can't disclose the reason'.
I insist for the reason but she is not giving reason.
Love Guru: Vikas Waghmare: I can understand how you feel, but I suggest drop it, she may have her good reasons for doing what she has, she may have her compulsions which she may want to share.
---
Khaja-Naseeruddin: Hey, love guru I got engaged about 5 months ago and recently she broke-up the relation and now she is realising that she was wrong.
Please suggest me what to do at this moment. Thank-you
Love Guru: Khaja-Naseeruddin, your decision, really. But why did she break up with you in the first place, what were her reasons? And why the change of heart? You need to find out first
---
cicilia tamang: Hi love guru can I have the suggestion on my guy I wish to b with. Wat way should I act around him?
He is so busy but still he got time when ever I call him and help me in anyway. Bt I am confuse why is he turning away from love?
Love Guru: Cicilia Tamang, all men like to believe that they are busier than they are, that they are out saving the world. But they usually come around with some soft words, soft emotions etc.
Your case seems to be different, and his behaviour not too positive, so who knows, maybe things are not okay with him.
---
yuvi: Hey, I got engaged recently and my fiance wants to get married after 8 long months.
At first I didnt realise why she wanted that long time before marriage.
Off late we had an argument and that's when she told me that she wanted to fall in love with that person whom she is marrying and she also complained that I am making an effort to make her fall in love with me.
Love Guru: Yuvi, and your problem is? You don't want to wait for eight months? You don't want her to fall in love with the person she is marrying?
---
pravin singru: How to find that a matured woman is in love with a matured man?
Love Guru: Pravin Singru, if both the persons are mature as you suggest, it should not be difficult to find out at all.
---
SNEHA SONI: My bf loves me a lot and I too loves him. But he is very narrow minded and restricts on every thing. what I should do
Love Guru: Sneha Soni, a lot of men are restrictive when it comes to their girlfriend, is your boyfriend more so?
Since you two love each other, I am sure you can discuss it with him, tell him how you feel, and how he can change himself. See if that works.
---
sayak chakrabarty: I don't understand her. Her attitude says she loves me, but she doesn't communicate in any way.
I said I've a deep feeling for her, and after that she started to be away slowly, but once whatever she said only a mere friend doesn't say those things. Plz say what to do?
She isn't replying. I SMSed her sorry as I became harsh on her since she was going away slowly. Help
Love Guru: Sayak Chakrabarty, your relationship status sure qualifies for 'complicated'!
So complicated does it seem that I really don't know what to make of it.
Are you a couple, were you a couple, will you be a couple, all of this seems so unclear.
I hope you can make better sense of what you are describing that I can.
---
Nitya Shetty: I've been single for about 2 months. I know I know its not a big deal, but I feel so alone.
All of my friends are in relationships and I'm alone in the corner... I'm tired of the people I like not liking me or having a girlfriend. I don't know what to do
Love Guru: Nitya Shetty, there is nothing I can do to help in your problem, except advising you to have patience, and that you will meet someone.
---
Joshi: We are Indian family. Love marriage= havoc! Upon that mismatch in any aspect,blunder. But love is conditionless!
We love each other. The only matter is I am taller than him.
Mum knows we are in a relation but she denies to accept him and wants me to leave him Its 2yrs now 4 our relationship We cant stay without each othr. Plz help
Love Guru: Joshi, is your mum's objection because of the height difference, or is there anything more to it?
If it is just the physical mismatch, she can be at peace, there are any number of couples where the wife is taller than the husband.
I mean, if it didn't matter to the couple, I don't see how it matters to anyone else.
---
Mayank Mehta: We have relation from last 4 years suddenly she left me all alone and from last 1 year I am trying to convense for to tell me the reason for leave me all alone she is ignoring me now. What should I do please help me out I really love her need her to love please help me
Love Guru: Mayank Mehta, I understand how you feel on being stood up like this, but short of making a fool of yourself, or worse a stalker, there is no way you can find out why she did what she did.
Instead, I suggest, let it be, accept her decision however heartless it may seem to you, and get on with your life.
---
manisha satpute: I was seeing this boy last year but our relationship wasn't made official.
Then in September we had a massive argument and stopped talking. I think that I'm over him.
I don't think I feel anything for him but I cannot get him off my mind and it hurts because I know he's not thinking about me.
Why can't I forget about him? How do I forget about him?
Love Guru: Manisha Satpute, some people get over relationships quickly, some take a little longer. At least you are being honest when you say it hurts because you know he's not thinking of you.
It's easy to ask why are you wasting your time over such a guy, but the mind has its own rhythms and reasons.
All I can say is, when you meet the right guy next, this will seem like a distant dream.
---
neetu chaubey: I just started dating my best friend. He wants us to kiss.
Every time he tries I turn my head. I just don't want it to be weird because we were friends before.
Love Guru: Neetu Chaubey, are you being a little uptight?
I mean, here you say you have started dating, and next line you say you turn your head away when he tries to kiss you.
Can you imagine how devastating it can be to the other person?
It's better if you decide if you want to date your best friend or not; The way you are doing it, does no justice to him.
---
Vijay Majalikar: Does love really happen?
Love Guru: Vijay Majalikar, I sure hope it does. Else I will be unemployed!
---
Mahima Das: I've been dating a guy for nearly 3 months whom my friend set me up with.
Since we have been dating she has been phoning him and has taken him out for breakfast a few times.
He says they are just friends and I shoudn't feel jealous or insecure. Is he right about this?
Love Guru: Mahima Das, he could be right. But there is always an 'on the other hand' scenario in such situations, what if it kicks into play?
There is nothing called over-caution in such matters, I think you should lay out the rules of engagement clearly with your boyfriend so there's no future shock coming your way.
---
manikgupta020@rediffmail.com: I recently discovered by accident that my love is advertising her services as an escort on an adult website.
On confronting her, the response was that she cannot find the time to study doing a 9 to 5 job while pursuing her Masters Degree.
It is terrible having to read her reviews from her clients on the Internet. What shall I do?
Love Guru: Manikgupta020, yes, I can imagine your shock.
What you should do depends on the extent of your relationship.
I mean, if you are serious about a future with her, yes, this sort of gets in the way.
Even if she agrees to stop her secondary activities, record of it will exist in the online case, making sure your trauma never ends. But tell me, what is it you want to do now?
---
Vijay Majalikar: How to know whether a girl likes or not?
Love Guru: Vijay Majalikar, when a girl really likes you, you won't be left in any doubt about it. It's only when she doesn't, will you have a doubt like what you are having now.
---
Nitin Joshi: I am 13 years old. The problem is that I don't know how to say "I love you". It's a girl I really like and i'm too afraid to say it... What do I do?
Love Guru: Nitin Joshi, thank god for small mercies.
At an age when you should be worrying about getting your aiches right, you are wondering how to get 'I love you' right.
Leave it be, you will get it right when the time is right. As you can see, I do'n't think that time is anytime soon.
---
Bala Chander Misra: I feel like quite a few girls like me. I'm a 'delinquent' and I'm annoyed because I really want love but I don't want to date someone who doesn't know why they like me and I want someone who can appreciate me for who I am.
I just want to know if it's possible or is it to much to ask?
I also want to know what love is like and is it really worth living for it?
Love Guru: Bala Chander Misra, too many questions, too little space.
I don't know what you mean by 'delinquent'. I think you have erected too many walls.
Life is a lot simpler, so is love or whatchammacallit, without these artificial barriers.
My advice is, just chill, go with the flow,you will find what is what. Or, in your case, who is who.
---
ghanshyam Sonwani: what is love?
Love Guru: Ghanshyam Sonwani, it's not something that can be explained or described.
Let's just say, when it happens to you, you will know what it is.
---
soniyaiyer: Am going through a mess divorce and he has been there for me from day one.
It is pure platonic friendship he has mentioned that he is looking out for marriage but never suggested that he thinks me as a prospective bride.
How do I find out what is on his mind?
Love Guru: Soniyaiyer, interesting scenario. Usually men in such a situation would be easy to read, and here you are wondering if he doesn't think of you as a prospective bride.
You could ask him, but a no could prove sticky. But there are other, subtle ways of finding out what's on his mind, don't you think?
---
Illustration: Dominic Xavier/Rediff.com
Also read
Advice from the Love Guru does not reflect the opinions of Rediff.com and should not be considered in the capacity of professional counselling.