In a weekly chat with readers, Rediff's Love Guru addressed their relationship problems and offered solutions.
Missed the chat? Here's the transcript!
---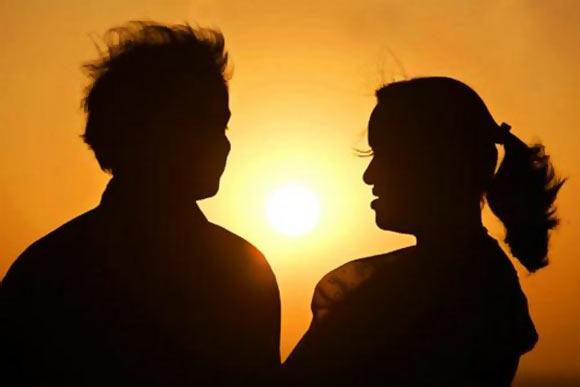 sadique: I am 25-yr old girl. I love my bf a lot, and vice versa.
But the problem is he cant break the heart of his parents and can't marry me as we are from different religion we are in a relationship from the past 1 and half years.
He can't marry me, but he says that we can continue our relation after our marriage also.
I feel suicidal sometimes. Please advice me.
Love Guru: Sadique, do you want to be the 'other woman' in his life after he marries someone else?
Seems to me he wants to have his cake and eat it too, but it really is your choice, if you want to be the spare tyre in someone's car.
---
Venkatesh: How does one impress a girl?
Love Guru: Quietly, Venkatesh, I would say, by not putting on an act.
By being confident, witty, knowledgeable, stylish... One could go on, the list can be long.
---
rahul: I am 28-year-old male and I am seeing this girl who is 25 years old since the last six months.
I think she is interested. How to approach? Give me some guides.
Love Guru: Rahul, I don't understand. You say you are seeing this girl since last six months.
Yet you have not approached her as yet???
Do you mean, seeing in the literal sense, that you have been sighting her for the last six months and don't know how to talk to her?
---
Navin Shah: What do you do when your partner and you are just too different?
We are getting into fights over our differences, and spending more time unhappy togther than we are enjoying each other's company.
It seems like our differences are getting in the way of being happy together. What to do in this regards?
Love Guru: Navin Shah, everyone has differences, there can be no two people without differences between them.
The point is, do the differences outnumber, outweigh the commonalities between you?
If that's the case, you have identified the problem.
Now, if both of you want to make a go of the relationship, work on the problem you have identified
---
Panse Kaisare: My girlfriend talks a lot. That is a big problem with me...What should I do??
Love Guru: Panse Kaisare, not a great listener, are we? If you have long term plans with her, I suggest you cultivate the art of listening
---
suman singh: Dear LG, what is a good age to get married?
Love Guru: Suman Singh, whenever you are ready (that is, after 18 for women and 21 for men), and so is the other person
---
Rajan sha: My girlfriend tells me that she enjoys having affiar with a colleague but assures me there is nothing more between them. Does this qualify as cheating?
Love Guru: Rajan sha, perhaps you can explain what 'having affair' with colleagues while insisting there's nothing more between them, means?
---
mustafa: How to keep any relation strong, healthy and happy?
Love Guru: Mustafa, there is no ready recipe. How do you keep a plant alive, fresh and robust? By daily and constant nurturing, right? Same with relationships.
---
ria dsouza: My girlfriend wants me to watch porn. I don't like it. She is insisting. and I have told her I don't like it. What do I do?
Love Guru: Ria D'souza, any ethical issues in doing it? Most people I know don't feel so strongly against watching porn.
Why does your girlfriend insist you do, btw?
---
shaishav: My family wants me to get married to someone. She is hot but she doesn't want it.
What do I do? How do I woo her?
You know this situation is slightly unusual. I am in love with her.
Love Guru: Shaishav, if she doesn't want to marry you it could be because she already has someone in mind.
Did you check? If there is, what do you plan to do, come in between?
---
romil: She wants me to buy lingerie. Where do i get it from? Is online shopping safe to purchase?????
Love Guru: Romil, any mall will have a section. You can also buy online, yeah. Many people do
---
Nitin Badesha: She told me she was a lesbian but i know she is dating a guy. Did she blow me off?
Love Guru: Nitin Badesha, possible. Women are known to use this strategy to fend off unwanted attention
---
Nirupama Trivedi: My boyfriend does not like wearing a condom. What are the dangers??????
Love Guru: Nirupama Trivedi, heard of unwanted pregnancy, for one?
---
janu: LG pl tell me what is the meaning of love?
Love Guru: Janu, better people than me have tried to define it and failed. All I can say is, you will know when it happens to you
---
shinde: My girlfriend finds me fat and ugly. I wonder why she is with me?
Love Guru: Shinde, the question is, are you fat and ugly?
Obviously, she doesn't like it, and if it bothers you so much, why don't you try changing?
---
Image courtesy: Raj Patidar/Reuters