We'd asked you, dear readers to share your love stories with us.
Sucharita Lahiri tells us how she met her husband 31 years ago.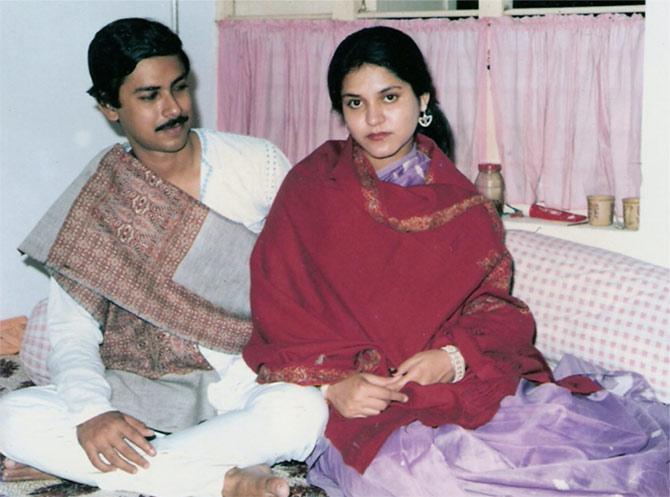 My mother announced one day that a photograph was needed to proceed for my marriage. Now that was quite exciting.
As I belonged to a conservative family, I never had a boyfriend. I made myself believe that a husband could also be a boyfriend rolled into one. The romance shown in Kamal Hasan's movie Ek Duuje Ke Liye had an influence on me.
My photograph was nice, but my grandmother pronounced with disapproval that my neck looked long, much like a giraffe.
But my father did not want to go to the city and wait for long hours at the photographer's. We had to settle for the photo with the long neck.
I grew anxious on learning that some people were coming to meet me. All that romance vanished when I saw the fellow. Kamal Haasan looked lithe and handsome, but this boy looked stout and far from my perceived notion. An old lady, presumably his mother wanted to see my feet. That was truly annoying.
The would-be-groom asked me whether I liked mountains or the sea. I liked the sea -- because of it's connection with the movie Ek Duuje Ke Liye -- but I said just the opposite. The next question was even more perplexing. I was asked if I could climb trees!
I was so disgusted that I did not care to glance at the next fellow who came calling. I must have fared well and so they sent their approval. The family was excited.
The relatives were informed to book their tickets for the wedding. A wedding hall was booked and a hefty advance was paid. But then, they dropped a bomb on us by calling off the wedding. There was no reason given. Everyone had to be informed about this. And the owner of the marriage hall refused to give back the advance money.
The search began again in right earnest.
I travelled to Kolkata one hot summer day to meet another family. Now I knew the answers to all probable questions.
Surprisingly there was only one on whether I liked Kolkata. I answered in the affirmative even though I did not like it very much. The reason being that I would have to assign reasons for my dislike of the city if I answered in the negative.
An elderly lady asked if I could sing and I sang the best song of my life. And surprisingly the boy (Alokesh, my husband now) sang too. Maybe he wanted to impress me!
I made a long uncomfortable journey home that day -- which the weather department announced was the hottest in the decade -- and because of the discomfort, discomfiture and something akin to repeated mental agony, I announced my decision to the family that I wanted to become a nun.
If you are wondering what became of that decision, I had met my Kamal Hasan that summer day. My sister-in-law later said that she knew cupid had struck her brother because he sang!
We got married on December 14, 1985.