We'd asked you, dear readers to share your love stories with us.
Here, Sheetal tells us how she met the love of her life. You can share yours too!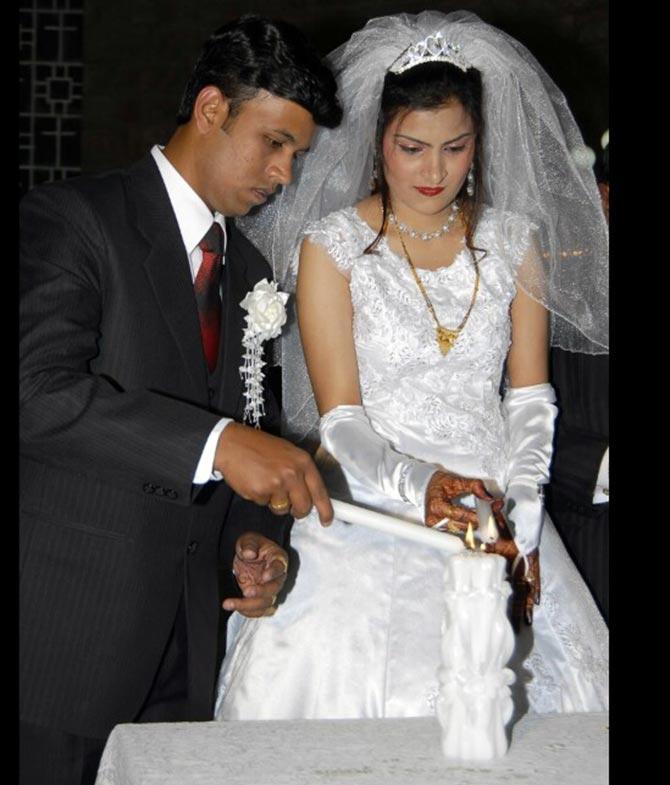 My family and I had moved in to our brand new apartment in 2001 and incidentally our neighbours happened to be friends with my mother.
Once, my mother packed delicious biryani and asked me to drop it at this neighbour's place. The day is still so fresh in my memory.
As I walked in through the gate I was a little apprehensive as I hadn't met or known them before.
That's how I met my husband Karan for the first time. I wouldn't say it was love at first sight.. But.. yeah I was attracted to him.
We would end up meeting frequently as I had become good friends with his sister. What started as a simple friendship turned into love with neither of us realising it.
When we did realise it we also realised how hard it would be to convince our families -- I belonged to a conservative Hindu family and he, a Christian.
We had our share of hardships. I still remember having revealed it to my parents and being strongly apprehended from meeting him.
I had decided never to meet him only to find that my exam centre during graduation finals was in the same college where he was pursuing his Post-graduation!
I was certain that we were destined to be together.
After seven long years of struggle, we got married in 2007.
We are blessed with two wonderful sons -- Kunal and Kiaan.
It's been 8 years that we have been married but we've been in love for 15 years.
I still blush when he gives me that look meant only for me!
I don't know about others but the 'Hyderabadi Biryani' worked wonders for me.
We still fight at times like we did 15 years ago but both of us can't hit the bed till we have patched up.
We indeed live up to the vows we had taken on our wedding.
We will be together in riches and in poverty, in happy times and sad. Till death does us apart!
ALSO SEE
Jab We Met: 'Our horoscopes didn't match'
Jab We Met: 'She was shy, introverted'
Jab we met: 'She was simple and beautiful'
Jab We Met: 'Jodiya upar se bankar aati hai'
#Jab We Met: 'I fell in love for the first time'
#Jab We Met: 'I liked his supreme self-confidence'
Click here to read more Jab We Met stories
Dear readers, do you have an interesting love story that you want to share?
Tell us where you first met your partner and how the two of you fell in love.
Write in to us at getahead@rediff.co.in (subject line: 'Jab We Met'). You can also include a photograph of you and your partner and we'll publish the best entries right here on Rediff.com.