Collins Learning publisher Elaine Higgleton's advice to students in India is to read, read and read.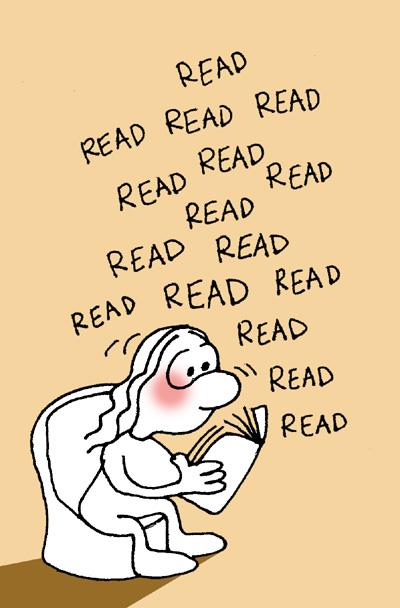 Collins Learning publisher Elaine Higgleton is in awe of the way people in India create Hinglish words.
She also feels that majority of students in India have strong understanding skills especially when they read English, but some find difficultly in comprehending and expressing.
"I like the way people create Hinglish words that fill semantic gaps in the vocabulary of English.
For example, the word 'denting' in Hinglish is to take the place of a phrase in British English: 'removing dents from cars'. Hinglish has one word whereas speakers of British English have to use a longer phrase," Higgleton told PTI in an interview.
Asked about the most common errors she comes across students in India, she replies, "I find that the areas students need most guidance in are the 'encoding' skills, so how to speak and write English. The majority of students have strong understanding skills especially when they read English, but putting what they want to say or write into English is something students can find tricky."
Her advice to students in India is to read, read and read.
"Reading - including reading for pleasure -- is one of the best ways we can improve our English. It doesn't matter what students read -- comics, newspapers, children's books, popular fiction are all fine -- as long as we read something in English every day.
"Reading automatically exposes us to more English words so can help improve vocabulary skills. Reading exposes us to grammar in use so gives us more model sentences to use in our speaking and writing," she suggests.
Higgleton is in India, conducting workshops on phonics, phonetics and pronunciation skills for teachers from multiple schools.
Over the years, she has conducted more than 40 workshops and has reached out to around 3000 teachers in India.
She says her workshops are about refreshing teachers' understanding and skills in these areas and practicing some key skills.
"What I aim to do in my workshops with teachers is to review the value and use of phonics in the classroom as an invaluable part of the teachers' toolkit for teaching reading and helping spelling skills.
"We also review the different symbols used to describe the sounds of English in the International Phonetic Alphabet and practice using different parts of the musculature of the face (mouth, tongue and larynx) to make these sounds accurately."
The single best way, according to Higgleton, to improve one's English is to increase one's exposure to English.
"To read in English more; to watch TV and films in English more; to listen to English radio programmes more; to listen to audio books in English more. And to practice speaking in English with friends and family. The more we expose ourselves to English, and the more we practise every day, the better our English will become," she suggests.
According to Higgleton, we need to use our mouths in slightly different ways when we speak English compared to when we speak Hindi.
"For example, the tongue needs to be used in different positions to pronounce English sounds clearly. It's important to help children understand how to use their mouths and where to place their tongues to make certain sounds so that they can learn to speak clearly and differentiate sounds that can be commonly confused," she says.
She stresses that linking sounds and spellings through phonics is one of the tools in the teachers' toolkit to help children navigate the complexities of English spelling.
"While phonics is an essential part of this toolkit, teachers might need to use other ways of helping children improve their spelling such as spelling tests or the use of mnemonics.
"Mnemonics is the use of small phrases to help us remember things, such as 'I always visit my friend on Friday' to remind us that the word friend starts with the letters FRI. Lots of children mix up the position of the 'I' and 'e' and wrongly spell the word 'friend', so linking 'friend' with 'Friday' in the mnemonic reminds is FRI are the first letters of the word and the 'I' comes before the 'e'."
Higgleton says that softening our accents can be important when we use English as a medium of communication with people who come from different parts of our own country and from other countries.
"We all need to be aware of those elements in our own accent which might cause misunderstanding when we speak to people with very different accents. This is especially true when we speak to people who have learned English as a foreign language and who might not speak with the clarity and accuracy that we are used to," she says.
Illustration: Uttam Ghosh/Rediff.com