We'd asked you, dear reader, to share your Holi pics.
Pramod Yeram sent us a pic of his childhood Holi celebration. You can send yours too!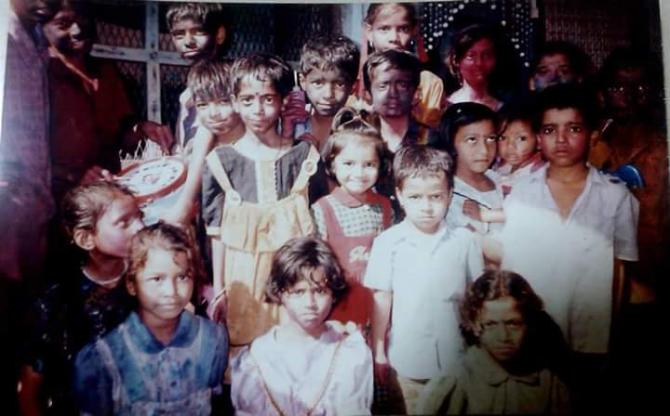 Here's what he had to say.
"This is my childhood Holi pic. I don't know exactly how old I was when this pic was taken.
"I'm in the blue and yellow shirt with colour on my face. The boy beating the drum is my elder brother. The little girl standing in front of me in the red dress and ponytail is my cousin. The girl wearing the black and yellow dress, with a bindi on her forehead is actually a boy, that's my younger brother. The other children are neighbours and friends.
"I am a Maharashtrian. In our tradition, on Rang Panchmi one boy has to dress like girl to be a 'Gomu'. My younger brother is playing the role of Gomu. Then we go to every house in our society to collect money as shagun (that money is later used to buy snacks like samosas or vadapav for everyone) and water for fun. It is called 'Aayna Ka Baayna'.
"We sing and dance to the song 'Aayna ka baayna, paise ghetlya shivaay jaayna, peti ki chaavi khulti hai hamko paisa milta hai' (aayna ka baayna, we will not go unless we get some money from you, the locker will open using your key and we'll get money).
Send us your Holi pics at getahead@rediff.co.in and we will feature the best entries on Rediff.com and India Abroad.
Don't forget to mention your NAME, AGE and the place where you LIVE. And make sure to include a little write-up of what is special about that Holi pic.