We had asked you, dear readers to share your good and bad ATM experiences.
Presenting some of the bitter-sweet responses we received from you. You can share yours too!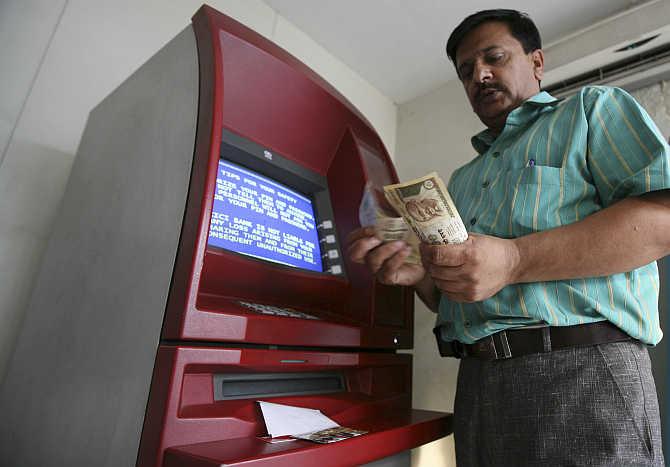 We start off with Rediff reader Ajay Sharma who shares his friend's experience with us:
My friend Brajesh Sharma aged 35 from Agra has an account in HDFC Bank.
He was in Aligarh district. He tried to withdraw Rs 10,000 from Canara Bank ATM.
He didn't receive the money but the amount was debited from his account and he received an SMS that Rs 10,000 had been deducted.
He went to Canara Bank's branch office and the officer there told him to contact his own branch and bank.
He lodged a complaint at HDFC Bank over the phone and received a complaint number.
A month later, he still hadn't got his money back. It the meantime he'd try connecting with the bank officials over the phone but in vain.
One day, he narrated the incident to me.
I logged into his e-mail account and wrote to the Grievance Redressal Forum of HDFC Bank.
Much to his surprise, he received a call from the bank the following day that his amount had been refunded.
When he updated his passbook, he was surprised to learn that along with Rs 10,000, an additional amount of Rs 2,700 was also credited as penalty by the bank.
He had promised me a party which is still pending.
---
Md Waliur Rahman from Pune shares his story:
Two years ago, I had the shock of my life when I went to withdraw money using my ICICI debit card from an HDFC ATM, located on East Street, Camp, Pune.
I tried withdrawing Rs 5,000; I heard sounds of notes being sorted out from the machine, but, nothing came out!
Yes, no money was provided by the machine.
While I was just about to react 'What's wrong'?, I got message from my ICICI bank that I had withdrawn Rs 5,000 which I never got!
Since it was a Sunday, I panicked as to what to do.
I required that money to do some last minute shopping for an upcoming wedding for which I had a train (to catch) the same night to Patna.
I did not have extra money in my account so I couldn't attempt to withdraw again.
I was completely in shock till I received an SMS from ICICI bank that took me back to life.
The message was that an amount of Rs 5000 was credited into my account.
Much to my delight, I went to another bank's nearby ATM to check my balance!
Yes, Rs 5,000 was there!
I must congratulate ICICI Bank for resolving the issue in minutes when compared to other banks who demand several visits to branches and working days.
ICICI Bank did the unthinkable even on a Sunday!
After that day, whenever such type of ATM chaos happens I never panic and instead wait for the bank's message. Usually it is sorted in minutes.
I have helped many friends and relatives stuck in such situations by advising them to wait as these days most of the banks credit such 'missed' transactions back in minutes even on a non-working day!
---
B V Subbamma had a rather strange experience.
He says: I used Andhra bank ATM card on June 6, 2016 in Andhra bank ATM at KPHB Colony, Hyderabad.
The money was dispensed but my card got stuck up and it has not been traced yet. I lodged a complaint with the bank.
The branch officer advised me to get a duplicate card by paying Rs 250.
Why should I pay for the faulty machine of Andhra bank?
I do not know if this is happening with other customers.
Is this some novel way of getting income?
I am still hopeful that the bank will trace my ATM card.
---
G Rajasekhar recounts his good experience:
I don't remember the exact date of the incident but it happened after the daily withdrawal limit in ATMs increased to Rs 25,000.
My father tried to withdraw Rs 25,000 from the Canara Bank ATM at Sainikpuri.
He received a message that 'amount of Rs 25,000 has been debited' but he did not receive any cash.
My father was worried and he immediately called to inform me.
I asked my father to take the transaction slip to the bank (he had an account in the Sainikpuri branch).
My father informed the bank officials and they assured him that amount would be credited in the evening.
The following day, we checked the account through internet banking but the amount was not credited.
I, along with my father, went to Canara bank and lodged a complaint along with a copy of the transaction slip.
Despite my father making repeated enquires with the bank officials and personally visiting the branch, nothing happened for a week.
I suggested to him that we'd inform the same to the head office of Canara Bank through the helpline.
We called the head office and informed them about our complaint, gave details of the transaction slip along with the date and time.
We told them how Canara Bank officials of Sainikpuri have not acted on our complaint.
Thankfully, the officer at the Canara bank head office was prompt to respond to our complaint and within 30 minutes of making the call, my father's account was credited with Rs 25,000.
Later, even the officials from Sainikpuri called him and conveyed their apologies for the delay.
ALSO SEE
ATM woes: 'The money was credited in 24 hours'
Dear readers do you have an ATM story to share?
What problems did you face and how did you deal with it?
Mail us your stories and advice at getahead@rediff.co.in (Subject: ATM woes) along with your NAME, AGE and LOCATION. We'll share the best ones right on Rediff.com.
Lead image used for representational purpose only. Photograph: Amit Gupta/Reuters
DISCLAIMER: The views and responses published are, to the best of our knowledge, original entries submitted by readers. Rediff.com does not assume any responsibility for the views expressed by its readers.