Whether it be playing strong, unconventional characters on screen or surviving personal setbacks, Kangana Ranaut is constantly inspiring us with her never-say-die attitude.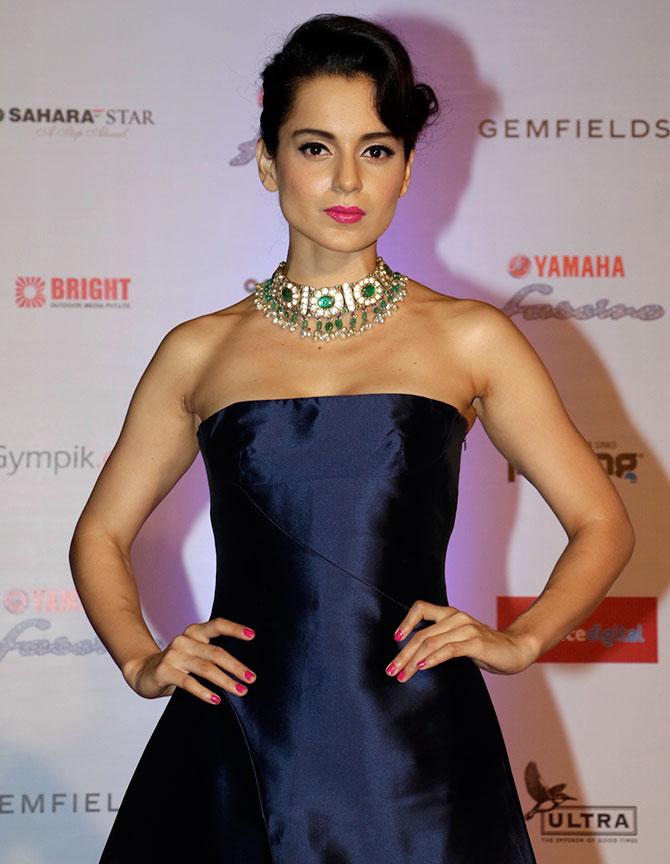 Women in Bollywood seem to fall into two categories.
There are those who are successful, play by the rules, give politically correct interviews and seem eternally grateful to be allowed to join the coterie surrounding the powerful male superstars and directors.
Then there are the wannabes or the starlets, who seem to be constantly trying to stay in the news through provocative behaviour and are not taken seriously by anybody.
Finally, there is somebody like Kangana Ranaut who does not fall into either category.
A small town girl with no godfathers in the film industry, she is much appreciated for her talent. She is especially good at playing complex, disturbed characters and imbuing them with genuineness.
With several blockbusters in her kitty, she is an exception in an industry where movies seem to need the Khan-Kapoor tag to set the cash registers ringing. Kangana has just won her third National award and is one of the highest paid actresses today.
On the other hand, she has had her shares of lows too.
From love affairs that have dissolved in acrimony to her murky legal battle with actor Hrithik Roshan, which has seen them flinging allegations at each other. An ex-boyfriend has crawled out of the woodwork accusing her of insanity and physical abuse. Then there was the Twitter hastag #CharacterLessKangana that was trending recently.
In an interview with Barkha Dutt on NDTV, Kangana spoke her mind. Whether there is truth in the accusations against her or not, the fact is that she came across as sane, intelligent and minced no words.
Here are six statements from Kangana that will give you pause.

#1. Success and sarcasm are the best revenge
The better you do in life, the more you inspire jealousy and even hate from others.
As Kangana says, the best revenge you can serve detractors is by becoming even more successful. Yes, a side dish of sarcasm sounds even yummier!
#2. There are two kinds of people, people pleaser or self-pleaser
Kangana called herself a self-pleaser. People might confuse a 'self-pleaser' with a selfish person.
Nothing is farther from truth.
A self-pleaser is merely a person who has his or her own standards of behaviour and listens to their own inner conscience as against what is expected of them from the society.
#3. We live in an extremely sexist country, let's be frank about it
As Kangana said, ours is an extremely patriarchal society and misogyny is deep rooted.
In the movie industry, she says it is even more evident with female actors expected to be 'Glam dolls' and 'pretty little piece of ass'.
Things will only change if women stop conforming to societal expectations, stop getting defensive when faced with slurs and start living their lives fearlessly.
Kangana is among the few actors to have spoken up about gender pay-parity in the film industry and to have rejected a deal for a lucrative fairness cream commercial, since the product inherently stands for bodyshaming.
#4. I don't find it humiliating when they call me a psychopath, witch or whore
You can only be humiliated if you allow yourself to be humiliated.
One of the bizarre allegations against Kangana is that she is a witch who used her menstrual blood to perform black magic on an ex-boyfriend. But Kangana compared witches to cool characters in a fantasy like the Harry Potter series and said she is not ashamed of menstrual blood since that is something that shows her ability to procreate.
Similarly, having played a prostitute as well as a character suffering from mental illness like bipolar disorder, she empathises with them and finds nothing demeaning about being called a 'whore' or 'insane'.
By not getting affected by the insult, you can take the power away from the ones who seek to humiliate you.
#5. How can you be sensitive to others if you are not to your own feelings?
By acknowledging her vulnerability and accepting there are times she feels low and dejected by all the negativity, she comes out as a stronger person.
It is one of the paradoxes of life -- those who can allow themselves to be weak are the really strong ones after all.
#6. There are always cupcakes you can fall back on!
By showing a sense of humour and calling herself 'a serial offender' who offends others even when she tries not to, Kangana shows you bouquets and brickbats are both part of life and sometimes negativity should be laughed off.
There is always a silver lining or like she says, even during the worst phase in life, there are always cupcakes.
Lead image: Pradeep Bandekar