Geetanjali Krishna reports on the NGO that takes people on a 'Night Walk' to show what it means to live on the streets of the capital.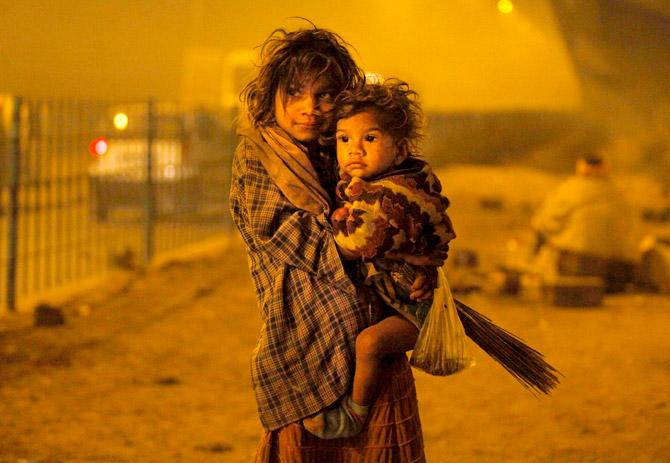 Homeless children arrive to sleep under a flyover in New Delhi.
Photograph: Reinhard Krause/Reuters.
In January 2018, at least 43 homeless people were reported dead on the streets, leading to an uproar in the Delhi Assembly, increased blanket distribution drives by concerned citizens and a brighter spotlight on the homeless in the capital.
Away from all this hoopla, Jamghat, a small NGO in the capital has been quietly working with street children, and over the years, developed an innovative stratagem to get more and more people to empathise with the homeless. They conduct a two-hour Night Walk to give people an idea about what it is really like to live on the streets.
The walk goes past the railway station, which serves as the point of entry for countless migrants every day, to places in Chandni Chowk where the homeless eat, sleep and work.
For most attendees, this is their first experience of the homeless existence, and its impact is transformational.
"The idea of organising a Night Walk led by the street children we worked with came to us in 2008," says Amit Sinha, founder of Jamghat. "We realised that even we didn't quite understand what it meant to live on the streets."
Sinha and his cohorts not only explored the hubs of the homeless, they also spent a night on the pavement. "Seeing the world through the lens of the homeless proved to be such an intense experience, that we decided to conduct these walks for corporates and the general public as well," says Sinha.
Initially, Jamghat conducted about three such walks every winter, and two in summer. Their frequency has increased with the demand: this winter, for example, they have conducted two walks every month and will do so till the season ends.
Here's what the Night Walk looks like: The first stop is Urdu Park in Jama Masjid, which has night shelters for men, women and children.
Visitors are often struck by the sheer number of homeless here, many of whom have to sleep outside as the shelters quickly fill up. Some prefer not to sleep in the shelters, choosing to stay outside to gamble, sniff glue and worse.
Sinha reckons that most homeless children, regardless of whether they have families or live alone, face daily physical and sexual abuse. It takes a new kid barely a month to get hooked to sniffing glue, which stunts his mental and physical growth.
"The fact is that winter is particularly hard for such people," says Sinha. "Many of them don't survive it, and even the government's best efforts can't save them all."
The next phase of the walk is towards the Cycle Market, which, along with Khari Baoli, Asia's largest spice market, provides opportunities for pavement dwellers to earn money loading and unloading goods.
"Most of them, especially children, spend whatever they earn daily, else they risk having it all stolen from them," says Sinha.
Next door, the Sis Ganj Gurudwara offers food, water and first aid to the needy.
Not far away, the Hanuman Mandir in Yamuna Bazaar offers similar sustenance, and attracts the homeless in large numbers every night.
Amit Sinha of the NGO Jamghat, which organises night walks to give people a sense of the lives of the homeless in Delhi, says, "The fact is that winter is particularly hard for such people," says Sinha. "Many of them don't survive it, and even the government's best efforts can't save them all."
Video: ANI.
Participants of the walk are often struck by the fact that the homeless tend to travel light -- they've no place to store their belongings. Instead, most rent blankets by the night, and carry their few possessions around.
"This is why donations of clothes, shoes and blankets often don't work so well for them," Sinha says. "Also, many participants realise the fragility of the homeless existence -- a single bout of illness or injury often proves too much of a setback for them to bounce back from."
This walk, he says, helps people understand Jamghat's rationale of providing street children with a safe daycare centre, where they receive educational support, medical help and counselling.
"The idea is to mainstream them gently by getting them into schools and providing them with a nurturing environment for at least a part of the day, until they feel ready to move in to a children's home," he says.
Jamghat's walks, which are free of charge, have inspired participants -- both individual and corporate -- to become long-term donors.
Makemytrip is one such example. Royal Bank of Scotland partnered with Jamghat on a recent Night Walk.
Moreover, each walk attracts several ordinary citizens, and Sinha is convinced that each walker, and indeed each step, will bring society closer to a more sensitive understanding of the homeless.
To join in or know more, visit Jamghat's page on Facebook or see www.jamghat.org