The physical and mental benefits that accrued from labour, Trivediji said, were far greater than those accrued from mere exercise. Which pearl of wisdom left Geetanjali Krishna facing an existential crisis.
Illustration: Uttam Ghosh/Rediff.com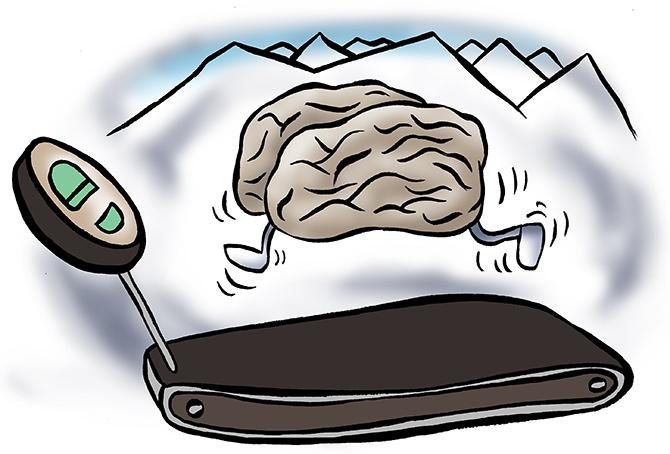 The other day, while running on a treadmill at the gym, I once again remembered Trivediji.
I'd met him while trekking in the Gangotri-Gaumukh area and we'd got chatting after he asked what I was wearing on my wrist.
It was a Fitbit, I'd told him, which measured the steps I took every day.
He looked at it, astonished,"I don't understand these things -- why would you want to count how many steps you take in a day?"
Being a gadget junkie, I simply had to explain. This was a way not only to measure activity levels, but also to become more active.
"My work involves reading and writing," I explained. "I find that I often spend too much time sitting and the Fitbit prompts me to stay active."
Research showed, I said, counting steps and calories resulted in healthier lifestyles.
"We probably had," he said gently, "different ideas about what it meant to have a 'healthy lifestyle'."
As we chatted, it turned out that Trivediji ran a cowshed near Rishikesh. Spritely and in his late 50s, he said he came every year to pay obeisance to Lord Shiva at the source of the Ganges, where we were headed the next morning.
"In my eyes, exertion and exercise are very different from labour or pilgrimage," he said. "If I carry a heavy load up a mountain because I need to take it there, that's labour. But if I lift weights in a gym, that's exercise."
The physical and mental benefits that accrued from labour, he said, were far greater than those accrued from mere exercise.
In evolutionary terms, he said, our bodies were designed for hard work rather than exercise.
"Think about it -- our ancestors would migrate across thousands of kilometres, carry everything they needed upon their backs and eat whatever they could find where they were at that time," he said.
They walked or ran only when they had to get from point A to B and had no option to consume only locally grown and seasonal food.
"Modern" people today, in contrast, drove everywhere (including to their gyms to run on treadmills) and often felt the need to eat nutrition supplements instead of whole food.
The consequence, he said, was that the harmony between body, mind and lifestyle had been lost.
As someone who had spent a whole month training for this high altitude trek, I felt duty-bound to protest.
I told him that gym training had helped me develop my leg muscles, which made it possible for me to trek 15 kms a day without a problem.
In response, he pointed to his own legs, clad in a khadi pyjama in spite of the biting cold.
"As long as I have faith in my heart, I have faith that my legs will carry me whenever I need to go, regardless of whether their muscles are developed or not," he said.
I couldn't contest that.
So, instead, we watched the magnificent play of light and shadow as the sun set over the Bhagirathi peaks and retreated to our respective tents as darkness fell.
And ever since, I've blamed Trivediji for the minor existential crisis I experience every time I run on the treadmill.