Sneha Sharma is shattering speed and societal barriers.
A Ganesh Nadar listens to her story.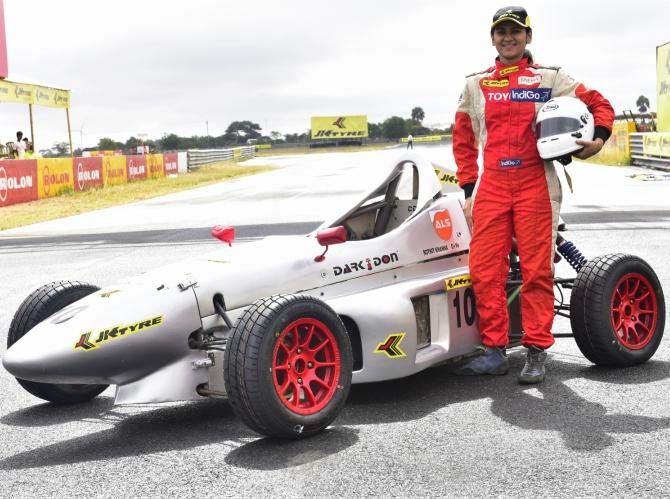 IMAGE: Sneha Sharma got her racing licence when she was 16. Photographs: Kind courtesy Sneha Sharma
The coffee shop in Mumbai is crowded as usual, with the young and the old, the fashionable and the indifferent.
Most are busy with their mobile phones. A few chat with friends.
Though already seated when I walk in, Sneha Sharma seems to be in motion, shuffling her time between two mobile phones and glancing at the door.
The air of movement around her is not unexpected from the girl known as 'India's fastest woman'.
"As a very young girl, I used to race even when I was riding a cycle. Mumbai traffic didn't deter me from racing ahead of all my friends," Sneha, who is a racing car driver, tells Rediff.com
It's an instinct she must keep in check when she is sitting in a cockpit instead of a racing car. Sharma is also a pilot with Indigo.
She has a bachelor of business administration in aviation and an airline transport pilot licence, which is a license to commander a large aircraft.
"I first got my private flying license and then the commercial one. It is very expensive, so I took a student loan," she says.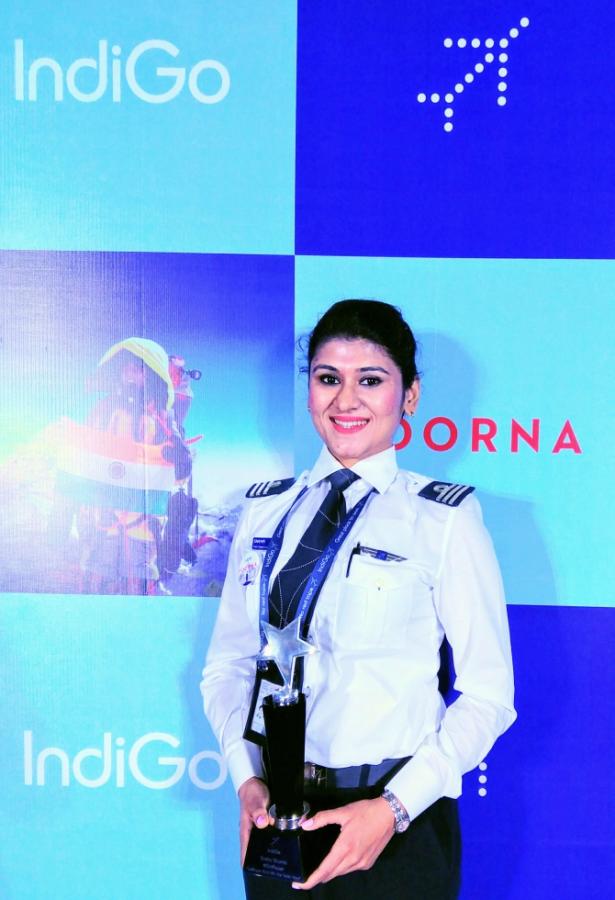 IMAGE: Sneha has been an Indigo pilot since 2012.
But racing came first.
Sneha started with go-karting races. She got her racing license at 16.
Explaining how someone below 18 gets a license to not just drive but race, she says such a license allows the holder to drive on the circuit and not in a public space.
She has raced in the Formula 4 national racing championships where speeds up to 200 km are seen.
"The actual speed," she notes, "depends on various factors. In a circuit, it is more about technique than speed."
"I have driven a car at 270 km/hr at the Mercedes racing event in 2012," she adds, referring to the race that landed her the title of the 'fastest woman in India'.
As Sneha tells her story in her quiet manner, it is easy to see the disciplined pilot in her; seated in that café, the daredevil racer is a little less obvious.
On that front, she lets her track record of podium finishes and team medals do the real talking. Especially when it comes to tackling male competitors who don't like losing to a woman and try to intimidate her.
Her quest is supported by -- "it's an expensive sport, you cannot do without a sponsor," she says -- JK Tyres and Indigo, the airline where she has worked since 2012.

IMAGE: Sneha has raced in Formula 4 and is now eyeing Formula 3 races.
Not unexpectedly, it was easier for Sneha to convince her family to let her fly than let her race.
As a child, she spent a lot of time on ships with her father, who was in the merchant navy.
"I used to see planes flying above the ship and I decided I wanted to be a pilot," she says. "Convincing my parents about wanting to be a pilot was easy."
Sneha, who studied at Mumbai's Canossa convent school and Valia college, completed her BBA from Karnataka university in Mysuru. She got her pilot's license from the United States.
But racing was another cup of tea.
"I used to lie (to her parents) about racing," she remembers, "but they found out and were upset. They stopped me from participating in two races."
"Later seeing my obsession with machines, they relented.
"I used to work on my car motor myself."
Sneha competes in as many as 22 races a year, and Indigo has been very supportive about granting her leave to make that possible.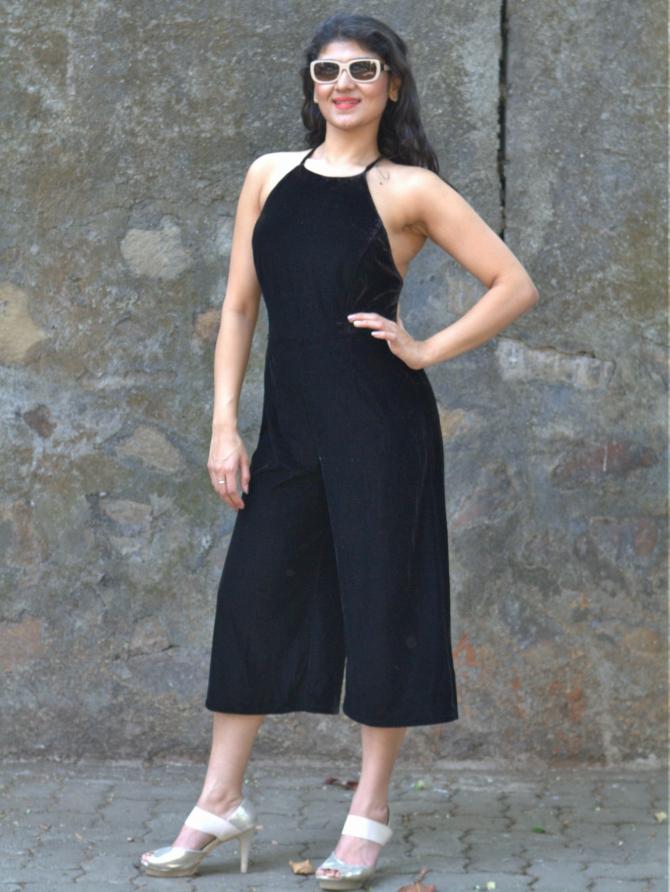 IMAGE: Sneha has very little time to fit in a fitness regime, but her passion for racing and flying gives her the edge she needs to do it all.
Sneha's passion for racing and flying has changed her in more ways than apparent at first.
Her eyes twinkle as she admits, "I was 90 kg when I was 16. I lost 30 kg without any trainer or dietician."
"I worked out and climbed stairs. I used to walk up and down 14 floors."
"I also diet. I gave up sugar long ago."
Between a full-time job, racing and all the practice it requires, Sneha has very little time to fit in a fitness regime, but her passion for both gives her the edge she needs to do it all.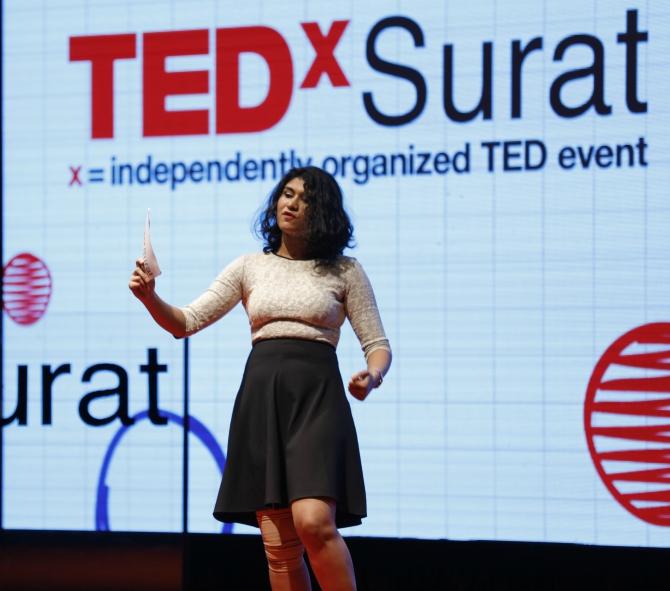 IMAGE: Sneha is also an inspirational speaker.
All of these make Sharma a unique sort of motivational speaker at various forums.
She is also a mentor to the Shaurya racing team at the Vellore Institute of Technology, Chennai.
This year, she was inducted into the governing body of the Authority of Motor Sports in India -- the only active driver on the board.
Her next aim is to race in the Formula 3 circuit, which is regarded as the first major stepping stone for F1 hopefuls.
And as part of the only sport in the world where men and women participate on an equal footing -- though the number of women in the sport are very few compared to the number of men -- Sneha Sharma is dreaming big.