Jemimah Marak set up a library in the disturbed Garo Hills in Meghalaya to get children to read.
Anita Aikara spoke to Jemimah to find out more.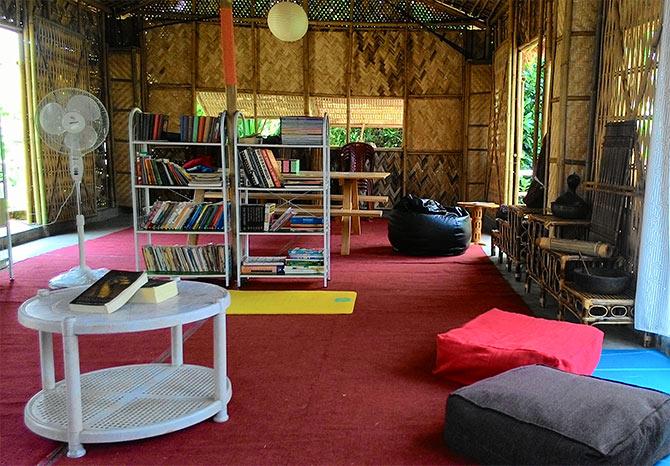 IMAGE: The 100 Story House was set up by Jemimah Marak and her husband James Momin who wanted to improve the vocabulary and reading skills of the local children.
All photographs: Kind courtesy Jemimah Marak
Nestled in the heart of the Garo Hills is a rustic library called, cutely, The 100 Story House.
Among its many visitors, you will mostly spot children, between the ages of 5 and 15, at this popular library in Tura, rural eastern Meghalaya.
The Garo Hills, located about eight hours from India's border with Bangladesh, has been riven by insurgency as rebel Garo tribals fight the Indian government for a land of their own.
Parents are scared to send their children to school alone, fearing that they may be kidnapped for a ransom.
Amidst this upheaval, school teachers Jemimah Marak and her husband James Momin, the founders of The 100 Story House, are determined to turn things around for the local children with their picturesque library that belongs to another world.
IMAGE: Jemimah and James converted their home's terrace into a charming library.
A trained teacher and certified career counselor, Jemimah started teaching in 2006. Back then, as an English teacher, she was frustrated trying to teach her pupils basic grammar.
"Their reading skills were poor," says Jemimah.
She discovered that very few children in the area read.
"There were no good libraries in town. Nor in the local schools. If you stumble across a library, the books were outdated. You would find books from the 1970s and 1980s in the children's section," Jemimah recalls.
"In the local market we don't have any good comics. My husband and I made a conscious decision to gift our nieces and nephews books on their birthdays. But we cannot find any good children's books to gift. Enid Blyton is an alien name for (book store owners)."
Most of the children in the Garo Hills are from tribal families.
"There are some who are from Assam and Bengal," says Jemimah. "English is not their first language."
She explains that the children are extremely shy especially when speaking in English. "There are two or three good schools here where the focus is on speaking good English," she adds.
Even when English is taught in the local schools, it is mostly done with the help of the local language.
"The teacher will read out the sentence in English and explain it in Garo. Because of that, there's no chance of improvement. That is the case for reading and writing (too). Speaking in English then becomes next to impossible."
Her love of reading led to the opening of the library on April 23, 2016.
Jemimah named the library The 100 Story House as a play on the word 'story'.
"I'd like the place to have a lot of stories... Not just the ones you need in books. Stories can be told through music, painting and art. There are also personal stories that develop here because we use the place as a counseling centre too."
"It is a place full of stories to be told, heard and shared."
Jemimah's father is from the Garo Hills as is James' family. Her parents taught in a school in Pune for eight years.
"I went to school in Pune and boarding school in Tamil Nadu."
As a family they decided to move back to the Garo Hills.
"We felt we could contribute our education and work experiences to better our home state."
IMAGE: It took four months for the library to be set up.
Jemimah and James were not thrown off balance when faced with the challenges of setting up the library.
They didn't possess land large enough to locate a library.
Since they are teachers -- he is a mathematics and science teacher -- and their salaries not sufficient to rent a place, so they redid their home's rooftop terrace and made that the address of the library.
The couple took a loan and got the place up and running.
Every month, when they received their salaries, they put some money aside towards growing the library.
It took four months for the library to become functional.
A year later, when 100 Story was operating smoothly, Jemimah took the leap of faith.
She quit her school job, to dedicate all her time to the library.
It was almost a natural progression for her -- doing something she loves so much finally happened very organically.
The couple now pride themselves on the 65 students who have registered with them, with 15 to 20 visiting the library regularly.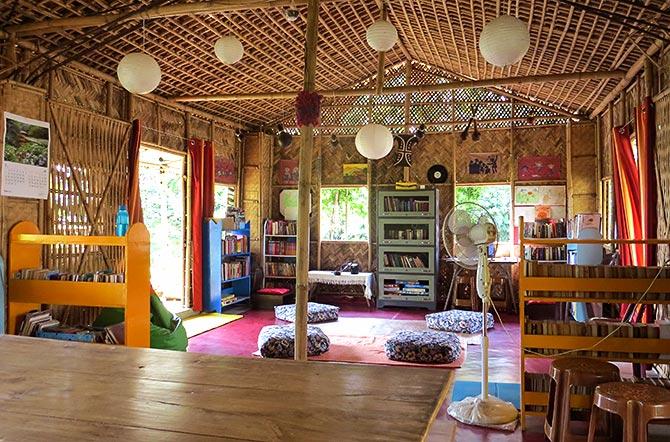 IMAGE: For Jemimah, the library serves as a positive outlet for the children of this disturbed region.
"As a school teacher, I believe the habit of reading will improve declining academic performances. It'll encourage them to think positively and later become proactive adults and agents of peace in this part of the world," she says.
The children don't have to pay to read books at 100 Story. But if they borrow books, they must pay a lifetime membership fee of Rs 200.
The children are offered juice and biscuits at the library every Saturday.
"When parents go to the river to wash their clothes, (their) child is left (at home) to fend for (herself/himself). If the children come here, they know it is a place where they feel safe and can spend the day."
"Depending on the money we have in hand, we get them something to eat," says Jemimah.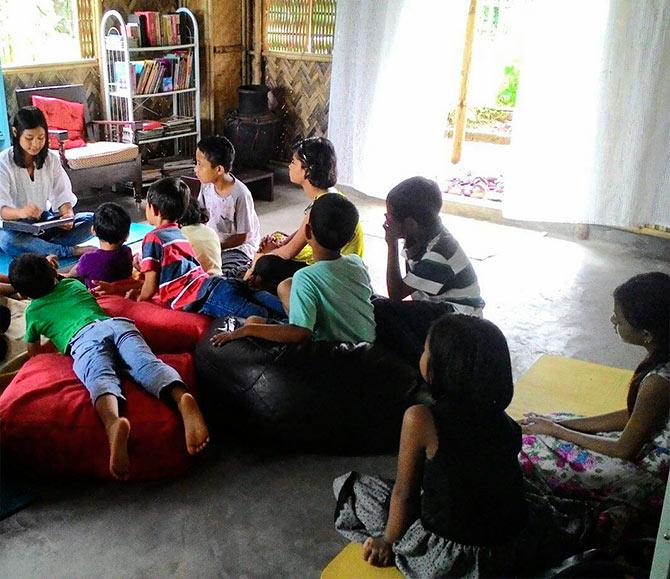 IMAGE: The library acts as a platform for children from different areas and schools to bond.
Jemimah appealed to friends and family to donate children's books.
With a lot of help, 100 Story now has 800 plus books.
"We get several reference books like children's encyclopedias, donated by friends and family, whose kids have outgrown them. We got very few story books."
At the library, children are not just restricted to reading.
Several other activities go on side by side -- storytelling, workshops on personality development and communication skills, free counseling and career guidance, recycling, etc.
"The habit of reading is not natural for most of them. They are brought up in the digital age. Once they get hooked, they become regular readers," Jemimah says.
"Parents then start taking an interest too. A parent whose son liked a particular series gave us some money to stock more books of that series in the library."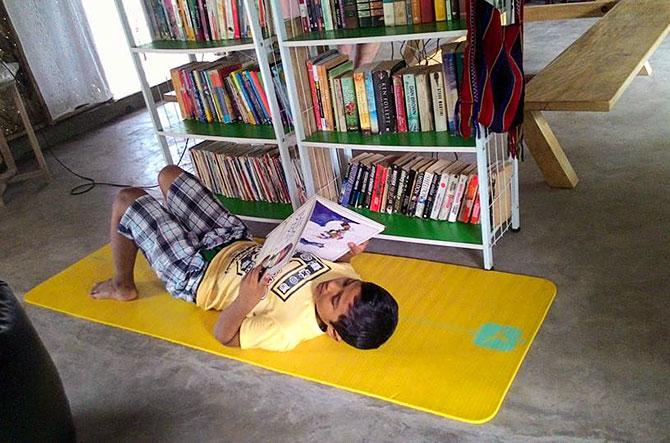 IMAGE: Jemimah hopes to raise money to buy a van which will ferry children to and fro.
In the beginning, as the library was new, parents were excited. They'd bring their kids to Jemimah's pretty library often.
Later, they realised, it was difficult on a regular basis to take their children to 100 Story.
Eventually the numbers dropped.
"In the hills, especially in a small town like this, children walk for five km to reach a place. But due to the disturbances here, parents are not that confident," says Jemimah.
"The place is not safe for kids to move around on their own. So parents would (bring) the kids themselves. Or get someone to drop them off," Jemimah adds.
That's when she hit upon the idea of collecting money for a van to help ferry children to and from the library.
"I would really like to raise some money to buy a used mini-van in order for us to go around town to bring the eager children here to the library," she says.
"Right now, we do not make money to afford a vehicle. To try and save up for a second-hand mini van seems a huge challenge. Many children have expressed a desire to come here regularly, but are unable to do so as they live far away."
That's when a friend told her about crowd-funding.
With the help of Ketto, the crowdsourcing platform, Jemimah hopes to raise Rs 2 lakhs (Rs 200,000) to buy a second-hand van.
Till date the couple have only raised Rs 28,000. That hasn't dampened their spirits.
"We will continue to raise money and work towards our goal. We will continue to put the word out," says Jemimah.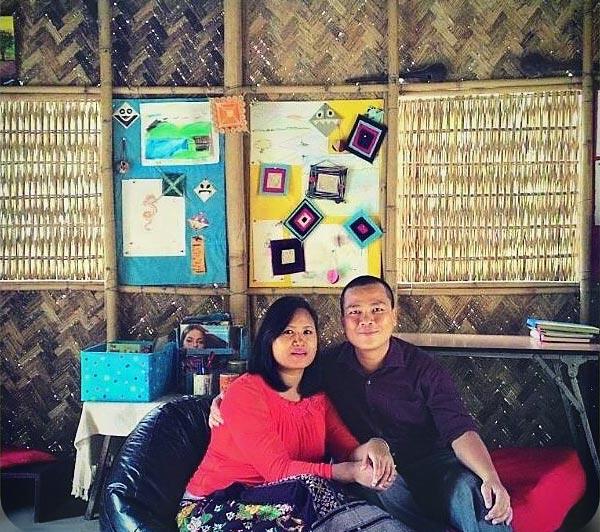 IMAGE: Jemimah and James are willing to do all it takes to get children to the library.
Publishing a children's literature series is one more dream for this inspiring couple.
"The Garo Hills has several folktales that have been documented only in adult books. Children are not interested in reading these books. To get them clued in, we hope to create books on these folktales for children," she says.
Jemimah and James also want to spread their library concept to other areas in the Garo Hills.
"Even if it is two shelves of books, we hope to get people started in their villages, so local children have access to some books at least."
Want to contribute towards Jemimah Marak's cause?
You can find out more here (external link).