Neha Bagaria, founder and CEO, JobsForHer, tells you how to handle the situation.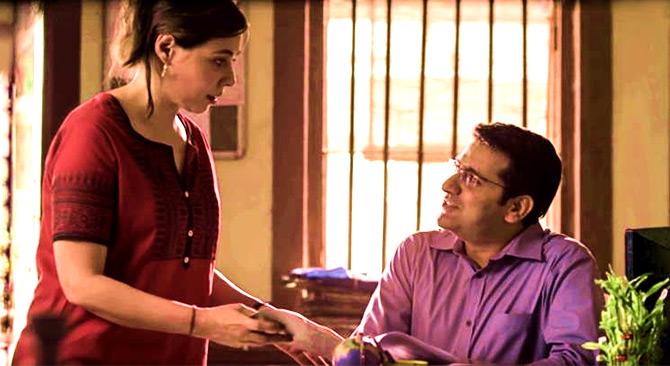 IMAGE: A screenshot of the short film Let the Voice be Yours released in the public interest on International Women's Day. The film deals with harassment at the workplace.
World over, we see more women breaking glass ceilings and achieving success in their own way, in a once male-dominated landscape.
While we laud their efforts, the situation can come with a sting in its tail, in the form of sexual harassment.
When women climb the corporate ladder, they come up against, many times, patriarchal mindsets, from those who still believe women are not equipped to lead in a professional domain.
These unconscious biases lead to hostility from their male counterparts, in some form or the other, the most common being sexual harassment.
As employers, we need to make sure the workplace is a safe place, for everyone.
This is our charge: To keep our workplaces thriving and happy, filled with thriving and happy people.
Sexual harassment at the workplace
After the increasing number of sexual harassment cases in the corporate domain, the Indian government introduced the SH Act (Sexual Harassment) of Women at Workplace (Prevention, Prohibition and Redressal) Act, 2013.
The bill proposes relevant measures to be put into effect to: Prevent, inquire into and act against acts of sexual harassment at the workplace.
The SH Act lays down what constitutes sexual harassment:
Any unsolicited acts or behaviour comprising physical contact/advances, sexual gestures or remarks, and/or other physical, verbal or non-verbal conduct of a sexual nature constitute sexual harassment.
The Act lays down that it is mandatory for all employers in India to establish an Internal Complaints Committee (ICC), that includes employees nominated as members by the employer, along with one member from an NGO or similar non-profit group, familiar with the issue of sexual harassment.
According to a survey, conducted by global consulting firm Ernst & Young, during the period of January 2015 to April 2015, most organisations had set up ICCs within the workplace.
Up to 69 per cent respondents had constituted ICCs within their companies during that time, discovered the survey.
It also found that 18 per cent companies had not established ICCs and the remaining 13 per cent were in the process of setting them up.
Going by the survey's findings, it is evident that sexual harassment at the workplace is still not considered a serious issue in the Indian corporate sector.
Although there have been some developments on that front, it has become a matter of extreme importance for women to keep themselves updated on all information regarding this issue.
Be assertive and call out any inappropriate behaviour
It is always advisable for women to speak out any time they witness or are going through this issue.
By calling out inappropriate behaviour, the employee will also be able to discourage the guilty party from committing such offences in future.
Know when to be polite and when to take a strong stand
Sexual harassment can take many forms, ranging from mild teasing to full-fledged misconduct of a sexual nature.
To deal with such instances, women employees should recognise the kind of behaviour that makes them, either slightly uncomfortable, or leads them to feel scared or anxious and take action accordingly.
While the former can be dealt with through a polite but firm warning, the latter should involve strict action from the company's committee against the perpetrator.
Know the protocol on reporting an incident
It is important, not just for women, but every employee within an organisation, to know the right protocol to follow, in case they or someone they know, is facing harassment or hostility at work.
Every employee should be aware of the rules or guidelines regarding sexual misconduct, within that organisation, and approach the ICC or the HR department to report such incidents.
If the situation persists or reoccurs...
In case an employee continues to face harassment, even after the offender has been warned, the ICC or HR committee should terminate the offender's association with the company, and provide counselling to the former.
In case the organisation does not have a dedicated sexual harassment cell, the employee could formally register an FIR with the nearest police station against the harasser.
Another factor to be considered here is the management's final decision on a sexual harassment complaint, made by an employee of a particular organisation.
If the managing committee's decision is not favorable, the victim can formally lodge a case against the offender at a criminal court.
While most female employees do opt to quit working in an organisation, as a last resort, they should ensure that the cost of therapy, required, due to harm caused by harassment be borne by the company, before making their final decision.
Sexual harassment is an extremely serious issue that can severely harm the overall well-being of an employee, if not managed effectively.
The need of the hour is to create comprehensive policies, both within the workplace and under the law, so we can provide a healthy workplace culture to all employees.
Neha Bagaria is founder of JobsForHer, an online portal that helps women get back at their careers after a break.