'In Sri Lanka, they told me if you remove the India branding from the bottle, we'll buy it.'
'I told them the reason we have India in the logo is because we are proud and want to showcase the product.'
'Just to sell, I won't sell my soul.'
With tiger stripes and India in its logo, Gautom Menon wants to put an Indian rum on top of the world.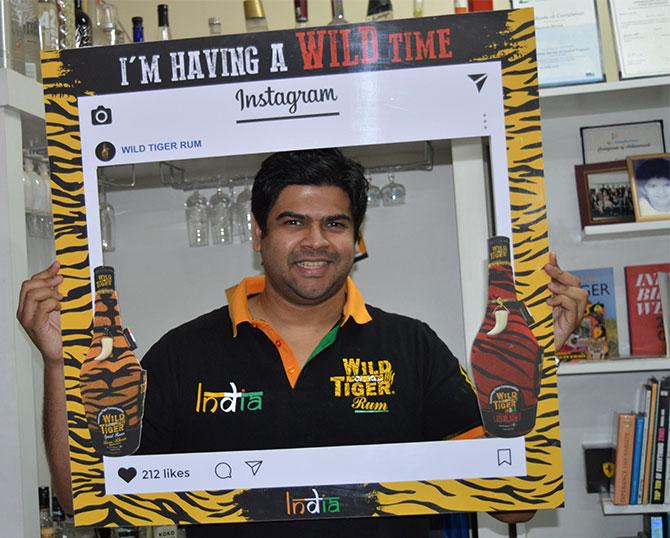 IMAGE: Gautom Menon, founder-chief brand officer, Wild Tiger Rum, wants Indian rum to capture the world's imagination like Guinness or Corona. Photographs: Rajesh Karkera/Rediff.com
Gautom Menon's office is a barman's paradise.
Over 200 bottles of rum from around the world surround his desk.
A stylish box designed to hold 20 miniature bottles of rum from various countries is getting ready for sale at some duty free shops.
Under India will stand Wild Tiger, the rum that Gautom, 35, launched in February 2016.
"We look too much to the West rather than being innovative ourselves," says Gautom in his compact Coimbatore office, with plans to set up an international office in London.
Books on Steve Jobs and Richard Branson, whom he greatly admires, are placed in a bookshelf, separating the collection of spirits from around the world.
"I wanted to create an Indian brand that would capture the imagination of the world, like Corona or Guinness."
After completing university in UK, Gautom entered the family's liquor business much against his wishes.
It was like a Karan Johar script, he says, where relatives congregated in a hospital room after his dad's bypass surgery and urged him to come onboard.
He left the student card start up he had started in 2004, a precursor to Snapchat, he says and way ahead of its time, to join the liquor business.
"But what I did was totally different. From a roadside shop, it was as if we opened a supermarket."
In a conversation with Rediff.com's Archana Masih, over a sniff of rum, Gautom talks about his mission to put India on the world's rum map.
I can see that we are surrounded by rum, what is your favourite drink?
Rum definitely. I would say it is the most exciting 3 letter word.
I like gin too. It's got a strong connection to India.
Even today most of the gin brands source their botanicals from India, and they all have an Indian story like Bombay Sapphire.
Tonic was invented in India and gin would not be gin if not for tonic water.
Quinine and tonic were invented to fight off malaria when the British forces were in India. We have some plans to get into gin sometime, but for now rum is our blood, sweat and tears.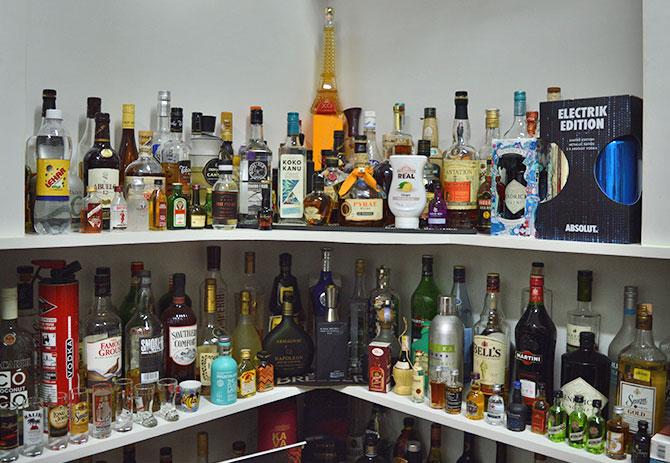 IMAGE: Gautom's office in Coimbatore is lined with spirits from around the world, including over 200 bottles of rum.
You have started a young Indian rum brand which only sells in foreign countries presently. How can Indian brands make a mark internationally?
We look too much to the West rather than being innovative and inventive ourselves.
Our drink entrepreneurs are always seeing what the West is doing. Many iconic brands that are doing well are rip offs of Western brands.
I am surprised that in so many years no one thought of starting a premium Indian rum.
In Indian spirits, Amrut whiskey is an original and has shown the way. Paperboat, the beverage company is also doing well.
In your interactions in international trade shows and in doing business abroad, how has people's perception of India changed?
Definitely a lot. 10 years ago when I went abroad with my father's herbal rum project, it was completely an uphill task.
They were like 'Oh, from India, nice bottle, but come on, how good can it be?'
But thanks to the 'Make in India' initiative, even though it doesn't directly benefit the liquor industry, the whole perception and slogan is making people take notice of India.
The fact that Mr Modi is so much more visible is definitely making a difference to brand India. The prime minister is completely anti-liquor, that's a different story, but people say you've got a visionary prime minister.
India is getting more respected. It has always had that exotic charm, but now in terms of quality too people are beginning to trust India a lot more.
The Jaguar, the Tata takeover, has helped in a huge way.
What are the hurdles preventing Indian brands from being alongside the world's best?
There's never been a better time, but still there's something called 'provenance paradox'. (A product's country of origin establishes its authenticity. Consumers associate certain geographies with the best products.)
You could be from Vietnam or Cambodia or Somalia or India making something that is of the highest quality, good or better than anyone else, but are consumers willing to pay that price?
But if the same thing is made in Italy or France, they will be happy to pay. That is something we are still fighting, and have done a lot of hard work to change that perception a little by little.
Amrut has paved the way by creating a quality Indian whiskey in the world and we are doing that in the world of Asian rum.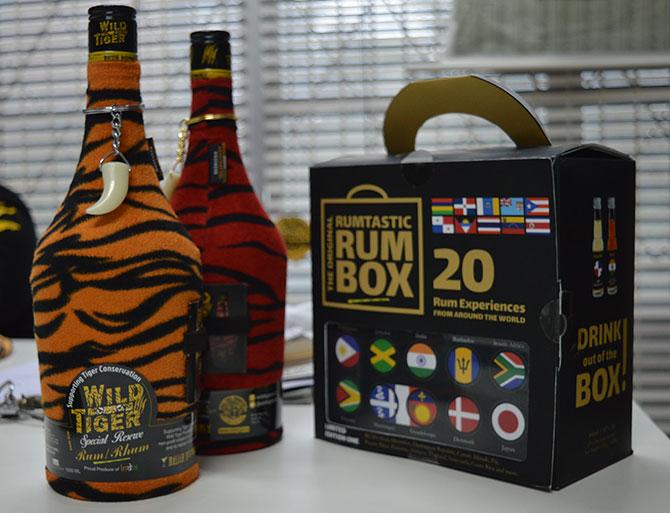 IMAGE: A sample of a rum box with 20 bottles of miniature rums from around the world that will be sold at certain Duty Free shops. Left: Wild Tiger rum is packed in a tiger striped sleeve.
You started one-and-a-half years ago, have you started getting a salary?
Not for another 6 months... I am comfortable, I am able to pay all my travel bills for exhibitions and trade shows.
I am not worried about going for SIPs, buying land or buying expensive watches, all that doesn't matter.
This gives me a high, to see people consuming this rum in different parts of the world, to see this on a cruise ship, at airports with some of the most iconic and million dollar brands, that's the buzz rather than thinking I don't have land etc. That is irrelevant to me.
India has jumped 30 places in its ease of business, how has that helped you?
Definitely not for liquor! The Constitution clearly says that liquor is a state subject and should be controlled, that's why it can't be advertised openly.
Talk of prohibition during election time is the easiest way of getting a section of the vote by politicians.
Prohibition is imposed whimsically, overnight without thinking of the people employed by this industry, without thinking about the revenue generated through liquor. Infrastructure projects come from taxes from liquor.
I think policies will get better from here.
How did the Wild Tiger journey begin?
I've had the idea for 10, 12 years, but it was launched in February 2016.
My family was in the liquor business, but producing and bottling it for others.
Someone else would own the brand and we would do the bottling. It was boring.
I told my dad that these people would take their business elsewhere if they found a better service/price.
What I have done is totally different. It's like we had a roadside shop and now I have opened a supermarket.
I would like to think of myself as a first generation entrepreneur.
I thought we needed our own brand. Something premium.
What groundwork did you require before you knew you had a rum formula and business at hand?
Since 2006 I had been travelling to the leading drinks exhibitions in the world. I would find that countries would have pavilions of their own -- Mexico would have the best tequilas; Portugal -- wines; Japan -- sake; Scotland/Ireland -- whiskies and I'd say where is India?
It is the second largest drinking country in the world with more than a billion people and does not have a brand that can capture the world's imagination like Guinness or Corona.
I used to feel frustrated. I was always patriotic and felt India should not be seen as a Third World country. It is not that we can't make quality products.
I found out that sugarcane originated from India and spread to the West from here. Sugarcane is the basis of rum and I felt we should be doing rum, not whiskies.
Whiskey is made from grain and rum from sugarcane.
All the whiskies sold under Rs 1,000 in India are not even whiskey. They are flavoured rum. It is made from sugarcane molasses and distilled so much that all flavour is lost and artificial whiskey flavour is added.
I felt rum is the true spirit of India.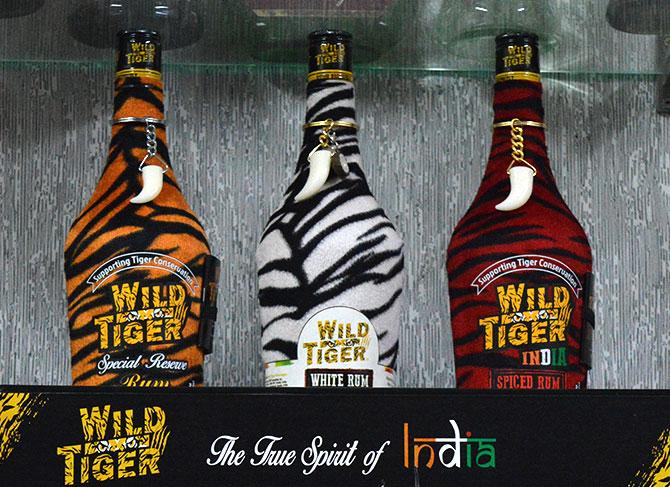 IMAGE: Gautom's rum is exported to 22 countries, but is not available in India yet.
The packaging is handcrafted. 10% of profits are used for tiger conservation in India.
Rum in India is basically associated with Old Monk. How does Wild Tiger plan to claw its way up to the Monk?
Watch out Old Monk, the Tiger is on the prowl (laughs).
Old Monk and Hercules rum have always been about price, an affordable college or military drink.
Old Monk is a drink you associated with an uncle, it did not have a millennial connect.
I felt we needed to package India. It is all about brand India and rum is the way forward.
Mexico has tequila and mescal. They have the agave plant which is the basic ingredient for tequila. You won't hear of it (Mexico) coming out with a single malt.
Similarly, in India, we have sugarcane, which is basic for rum.
So how are rum drinkers abroad taking to Wild Tiger, packaged and branded as the rum from India?
Rum is going through a huge explosion. Cyprus and the Czech Republic are our best markets and we have spread to 22 countries. Our sales are outside the country.
The further you move away from India, people perceive India as exotic.
In Scandinavia, they see an Indian rum and want to try it. But our neighbours don't think so. Sri Lanka, Burma, Pakistan, Thailand.
In Sri Lanka I met the top distributors and they said if you remove the India branding from the bottle, we'll buy it.
I told them the reason we have India in the logo is because we are proud and want to showcase the product.
Just to sell, I won't sell my soul.
I literally told them to bugger off politely.
Even China has great potential, but they have compromised the Indian tiger largely.
The tiger parts remain in great demand there and our brand is a tribute to the national animal.
10% of the profits are put into the Wild Tiger Foundation, that we have set up.
When do you plans to launch in India?
We sell at airport shops in Bangalore and Chennai. We would like to start selling in Goa, Karnataka, Pondicherry, Mahe -- and then in UP, Maharashtra, Haryana -- but in the latter three there are a lot of entry barriers. I don't see this happening in the next 18 months yet.
It would cost around Rs 900 in Goa and Rs 1,500 in Karnataka. I am not yet convinced if people will pay that much for rum, for whiskey -- yes.
How are drinking habits changing in India?
People are moving to more artisanal and craft drinks. The big corporate brands are going to face an uphill task.
Ours is a niche product. Everything from the making of the tiger stripes bottle cover to stitching is done by hand. Only bottling is done through machines.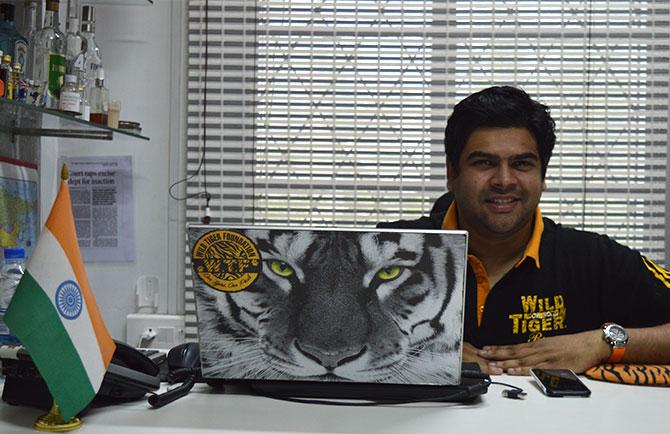 IMAGE: 'Do not develop a business to sell it and make money,' says Gautom. 'Do not copy; keep society in mind. Success is a lot more sweet when the community grows with you.'
Who are the entrepreneurs you admire?
Richard Branson is the greatest entrepreneur of all time.
He puts so much emphasis on experience and his people rather than the customer is king.
It is important to look after your people first so that they can look after the others.
I also admire Steve Jobs. Too many businesses say that we developed the business on the basis of what customers need, but if you do that, you are not an entrepreneur or an innovator anymore.
An innovator thinks ahead. If you do what a customer wants, then you are not an innovator anymore, you are a trader.
What I love about Steve Jobs is that 15 years ago when we had that Nokia phone, we were all happy.
We were like wow I can make calls, I can text people and I can play snakes, life is really good.
I don't think any of us wanted a phone that played music, GPS, had apps, or book flights... But then he had the fortitude to say, 'Let me make the device which will give you a map, which will play music, which can become your camera...'
So for me he is the greatest visionary of all-time and I want to think like him.
I am not going to wait for a consumer, because the consumer is happy with whatever there is most of the time, especially in liquor.
I have to think ahead about what is the next big thing and how do I excite the consumer.
Another person I admire is P N C Menon of Sobha Developers, one of the biggest property real estate developers in India. He does so much for charity and elderly people.
He is like my mentor and is fanatical about quality.
What advice would you have for young entrepreneurs?
Do not develop a business to sell it and make money. You have to do what you really love and believe.
It is never ever too late.
Don't try to copy anyone and given the resources today there is a good chance that 3 in 10 businesses will fail, but still nothing is a permanent failure.
You may have failed temporarily, but that experience is going to be invaluable for the next venture.
Keep society in mind. Success is a lot more sweet when the community grows with you.
With our product, everything is sourced in or around the distillery in Kerala or Coimbatore, like the labels, the cloth or the key ring.
The easiest thing to have done would have been to get on a plane to China and outsource everything.
But I have a problem with China because Indian tigers are largely compromised because of them.
I would happily sell them because they have a huge market and we could make money which we could give back to conservation.
But I didn't want to source anything from there.