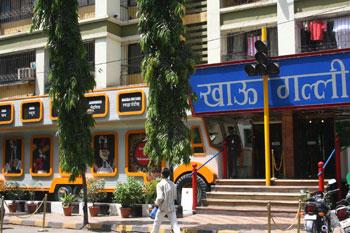 Abhishek Mande reviews Khau Galli Restaurant that dishes out yummy street food in 10,000 sq-ft of air-conditioned comfort.
It was once called The Factory. The famous landmark office of Bollywood filmmaker Ram Gopal Varma is now a happy looking place. Bright colours and the innovative façade of a truck greet you at one of Mumbai's newest eateries -- Khau Galli.
Literally translating as 'Food Lane', the restaurant takes its name from the original Khau Galli at Churchgate. This lane near the railway station has been a haven for many a hungry soul who have little or no money in their pockets for years now. Stalls serving all kinds of street food make it a favourite amongst students of the nearby girls' college, office-goers from the area and visitors to nearby Bombay Hospital.
Unlike the original 'Galli', the restaurant has no readymade clientele. It is located smack in the middle of a residential area and will have to depend on the weekend crowd to spread the word.
At the same time, the owners can be assured that the good word will spread. Because it is perhaps the only place in the neighbourhood that serves such a large variety of street food under one roof. It also helps that the dishes are prepared under hygienic conditions.
The sheer range of food Khau Galli has to offer is mind-boggling. From Tawa Pulao to Bhel Puri and Ice Gola to Gulab Jamun, they have made sure you don't miss out on any street food item Mumbai has to offer.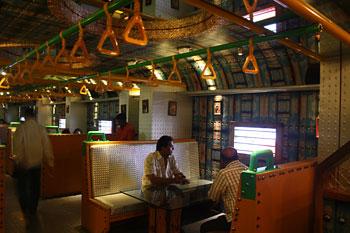 A walk down this 'street' also gives you an interesting glimpse into the history of Mumbai and how the city has welcomed with open arms various Indian cuisines. On offer are Dosa, Idli, Uthappa (South India), Samosa (North India), Vada Pav (Maharashtra), Jalebi-Fafda (Gujarat) and Rasagulla (Bengal). And then there is, of course, Mumbai's very own Bhel Puri, Sev Puri and Pav Bhaji.
The icing on the cake, however, is the one dish that I have never ever had on Mumbai's streets -- the Italian pasta (Rs 140). Now you can be rest assured that there is nothing 'authentic' about this pasta, but quite like the 'Indian Chinese' (also on offer), it tastes absolutely divine.
We decide to try it out for ourselves. Tossed up in a matter of about ten minutes, the pasta has a generous dose of groundnut oil, onion, garlic and chilli -- the only thing keeping it from becoming a full-fledged Indian dish being some curry leaves! But heck, it tastes superb and you wonder if it would taste just as good were it available on the streets.
The pricing is fairly average as restaurants go, but it is highly overpriced when you consider that most of the dishes are available along Mumbai's streets for a fraction of the cost. Some like Pani Puri (Rs 50), Egg Bhurji (Rs 100) and Vada Pav (Rs 40) are frightfully expensive and you'd probably be better off eating them on the street instead. (We spent about Rs 300 for a meal for two). For the most part though, Khau Galli offers you as authentic a view of Mumbai that a sanitised place like it can offer. The lower level -- which has the seating -- is designed like a train compartment. instead of windows there are LCD television screens playing non-stop footage of a view from a real train window! The train sounds add to the ambience and the lack of music makes it an almost perfect place to be.
If you do visit Khau Galli, I'd recommend you do so with a large gathering of family and friends. It's not really a couple's place. Chances are you will enjoy it better in a group.
Details:
Khau Galli Restaurant
MHADA, Near Versova Telephone Exchange
Four Bungalows, Andheri (W), Mumbai
Tel: +91 (0)22 2633 4352
Price range: Meals for two will cost approximately Rs 500
Capacity: Approximately 50
Does not accept cards and there are no ATMs in the area. So carry cash!
Click here for a video tour of Khau Galli restaurant
Do you have a favourite restaurant or cuisine? Or have you sampled the latest haunt on the block? Be it Manali or Kanyakumari, Kashmir or Goa, Jaipur or Nagpur -- we would love to know more about the eating out options in your village, town or city. Simply e-mail your reviews to getahead@rediff.co.in (subject line: 'Restaurant review') and do try to include a photograph of the establishment; we'll publish the best ones right here on rediff.com