India's female visitors to Pornhub increased the most out of any other country!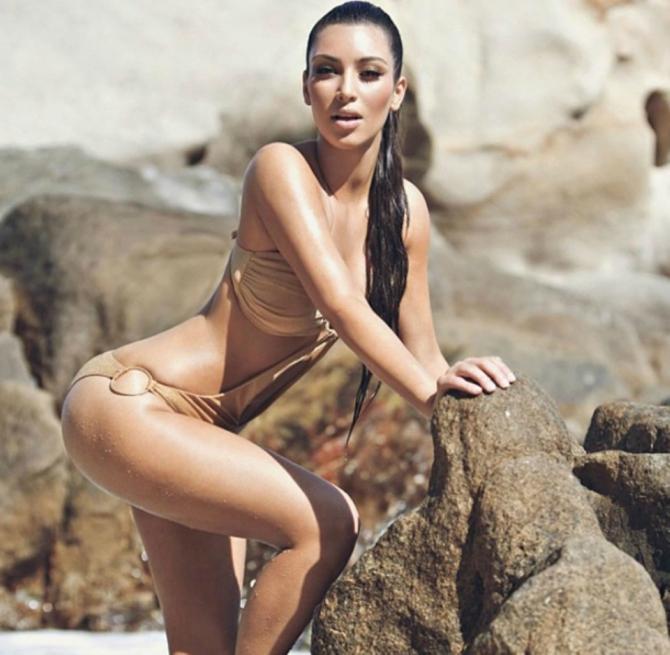 Kim Kardashian was the most searched star name on Pornhub among women users.
Photograph: @kimkardashian/Twitter.
Pornhub's 2017 Year in Review numbers have shown that more people than ever before are seeking out 'Porn for Women'. It was the top trending search throughout the year, increasing by over 1400 per cent.
'2017 seems to have been the year where women have come forward to express their desires more openly. Dr Laurie Betito, sex therapist and director of the Pornhub Sexual Wellness Center was quoted as saying. 'From the "Me too" movement to prominent females the likes of Hillary Clinton and Nikki Haley on the world stage, women are feeling more empowered and they have found their voice. This is a sign of things to come.'
Pornhub said, 'Staying consistent to last year's reports, the average proportion of female visitors to Pornhub worldwide remains at 26 per cent.'
Interestingly, 'India's female visitors increased the most out of any other country compared to last year, by 129 per cent.'
The review added, 'Russian women, however, were not rushin' to the website this year, being the only top 20 country where female visits decreased in 2017, although that's in line with Russia's six spot fall in overall traffic rank... There was also a higher percentage of female visitors in Japan with a 56 per cent increase over last year.'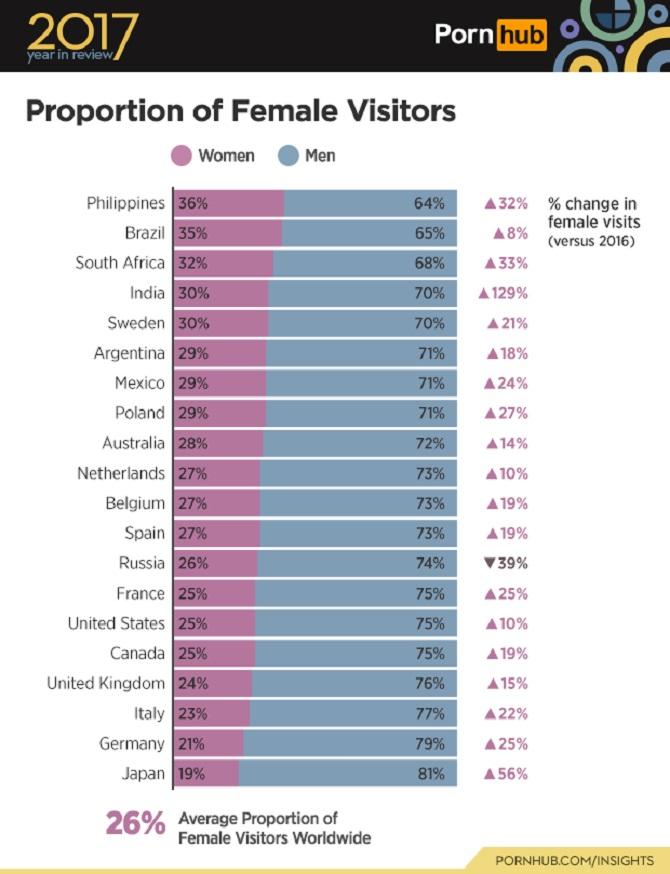 Pornhub's data is based on 'anonymised data provided by Google Analytics,' that allows Pornhub's statisticians to 'build an accurate picture of the demographic makeup of our visitors including their gender, age and even interests.'
Elaborating on those visitors that identified as a woman, Pornhub said, 'Cheerleader'(s) have made their way to the top of the pyramid (as they do!) with the highest increase in searches by women since last year (by 1019 per cent), making it the biggest rise in trending searches for women in 2017.
'Porn for Women' received the second highest percentage of growth since last year, increasing by 359 per cent.
'The top three most searched for terms by women have stayed consistent with last year's top searches, with 'Lesbian' in first place, 'lesbian scissoring' coming in a hot second and 'threesome' in third place.'
The review also revealed that once again, 'the numbers show that searches for women enjoying other women top the charts, with 2017 being the third year in a row that 'lesbian' was the number one searched term worldwide.'
That's not much of a surprise, Dr Laurie noted: 'Lesbians have been the #1 fantasy of men since the beginning of time... We can't ignore women viewers though; for women that have a soft fantasy or curiosity, lesbian porn allows them to explore that part of their sexuality without risk. Of course, for bi or lesbian women, this category is an obvious choice.'