What does a man who feels like a woman face if he is forced into marriage? And how does the woman he marries cope?
Ankur Paliwal finds out.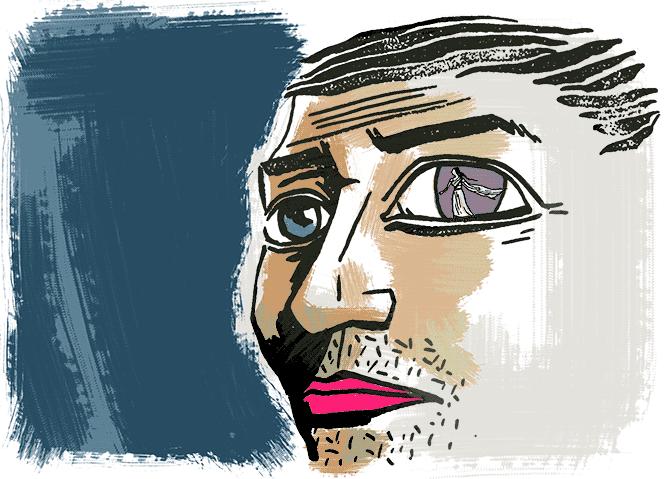 Illustrations: Dominic Xavier/Rediff.com
One evening, a couple of weeks after her wedding in May 2013, 26-year-old Rani Shrivastava let out a cry as her husband, Amar, walked into the living room where she sat watching a music show on television. Amar looked different. Very different.
He was dressed in a yellow and purple salwar-kameez, and sported eyeliner, red lipstick, ear rings, bangles, anklet and a wig of long black hair. He was smiling.
"I got scared," Rani tells me as she hands me tea in her rented apartment in the Rajnagar area of Ghaziabad, a city 40 km east of Delhi.
Although Amar had told Rani before their marriage that he was a transwoman -- a biological man who feels like a woman -- Rani didn't realise what it could mean until that evening.
Rani doesn't know exactly what scared her. She remembers thinking thoughts like: "What has happened to my husband? Is he possessed? What did I do with my life?"
She couldn't stop crying.
When Amar tried to comfort her, she pushed him away and ran to the other room. Amar sat on his knees, tears rolling down his cheeks.
"Am I so scary?" he recalls asking himself.
That was the first time Rani saw Amar dressed fully as a woman.
Psychologists who have counselled married couples where one partner is a trans-person say that people like Rani enter such marriages because they don't understand what a trans-person is.
"They tend to think that everything will be okay after marriage," says Pulkit Sharma, a clinical psychologist who runs a private clinic in Puducherry. "But that later causes psychological and emotional turmoil for both partners."
While some such couples separate, others like Rani and Amar (not their real names) continue to stay in the relationship.
This is their story.
That evening was not the first time that Amar had worn clothes that women generally wear.
He grew up as a shy kid with four sisters in Uttar Pradesh's Agra district.
He doesn't remember feeling like a man, ever. He used to impatiently wait for everyone in his family to go to sleep at night so that he could try on his sisters' clothes.
"I used to smile while checking myself out in the bathroom mirror," recalls Amar, who is now 31.
He continued to secretly cross-dress all through school, college and even after he started working nine years ago as a mechanical engineer in Ghaziabad. He grew up hating his body so much that he used to (and still does) cross his thighs in a way that hid his genitals.
When Amar was 26, a common relative of his and Rani's approached their parents to arrange a match. Amar protested saying that he didn't want to marry, but his parents ignored him.
The two families met and things started to move forward.
The thought of marrying a girl was so unbearable (Amar is attracted to men) that Amar mustered the courage to tell his mother that the marriage would be a disaster because he had never felt like a man.
His mother brushed his feelings aside, saying that everything would be okay after the marriage. She even said he could later consult a doctor to treat "this".
Seeing his protests fail at home, Amar called Rani 10 days before their first pre-wedding ceremony.
"He told me that he thought like a girl and behaved like one," remembers Rani. She felt awkward but didn't think it was a big deal.
"I had never heard anything like that before, and he looked like a man," Rani tells me. "I wish I had known better."
She was more concerned that calling the wedding off at that time would disturb all the wedding plans made thus far, embarrass her family and upset her paralysed mother.
Rani felt confused and disappointed on the first few nights after the wedding because Amar did not entertain her sexual advances. His reluctance to consummate the marriage started to make some sense after that evening of 2013.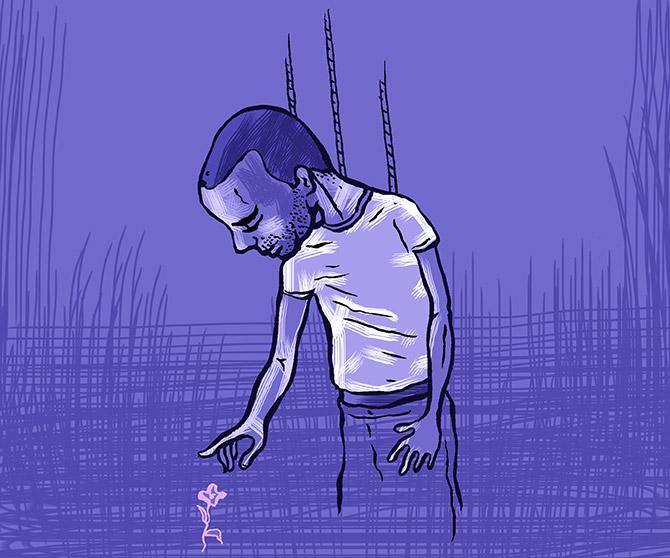 The next morning Rani spoke to Amar's mother about what had happened. "She looked helpless and sad," recalls Rani.
Thereafter, Rani tried to occupy herself with household chores to divert her thoughts, but often broke down in the middle of the day.
"My life had turned upside down," Rani tells me.
She had grown up as a bold and carefree child who knew that her father had her back no matter what happened. "I used to tell him even if I got a scratch, but here I was going through this crisis all alone," she says.
Nobody in Rani's family and none of her friends know the truth of her relationship with Amar. "I can't break my father's heart by telling him," she says. "The others will gossip."
Over time, Rani convinced herself that this marriage was her fate. "It could have been worse, if you think about it. Look at other marriages where husbands come home drunk," says Rani. "At least he is a nice person."
Rani sometimes called him "Sweety", a female name Amar likes, to make him happy.
About a year into their marriage, Rani thought that maybe a child would bring them closer and also that it would "show" society that her marriage was fine. But Amar didn't want a child.
"I had made it clear to Rani, by actions and words, that I was not attracted to her," Amar tells me. "If she said, 'I love you,' I said, 'I don't'."
But Rani was determined to have a baby. After several unsuccessful attempts, she decided to reach out to Amar and arouse him by addressing him as a woman.
"It wasn't easy for me," says Rani, but it worked.
Amar's world came crashing down the day their son, Kunal, was born. Everyone cheered, except him.
He was convinced that he had already made a mistake by getting married. And now, whatever hope he had of having a gender affirmation surgery, after divorcing Rani, died with the birth of Kunal. The guilt of having fathered a child started to gnaw at him.
"How can I make a woman pregnant," says Amar, his trembling fingers hiding his face. "I am not a man."
He withdrew from society and wept almost every morning while riding his bike to work. The guilt became so heavy that one morning he consumed insecticide in his office. He threw up in the bathroom, and survived.
"Look at my fate, I didn't even die," he says.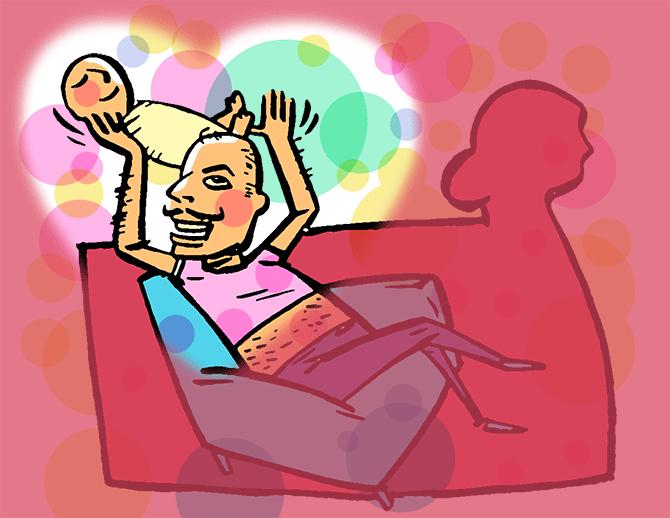 Today, Kunal is a little over two.
In these years, Rani's relationship with Amar has evolved. She tries to let him be and at times even helps him dress up in women's clothes and puts makeup on him. Sometimes, this happens in front of Kunal.
Rani says that Kunal, household chores and the work that she has recently joined as a front-desk officer in a nearby college take up her time. Sundays, when she is free from office work, Amar leaves early morning to go to a beauty parlour where he learns how to put makeup on women.
"That makes me happy," he says.
His deepest desire is to have the surgery so that he can "live the life of a woman".
Rani knows about this but isn't sure whether or not Amar should go ahead with the surgery.
"He has to choose between his family and his own happiness," she says. "I don't know how I will feel if he transitions."
Sharma, who has counselled families like these, says that although each case is different, in general the selves of both the partners are in turmoil. So, it is important that they free each other.
"They can break free legally or even within the marriage when both partners agree to let each other explore their individual selves," says Sharma.
If there is a child in the family, the parents should start educating him or her about what transgender means.
Rajiv Mehta, psychiatry consultant at Sir Ganga Ram Hospital in New Delhi, agrees. What pushes an already troubled transwoman to the wall after marriage is the family's and society's expectation to "perform" the gender-defined roles of husband and father. "That could lead to self-harm," cautions Mehta.
Several studies show that depression and drug dependence are common among transwomen.
Some nights Amar sleeps wearing a woman's nightie, light makeup, bangles and anklets.
In the morning, when he takes these off, he feels so bad that he doesn't even look in the mirror. He can't bear to see "Sweety" slip away.
Amar feels that he wears a lie as he gets ready for work, leaves his bedroom and goes out into the world. "I don't know for how long I will be able to live this lie," he says, looking away.
Rani fears that Amar might leave or harm himself.
She also fears that Kunal might turn out to be like his father. "If he does, I am ready to fight the world for him to transition into a girl," Rani says firmly.