12 lies you must tell your better half without feeling guilty.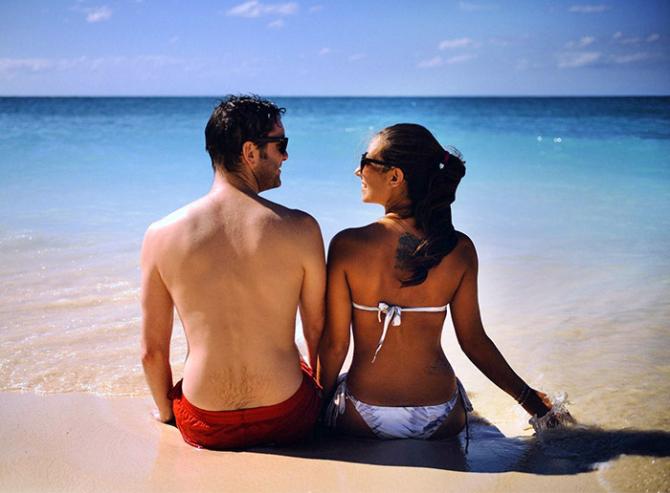 So you're not the proverbial liar, and hate anyone lying to you.
You put great value on trusting your other half and being trusted in return.
This Utopian concept of relationships you believe in does exist.
However, the truth as they say is a relative term -- little white lies that hurts nobody and prevents damage are more than acceptable.
What more, they can even save your relationship if done with good intentions.
No matter what they tell you at play school, in moral science kitaabs and spiritual discourses, honesty is not the best policy!
Yes, it is a good policy. It is an ethical policy.
It is an ideal policy, but that is if you are 80 and have nowhere else to go and nothing else to do!
Remember: You have to live, another 10, 20, 30, 40 years with your partner/spouse/lover. And you need to live in peace!
Keep that tiny fact in mind before reading this list of my suggested tiny deceptions.
Here is bringing you some of the tall yarns and exaggerated tales we could tell our partners sometimes without feeling the guilt and the burden.
'I think you are the most perfect looking in my eyes, jaan'
Yes, ladies he is balding, his paunch is sticking out, thanks to all the beers taps he's been standing under, but statistics show that men are much more insecure than women when it comes to their looks.
Gone are the days of older men being still admired for their salt and pepper look.
The new way seems to be the Cougar way; so younger alpha blood has replaced the older ones who once upon a time were considered an attractive option for their wealth, intelligence and wisdom.
So if your jaan isn't in his top form, overlook it.
Boys, listen up -- she never and I mean to say 'NEVER' wants to be told anything else besides the fact that she is perfect.
There is no debate on this; she must feel that in your eyes she will always be the perfect 100!
I love football/cricket/chick flicks
He's a sport addict and the only sport you know of, is sprinting to the salon and back. Learn to pretend.
Find out the few sport personalities he admires and show your interest.
If he is into cricket, learn the terms and the latest goss. He will be impressed.
Guys: It's okay to say you found the chick flick romantic and very real, even if you think it was a whole load of mushy thrash.
She wants to feel that soft side of you which is almost reduced to tears while watching a touching scene.
It's okay to hold her hand and say you understand, even if you don't get what the big fuss is all about.
'I love your parents so much'
Yes, his mother is the proverbial mother in law bitch; you knew it from day one that she never considered you good enough for her son, why else would she not spare you the jibes and the sarcasm?
His parents are like God to him, and anything less than savoury you utter even if true, will leave you out in the cold and no amount of warm coats can save you then.
Instead smile and tell him, 'Such wonderful people they are your mama and pappa; I couldn't have asked for better in laws.'
He only wants to hear that, trust me.
Babe you are the hottest in the room; in fact you are the hottest in any room
Guys: She needs to hear this even if she is looking like a mongoose from the black hole.
She will have bad hair days, she will have hormonal pimple issues and she will have water retention glitches.
But whatever she wears she looks awesome, guys repeat after me, repeat! Awesome!
And dear ladies if the dude on the next table has a great physique and your honey buns looks a bit like a character from the Adams family, be gentle.
If you would like him to build up his biceps, appreciate some film star type, it is gentler that way for his ego, rather than comparing him with the hottie on the adjacent bar stool.
I don't think I have ever experienced this kind satisfaction with anyone like I have with you
I know it seems unethical to twist truths, but think about it.
What would you rather have? More sex or more arguments? Besides how does it matter?
Whatever was before with the others, doesn't count anyways.
Rather build on someone's confidence and get things to a high contentment level rather than make wrong statements which will come to bite you in the butt later.
Whispering sweet nothings can only bring you closer.
Who? them? Really? I hardly noticed...
Yes, so it is obvious, the hot number standing at the bar is being checked out by everyone.
You have eyes, you also want to look.
And some window shopping can't hurt can it? Yes it can and it will!
So here goes: 'No of course, you haven't noticed, you have eyes only for them. Like a horse with blinders you don't care about anyone else but the object of your affection.'
And if you really want to check other visual options, do so on the girls/ boys night out. Save it for then and save your relationship!
It was on discount of course, dahling
This one is more for you women!
Your shopping sprees are legendary, you give shopaholics a complex.
His credit card is your oyster and the bills that surmount are his dreadlocks.
Of course, how can anyone tell us women to 'not steal a steal' -- those white pair of shoes, the tan heels...and the silver pumps!
They were 70 per cent off!
Most male brains are not wired for rummaging through endless racks.
So don't expect him to share the 'kid in the candy store' feeling that you have in shops!
And if you are waltzing in your house with way too many parcels at the end of his working day which could set him up for a premature heart attack, make sure you drop some off to a friends' and collect them at a later time when he's not around.
He won't fall apart then.
I love your taste in gifts
He presents you a hideous pink hand bag from his business trip abroad or a pair of earrings you won't even expect the kaamwali bai to wear. Smile and be gracious.
There will be a time later in life to prep him on your exquisite tastes.
My friend recently received an xxxx large sized cucumber as a gift!
Sad but true, lots of men just can't get it right in the presents department.
He's probably thinking in his mind that his gift is gold; break it gently, starting off with 'I love your gifts but...........'
I didn't see your text/call sweets You did...!
It was flashing right under your nose, but you were too swamped with work or not in a mood to converse.
Nothing fishy but still, you needed that time off.
You don't know how to say it to your better half without getting into a quarrel, so play slightly dumb.
Also with the traffic nowadays, it is quite possible to not hear the beeps and the trrrrrings! (Please note once the blue ticks appear on Whats App, you won't be able to get out of this one that easily).
There was no stripper at the bachelor party, we just hung out and had a few drinks
Bachelor or bachelorette, yours or another's, please do yourself a favour and shut your trap and don't divulge details like you are writing the bible of truth.
Most of us normal human beings won't approve of strippers/ pole/ lap dances unless we are at the receiving end of such adventure. However innocent it is!
So even if your sweetie gives you the go ahead to indulge...they are calling your bluff. Just keep it low!
In the past, I have slept with X, Y, Z only for love.
Girls: So before you met the one, you had a couple of casual flings.
Men are definitely moving forward, but most are still stuck in the head when it comes to understanding a woman's past.
No one expects you to be a 'virgin flower', but that doesn't mean you confess to him about being the 'village bicycle' before you met him.
Balance it well and tell him only about the significant ones where 'love' played the key factor.
That's much more acceptable in his mind.
Men: Be sensitive and quote those passion numbers that are still countable on her ten fingers.
'I lied only cause I love you baby'
The mother of all lies, untruths and spins, this one please keep for the finale!
When in a pickle, when in a hot soup, when drowning, you may say this!
And hopefully all will be well again in 'love land'.
Note: All views expressed are only for entertaining purposes.
Kainaz Jussawalla is the author of short story novel,Coffee Days, Champagne Nights And Other Secrets.
Lead pic used for representational purpose only. Kind courtesy: stokpic/Pixabay.com