All sizes of bottle gourds or laukis or doodhis are flooding the market post the rains. It's therefore the best time to whip up Jayanti Soni's tasty and fast Lauki Chana Dal.
It's also a way to make sure your family eats more proteins.
The dish goes well with parathas or rotis and it's guaranteed to find a place on your list of comfort foods.
Before Jayanti moved to Mumbai, she lived in a Rajasthan-Gujarat border town named Bhinmal, where she grew up learning to make food that has influences of both states.
A first-rate cook, Hindi, singing and music are her other interests and in which she did her higher studies. These days she is singing a Marwari bhajan, Meethe Ras Se Bharyodi Radha Rani Lage, Mahne Kharo Yamunaji Ro Paani Lage (Radha rani, Krishna's consort, is so sweet that in contrast the waters of the Yamuna taste very salty).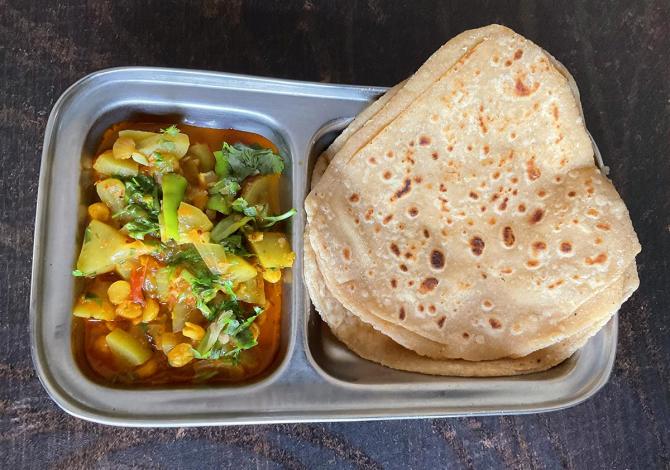 Lauki Chana Dal
Serves: 2-3
Ingredients
500 gm lauki or doodhi or bottle gourd, cut into small pieces, peel on
1 cup chana dal, soaked in water for an hour
2 onions, finely chopped
2 tomatoes, chopped
4-5 garlic pods, crushed
½-inch piece ginger, crushed
2-3 green chillies, chopped into 1-inch pieces
Salt to taste, around 1 tsp
½ tsp rai or mustard seeds
½ tsp jeera or cumin seeds
1 tsp red chilly powder
¼ tsp haldi or turmeric powder
1½ tsp dhania or coriander powder
Small bunch green dhania or coriander or cilantro, roughly chopped
1 cup water
2 tbsp oil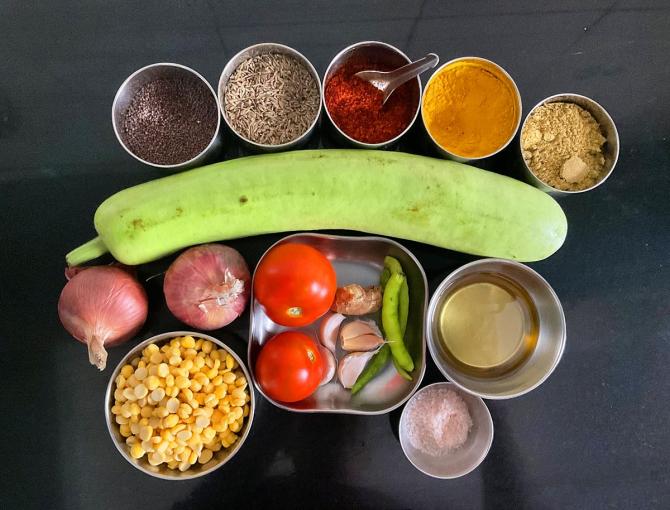 Method
Heat the oil in a kadhai or pan.
Add the jeera and rai.
Let it splutter.
Add the chopped onions, crushed ginger, crushed garlic.
Let it fry for a few minutes.
Add the chopped tomatoes.
Add the salt, turmeric powder, coriander powder, chilly powder.
Mix well and allow it to cook for 4-5 minutes.
Add the soaked chana dal and the chopped lauki.
Add the water and mix.
Cover and allow the mixture to cook for around 20 minutes.
If the lauki pieces have become soft and break easily with a teaspoon, it's done.
If not, allow it to cook for 5 more minutes.
Add the chopped green dhania and the green chilly.
Allow it to cook for 1 minute more and take off heat.
Serve hot with parathas or rotis.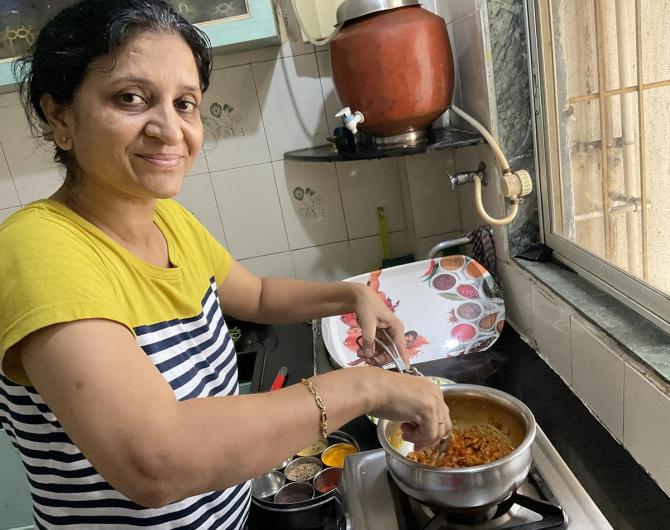 WATCH: How to make Lauki Chana Dal.
Photographs and video: Dhairya Soni