He began his career sorting mail.
Today, he is one of India's best known television anchors, whose mails are hacked by Legion.
Ravish Kumar's journey is as extraordinary as his persona, notes Anjali Puri.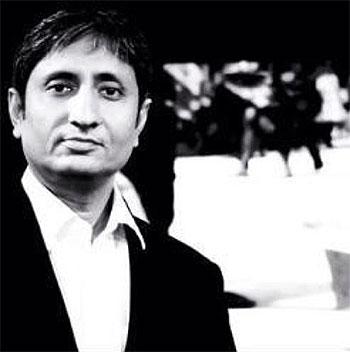 'Baghon mein bahar hai,' asks a voice from the crowd, playing back to Ravish Kumar, the ironic -- and now iconic -- question that he tossed at two mime artistes on his programme, Prime Time, while taking on the politics of censorship and intimidation last month.
Ravish laughs and engages, over the next 40 minutes, in an easy, almost teasing way with the enthusiastic, largely young gathering, which includes budding Hindi journalists, at the recent Sahitya Aaj Tak festival in New Delhi.
The Hindi channel NDTV India's star anchor will later tell me in an interview that he mistrusts the social whirl of Delhi, and likes to keep alive, if only in a theoretical sense, the idea that "I only came here to study and will be going back."
But, in this video clip, he seems to radiate empathy for an audience that clearly regards him as a role model, both for his courageous journalism and his personal journey from the obscurity of Motihari in Bihar to stardom in Delhi.
To his audience's delight, Ravish also unveils his latest love story ('laprek', or laghu prem katha is a blossoming genre of short Hindi love stories pioneered by him) and it turns out to be a wry and elegant play on -- what else? -- demonetisation.
Young lovers argue about 'real' and 'fake' love while grappling with a practical problem: How do you buy a birthday present for a lover with a Rs 500 note that is now 'fake'?
Ravish ends the story with a captivating last line: 'Koi nahin, hamara pyaar samjho do hazaar' (Never mind, our love is like the new Rs 2,000 note).
In all his avatars -- a part-time poet, an inveterate blogger with as many as 2,000 pieces of writing to his name, and a full-time anchor negotiating the tight-rope walk of news television from Monday to Friday on his 9 pm show -- this 42 year old has a way of bending language to his will.
He seems to glide with almost magical ease between lucid commentary and sparkling wordplay, between the earthy speech of the street and the rural tea-shop and sophisticated thrusts of irony that are all the more deadly for being delivered with a deadpan expression.
Even in a face-to-face conversation at a coffee shop near his office, he is effortlessly expressive, the metaphors rolling off his tongue, even as he claims in a mock-serious way that being profiled makes him as nervous as "a prospective groom being sized up for matrimony."
IMAGE: A screen image of Ravish reporting for NDTV India. Photograph: Kind courtesy NDTV
So, what is it about Bihar that it produces inspired wordsmiths like him and the student leader Kanhaiya Kumar?
"When I was growing up," he says, "it was a very poor state, but it had a life. Even at teashops, if you couldn't talk to a certain standard, nobody would talk to you. Every society gives something to its people, and this is what Bihar gave us."
Perhaps it's his Bihari roots that have made him a risk-taker, willing to mount daring critiques of the media and the political establishment with bold experimentation.
Even those who have never watched him know of two shows he has done -- the first was a mime to protest censorship, which came after the government announced a 24-hour ban on NDTV India for alleged State security infringements in its news coverage (the ban was later put on hold amid media protests and the matter is now in court).
The second was his use of a dark screen and a sound track filled with the snarling voices from TV debates to deliver an indictment of the Arnab Goswami school of journalism.
I am expecting to learn, during this interview, how these shows were conceived and planned. But Ravish almost scoffs at the idea that he plans and says the mime was put together after barely 90 minutes of preparation with the artistes.
"Look", he says, "I was a rotten student, I have had the privilege of having failed many times, so I don't fear failure. If I get an idea in a flash, I try it out."
Since it's already late afternoon, and he is chatting, in a far more unhurried way that I would have expected on a day when he has a programme to present (he has "no idea" he maintains, what it will be about), I feel inclined to buy his story of being a nerveless improviser, even though I myself am beginning to feel slightly nervous on his behalf.
Lead image: Kind courtesy Ravish Kumar/Twitter