Ramie was used in ancient Egypt and China long before cotton was introduced to the Far East.
Ritika Kochhar reports on how Indian designers are bringing it back to life.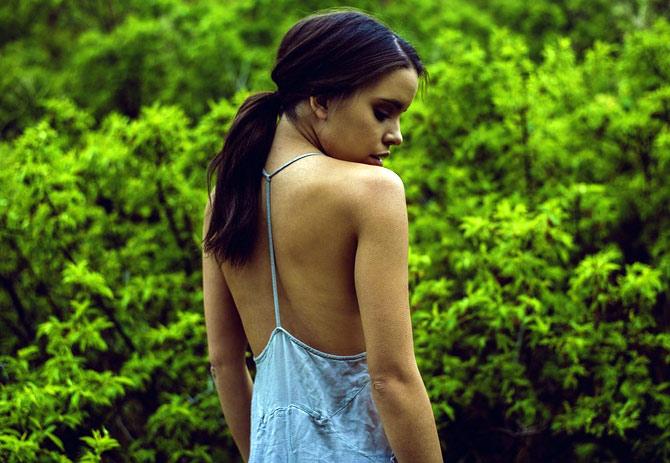 Unlike cotton, which requires pesticides and other chemicals to grow, ramie is made from the nettles that grow wild in rainfall-rich states like Meghalaya in northeast India.
Representational photograph: Pixabay.com.
When it comes to eco-friendly fabrics, most people would expect cotton to top the list. But they'd be wrong.
"The plant that's easiest to cultivate is not necessarily the best -- a kilo of cotton requires around a kilo of pesticides and other chemicals to grow. It's a terrible polluter," says designer Hemant Sagar. "But we've built cotton into our consciousness because we associate it with the national movement."
Now consider ramie, a fabric made from the nettles that grow wild in rainfall-rich states like Meghalaya in northeast India.
Ramie's main requirement is water, which is freely available in the region.
The fabric has a history so old it was used to wrap mummies in ancient Egypt as well as used for burial shrouds in China over 2,000 years ago -- long before the now-iconic cotton was introduced to the Far East.
Now, this ancient fabric is being adapted and absorbed into the lexicon of 17 of India's most avant-garde fashion designers.
"It's visually very appealing," enthuses the young Kochi-based designer, Alan Alexander Kaleekal. "It's woven by the silk weavers of Meghalaya so it has silk-like qualities and it's easy to touch. And it behaves like linen, without the crumpling."
The revival and showcasing of this fabulous fabric began when Meghalaya government representatives got Sagar interested in it on a visit to Shillong in May 2017.
At the same time, the French government asked Sagar to organise a workshop.
Along with co-curator Caroline Young, they chose designers Alan Alexander of KALEEKAL, Ruchika Sachdeva of Bodice, Atsu Sekhose of Atsu, Rajesh Pratap Singh, Payal Khandwala, Dhruv Kapur of DRVV, Shyma Shetty and Pranav Mishra of HUEMN, Rekha Bhatia & Nikki Kalia of Kishmish, Savio Jon Fernandes of Saviojon, Aneeth Arora of Péro, Priyanka Ella of P.E.L.L.A., Amrita Khanna and Gursi Singh of Lovebirds, Peachoo Singh and Shristi Arora of AKIHI.
Sagar joined in with partner Didier Lecoanet.
About 200 metres of cloth were created from the first batch of the new harvest of ramie. The cloth was woven into eight weaves in off-white, natural and black. These were then distributed democratically between the designers in December.
They, in turn, created jewellery, garments and even furnishings with the fabric, sometimes combining it with other textiles.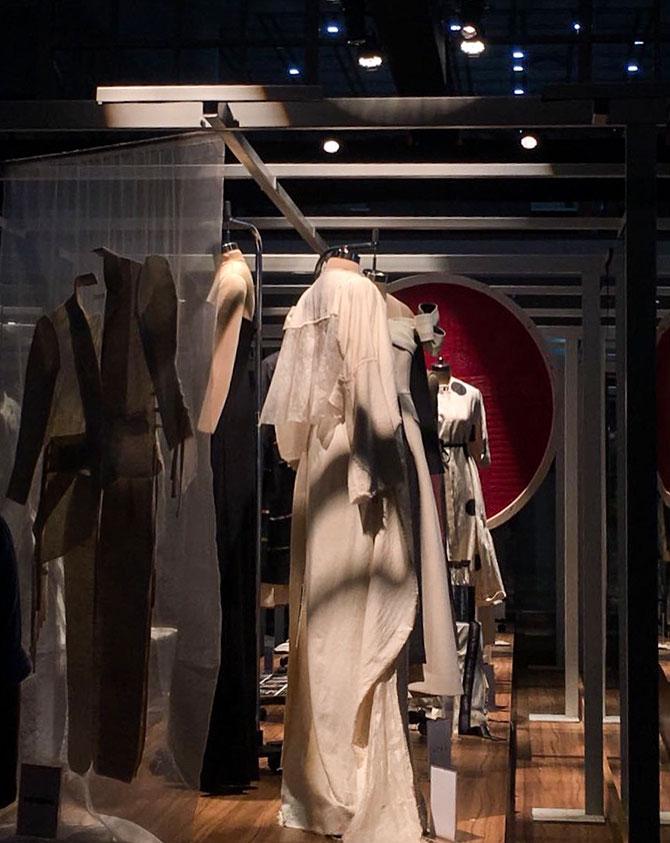 The Kaleekal installation for Project Ramie at the French embassy in India.
This ancient fabric is being adapted and absorbed into the lexicon of 17 of India's most avant-garde fashion designers.
Photograph: @kaleekal/Instagram.
Most of the chosen designers tried to create long-term sustainable works.
Rajesh Pratap Singh, for example, has tried to keep the silhouette and colour in his jacket, cowl shirt and pleated skirt as true to the fabric's natural state as possible.
Khandwala created an architecturally inspired waistcoat, belt and pleated sumo pants.
Aneeth Arora, on the other hand, tried to show how different fabrics work together, through a multi-panel garment that uses different kinds of woven ramie fabric to provide juxtaposition.
And in a personal vision of tribal Meghalaya's journey towards embracing this indigenous treasure, Lecoanet Hemant emphasised old-time glamour with an oversized cape and a high-waisted skirt accessorised with a tribal necklace assembled from pieces of coral and amber and raw ramie fibre.
Ella stitched together a combination of fragile rice paper and hardy ramie using hieroglyphic symbols. She used a single block of ramie, zero-waste pattern-making and relief-work technique that requires minimum measurement and sewing. The cloth is hand stitched using the Kantha technique and is then hand-rolled and blind-hemmed.
Interior designer Adil Iqbal Ahmad covered a chair with the fabric and peacock feathers. Srishti
Arora used ramie as a canvas and designed jewellery from zari mounted on plated brass frames.
Shetty and Mishra created a documentary of 25 photographs that placed ramie as the protagonist in everyday India.
It's an apt subject.
The extraordinary plant can be harvested four times a year and lives for around 25 years.
The fabric made from its fibre regulates body heat, which makes it ideal for t-shirts, skirts, trousers and even furnishings.
It also doesn't require much by way of machinery or chemicals while being processed.
What it is, though, is labour intensive: the fibre needs to be degummed before processing. And it is yet to be planted industrially or in an organised manner in India.
"We're in the planning phase of how to incorporate it for regular use, but I can immediately see it used in knits since it's breathable and long-lasting. We're also trying to find a laboratory to conduct clinical textile research and give us all round advice," says Sagar.
"It is anti-bacterial," adds Kaleekal. "Even if it's kept in damp spaces, it isn't affected by fungus. So another use is in hospitals, to make bed linen and garments."
As children, we all read the fairy tale of the girl who sewed shirts from nettles for her seven swan brothers. Perhaps it's time to return to those fables -- we may just stumble upon hidden treasures such as ramie, waiting only to be rediscovered.