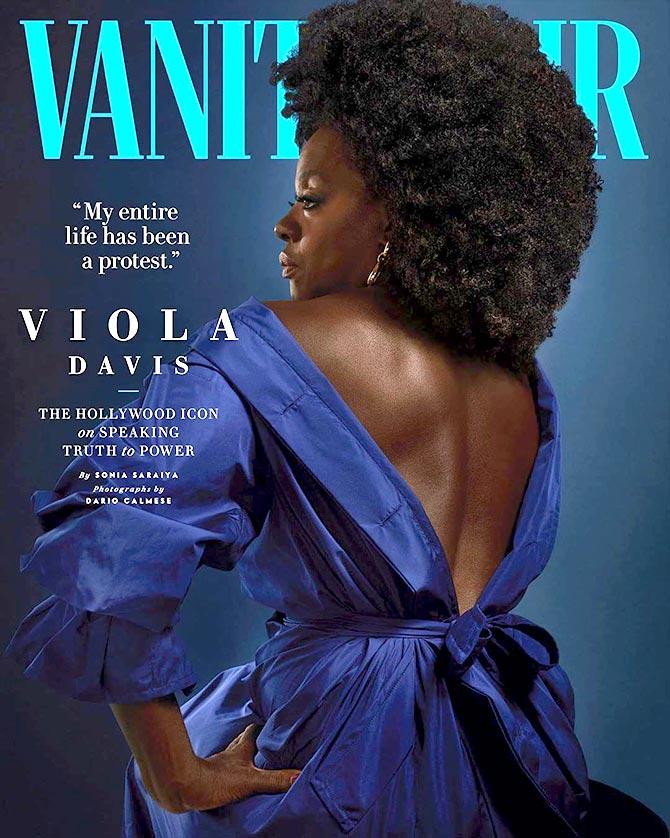 When Vanity Fair decided to celebrate exceptional black artistes who have waged the good fight against racism, Editor-in-Chief Radhika Jones chose Oscar winner Viola Davis for the magazine's cover.
Vanity Fair covers have made powerful statements for almost three decades and Viola's cover, we believe, will make waves too.
Viola looks stunning showing off her back in a blue coatdress with puffed sleeves created by the Italian label Max Mara.
'Last month, the Oscar winner took to the streets to protest the death of George Floyd, but she's no stranger to fighting for what's right. As a Black woman in Hollywood, she has spent her career doing it,' Radhika Jones -- whose mother is Indian -- noted, explaining how Vanity Fair's editors picked the 54 year old for the cover.
'My entire life has been a protest,' Viola says in the accompanying interview.
'My production company is my protest. Me not wearing a wig at the Oscars in 2012 was my protest. It is a part of my voice, just like introducing myself to you and saying, "Hello, my name is Viola Davis",' the actress who has won an Oscar, a Golden Globe and an Emmy, said,
Annie Leibovitz, the legendary photographer who has shot many of Vanity Fair's historic covers, was not asked to shoot this one.
Radhika Jones asked Dario Calmese to do the honours. Dario is the first black photographer to shoot a Vanity Fair cover.
Radhika's decisions to promote black figures in Vanity Fair -- after she was named editor-in-chief -- according to recent accounts, didn't go down well with the nabobs at Conde Nast, the publishing empire which owns Vanity Fair (and the New Yorker and Vogue among other magazines), but all that carping (which extended to Radhika's choice of clothes) appears to have disappeared after the Black Lives Matter campaign took off in May.
Calmese, Radhika says, decribed Viola's cover pose as a 'recreation of the Louis Agassiz slave portraits taken in the 1800s -- the back, the welts. This image reclaims that narrative, transmuting the white gaze on Black suffering into the Black gaze of grace, elegance and beauty.'