'If you just click sexy pictures, you are only going to have a bunch of perverts following you.'
'What do perverts buy? They don't even buy condoms.'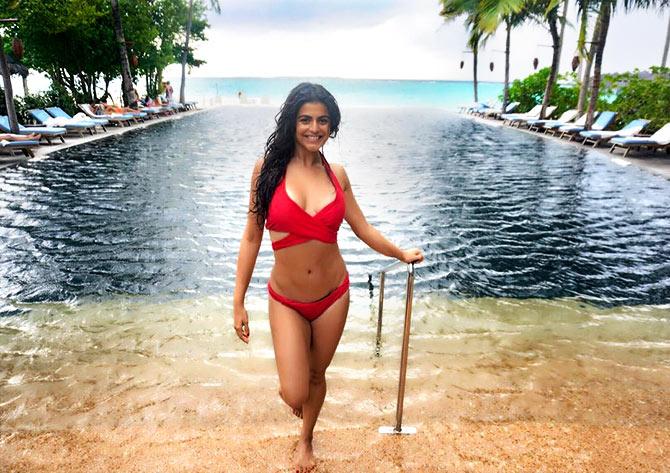 IMAGE: Shenaz Treasury poses at the 'Adults Only' pool at The Sun Siyam Iru Fushi, Maldives. Photograph: Kind courtesy Shenaz Treasury/Instagram
It's a sunny Wednesday afternoon in the quiet bylanes of Bandra, north west Mumbai.
Rediff.com's Jahnavi Patel waits under some trees, greenery on all sides, with a cool breeze for company.
Shenaz Treasury calls Jahnavi over to a spot which looks perfect for an open air interview.
The actor-turned-travel vlogger sure knows how to get the best frame.
"It's boring to be a poser," she says, explaining her reason for choosing a garden over the concrete walls of her parents' home.
Shenaz travels a lot and mostly lives out of her suitcase.
She prefers to spend money on travelling and that's why she says she doesn't have money to buy a house yet.
There was a time when Shenaz wanted to be an air hostess, but she couldn't make it. It saddened her then, but today, she's relieved.
"Things work out. Twenty years later, you feel it was good that it did not work out," she says.
Oh, and Shenaz loves to talk!
She is animated, bindaas and honest throughout the conversation which lasts for over an hour.
There are plenty of giggles, laughs and candid talk in this fun conversation.
You've done ads, been a VJ, acted in movies, still do, and now, you're a travel vlogger.
I am an actress.
I have been a VJ and a TV host.
Now, I am a travel vlogger.
I am a writer as well. I wrote the screenplay of Luv Ka The End, Shraddha Kapoor's first movie.
I am writing a book called All He Left Me Was A Recipe. It's about my past boyfriends (laughs). It's a funny book. At the end of each story, there's a recipe.
How did you make all these career choices?
I fell into it very young.
I was in the first year at St Xavier's College when someone asked me to audition for an ad. I was like me? I am so fat, blah, blah...
But I got the ad. That led to more ads.
MTV saw an ad and asked me to audition to become a VJ.
So everything just happened.
When I was a VJ, I went to America for six months to study.
When I came back, MTV got mad at me because they thought I was going for three months. They didn't take me back and I got upset.
I was at a nightclub when Ken Ghosh came up to me and asked me to audition for his movie (Ishq Vishk).
I asked, 'Me?'
I don't even watch that many Bollywood movies.
But I auditioned and got the role.
Then, I realised I like acting.
I had shot for Delhi Belly, then I went on a vacation to New York in 2010.
An agent sent me for an audition there and I landed a role in a soap opera (One Life to Live).
So, things just happened.
For me, I always wanted to be a director; I studied film production.
I also have other skills, like I am a good writer, I take great photographs, I can edit.
Acting is not the only thing, so I am not waiting for a movie to come around.
Last year, I went to Bali, shot pictures and put them up on Instagram.
It started getting popular and for my next trip, I went to Tokyo and Istanbul.
I shot there too and I was like wow, people are really into this.
So I started making travel videos. I have over 5 million views on the videos that I shot and edited myself.
Then different brands started calling me and I felt I could make a living out of this.
Want some travel tips? Here we have the expert giving out some helpful tricks! Video: Afsar Dayatar/Rediff.com
Isn't travelling expensive?
I have travelled the world. This is the second time I am travelling and documenting it for Instagram.
I grew up on a ship; my dad was a captain.
Now, it's all free. Even the nice restaurants are free.
I get calls from embassies for tourism. It has become like a business now where I travel, shoot and edit.
I just moved back to India. I was living in New York for seven years.
While I was in America, I did a lot of shows and movies, but I really missed home.
The travel vlogging was also picking up and I was getting calls from India.
So I felt: Why am I sitting in America?
If they want me for a movie, I will just fly there.
Now, I am looking for an apartment here.
Is there a lot of investment involved to become a vlogger?
Yes, especially for fashion bloggers, but they earn a lot more as well.
I am the only vlogger in India who shoots and edits myself.
A lot of them have photographers who travel along.
How are they paying them? They are young college girls. I really don't know how they do it.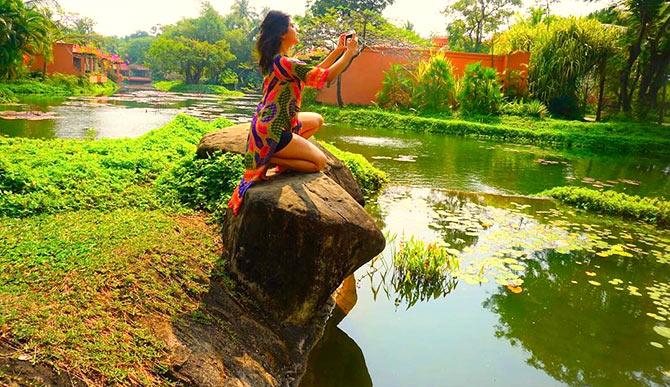 IMAGE: 'Isn't nature the best healer?! I had a nasty cough and it's gone since I stepped foot in Goa.' Photograph: Kind courtesy Shenaz Treasury/Instagram
What is the blogging scene like in India?
It's here to stay.
The great thing is that we have stolen work from big ad agencies and production companies because earlier, they'd give big budgets and do the ads.
But you know what? Now, nobody is watching TV anymore.
People are on their phones most of the time.
People like me influence people, and that is pretty awesome because I feel like I am my own business person.
I suggest people learn how to edit and take pictures. It's not just about posing.
I don't like girls constantly taking selfies.
People think that posting sexy pictures is the trick to become a vlogger. I don't think so.
Of course, if you put sexy pictures, you will get more followers at first, but the brands won't come to you for that. They want somebody who gives quality.
I am lucky that people know me. I would take pictures of things, but nobody was interested (at first).
Even though it was gorgeous, people would be like, 'Why should I look at this beautiful sunset?'
Then I decided to put myself in that sunset and people started liking it.
If you just click sexy pictures, you are only going to have a bunch of perverts following you.
What do perverts buy? They don't even buy condoms (laughs).
Shenaz shares her list of travel essentials. Video: Afsar Dayatar/Rediff.com
Were your parents okay with you travelling alone?
My parents had no option (smiles).
Now, I am old enough to do what I want.
But yes, when I was younger, when I joined MTV...
My first night shoot was for the Hero Honda advertisement, and I told my mom about it.
She freaked out. She followed me there!
She saw it was a real shoot.
For my first fashion show, I had to go to Goa. I was around 15 or 16.
Farah Khan was choreographing it. She came to my house with another guy, Rajesh, to convince my parents.
Slowly, I started earning my own money.
MTV then based me in Singapore. From there, I travelled everywhere.
MTV gave me a lot, including money power. But I spent it all on travelling.
Today, my colleagues like Cyrus Sahukar, Nikhil Chinappa and Anushka Dandekar have apartments of their own, but I have nothing.
I just have a bunch of photographs to Ko Samui! (laughs).
Sometimes, I think I should have bought an apartment. It was so cheap at that time.
A place in Pali Hill (in Bandra) was Rs 30 lakh. My mother told me to buy it and I preferred to go to Cuba in business class.
Do you regret it?
A little bit.
I wish I had bought one apartment.
But I love my experiences as well.
That's okay. Now this is my work, and I am getting to travel for free. I hope it lasts.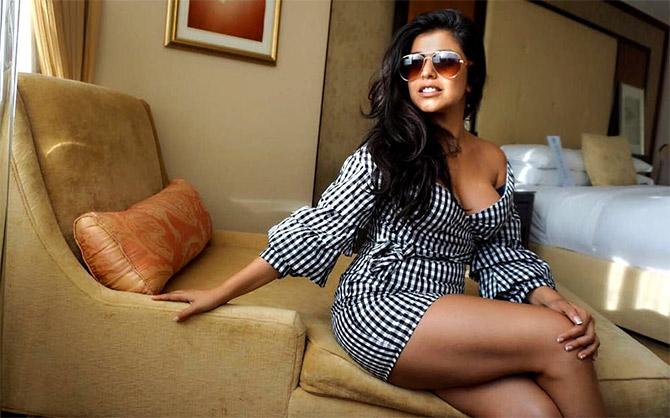 IMAGE: Shenaz says hello from The Ritz-Carlton, Atlanta. Photograph: Kind courtesy Shenaz Treasury/Instagram
Celebrities are often trolled or body-shamed on social media. Does it bother you?
No. I don't give a sh*t. (Laughs.)
One thing that did bother me once was that people felt I had a rich husband. But I am not married!
Or they would say I have a rich boyfriend, who is giving her this lifestyle. That's not true at all.
I have worked for everything. I am self-made and proud of it.
I can proudly say that I have had more money than my boyfriends!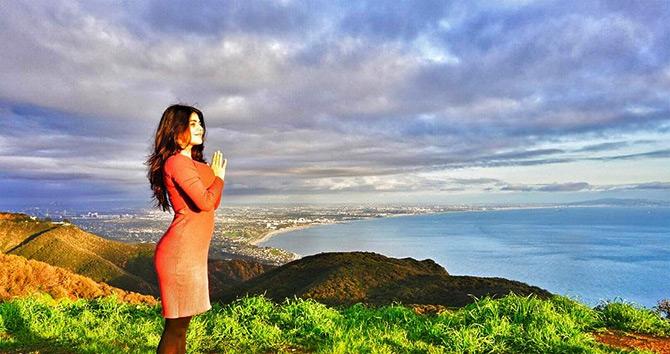 IMAGE: So serene! Shenaz at La Tuna Canyon, Los Angeles, California. Photograph: Kind courtesy Shenaz Treasury/Instagram
What's the best part about travelling?
Just getting to explore the world.
It's a cliché but I'll say it -- Nothing makes you richer than travel.
So it's okay if I don't have that apartment (laughs).
I am rich in experiences. It's the best education.
I really enjoy that I can see the world, explore life, eat food from different places.
My mind has opened up. You become more liberal, you grow as a person.
What's the bad part?
People want you to do everything for free. So it's hard to make money, honestly.
I still make my bread and butter from acting and hosting television (shows).
You don't make that much money. You do it for the passion.
You get free holidays, but if you think you are going to make a great living -- not in India, not even abroad.
I think travel blogging is the least money you make.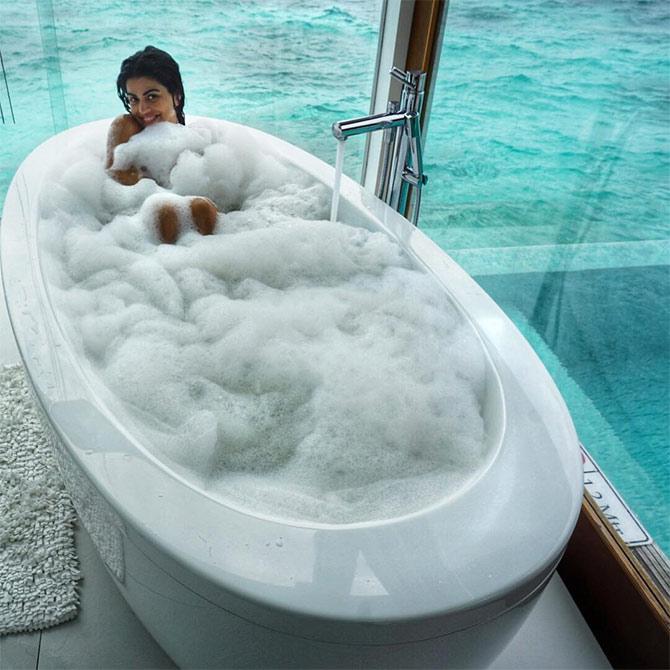 IMAGE: 'Was heavenly and the best part was having a bath in the morning with my private pool on one side and the ocean on the other 3 sides!' Shenaz at Kandolhu Maldives. Photograph: Kind courtesy Shenaz Treasury/Instagram
A place you want to revisit over and over again?
The Maldives! It's so beautiful!
The reason I didn't go there earlier is because it is expensive.
When I got invited, I went.
But it's stunning. The water is so clear. The fish is right there.
You're a celebrity. Do people recognise you when you travel?
It depends on where I'm going.
On my last trip (I visited seven states in India), people did recognise me and I had to take a lot of selfies. (Laughs.)
When I started with MTV, I was very popular, but this selfie generation wasn't there.
I am not one of those people who hides in a car. I walk on the streets in Bandra. Half the time, nobody recognises me.
Right now, my livelihood, besides acting, is social media. So when they take pictures, they tag me. It's a good and bad thing.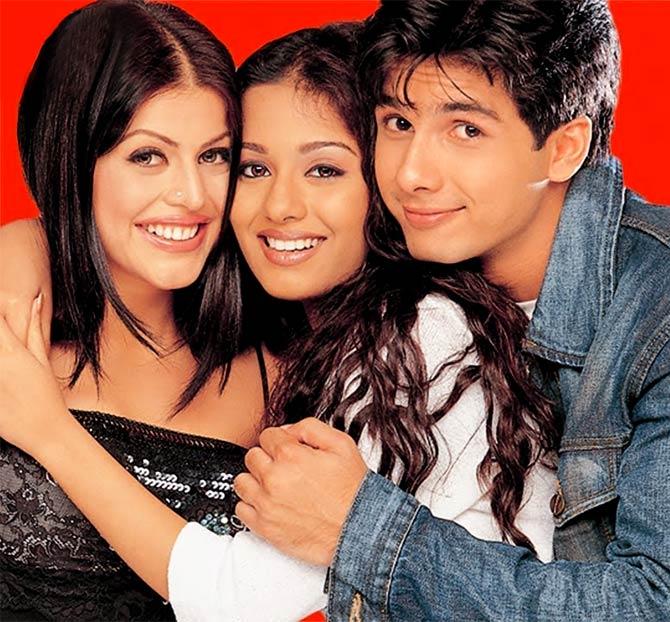 IMAGE: Shenaz, Amrita Rao and Shahid Kapoor in Ishq Vishk.
Do people remember you as Alisha from Ishq Vishk?
Yes, especially in the interiors of India.
In Kaalakaandi, I am Aisha. So from Alisha to Aisha...
In Kaalakaandi, my character is cool, I want to be friends with her. (Laughs.)
She is fun, smart and knows what she wants. When sh*t hits the fan, she is the one in control.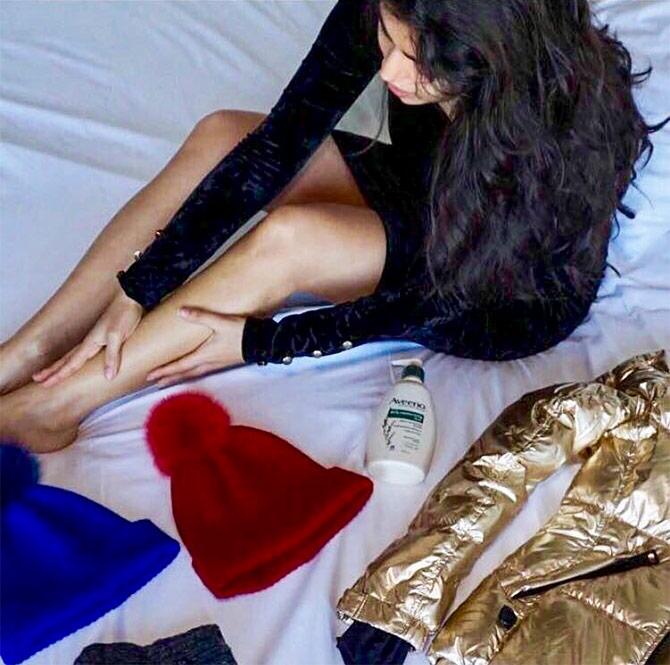 IMAGE: 'My winter essentials are cute hats, mittens, funky jackets and a great moisturizer'. Photograph: Kind courtesy Shenaz Treasury/Instagram
Is it difficult to balance multiple professions simultaneously?
I am not a multi-tasker.
When I do one thing, I fully concentrate on it and leave the other thing aside.
For acting, once I am doing a movie I am fully into that.
But I am not one to chase films. When it comes, it comes.
In life, I have chased many things, but those things didn't happen and something else would.
So I just go with the flow.
It works out in the end.