End users should take the plunge despite higher home loan rates as these tend to be cyclical.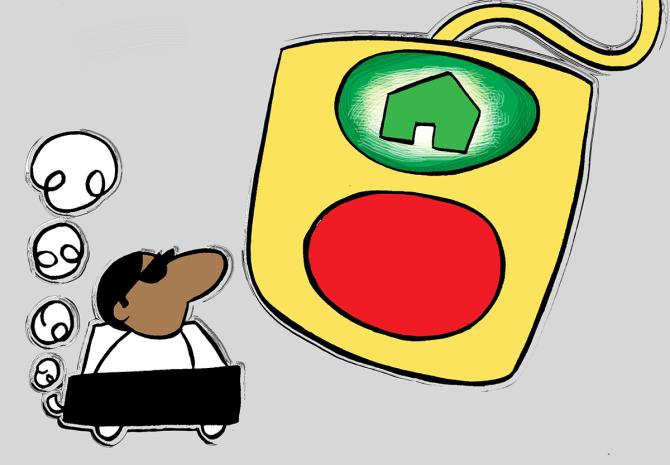 The housing market revived in 2022 after a long period of stagnation.
As sales rose, prices moved up, albeit at a sedate pace.
The positive momentum is expected to continue in 2023.
Decisive revival
Housing sales in the top seven cities scaled a new peak of 364,900 units in 2022, up 54 per cent year-on-year (Y-o-Y), according to ANAROCK Research.
Sales surpassed the previous peak of 3.43 lakh units seen in 2014.
Prices, too, moved up. The current average price across the country's top seven cities is Rs 5,991 per sq. ft, up 8 per cent over the past five years.
"2022 saw the maximum yearly rise of 5 per cent in average property prices compared to the maximum 2 per cent Y-o-Y increase in the previous four years," says Prashant Thakur, senior director and head-research, ANAROCK group.
The luxury segment revived in 2022.
"Housing prices moved up in select markets, particularly in the luxury segment, owing to high demand post-Covid," says Shalin Raina, managing director, residential services, Cushman & Wakefield.
Pent-up demand
Demand shot up across cities.
"The pent-up demand of the past two years and the need to own residential properties in the wake of the pandemic were two major drivers behind the strong revival," says Dhruv Agarwala, group CEO, Housing.com, Proptiger.com and Makaan.com.
The economy's resilience played a major part in demand.
"The strong vaccination program coupled with job stability among a large section of corporate employees bolstered consumer confidence," says Raina.
Affordability touched historically high levels in early 2022 due to the price stagnation of the preceding years and low home loan rates.
And as the equity markets turned volatile, investors sought refuge in the stability of residential real estate.
Non-resident Indians also entered the market in 2022.
"They were driven by the desire to have a base in India they could move to in case they lost their jobs in overseas markets, as happened to many during the pandemic," says Pradeep Mishra, founder, Homents, a National Capital Region-based real estate consultancy.
Rising input costs also contributed to the price rise.
"Material costs rose due to curtailed production amid the pandemic and increased global shipping costs led by supply chain bottlenecks," says Anshuman Magazine, chairman and CEO-India, Southeast Asia, Middle East & Africa, CBRE.
Steel, cement, labour, and fuel contributed to the rise in construction cost.
"The overall greenfield construction cost increased 5-7 per cent in Q3 2022 y-o-y across all metro cities," adds Magazine.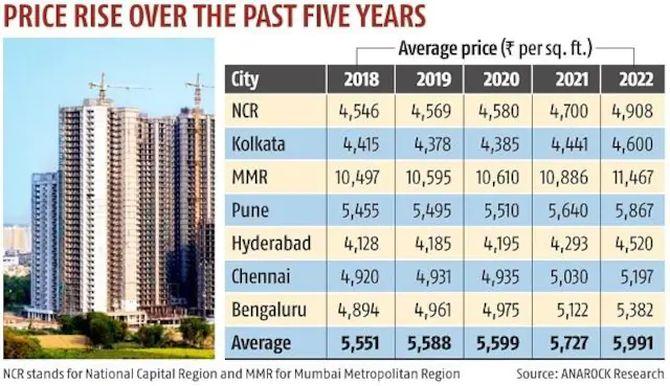 Momentum likely to continue
Most experts expect prices to rise between 6 and 10 per cent in 2023.
"Moderate price rise will keep demand buoyant," says Thakur.
Inflationary pressures and the resolution of supply chain disruptions are likely to limit the increase in material prices in 2023.
"However, the cascading effect of the current geopolitical situation and global inflationary pressures is expected to impact greenfield construction costs marginally in the future. We expect construction costs to rise 4-5 per cent in 2023 across cities," says Magazine.
According to Raina, rising cost of land will also drive prices up in 2023.
Home loan rates have risen by more than 200 basis points in 2022. So far, housing demand has remained resilient.
"Mortgage rates could impact the market, especially mid-segment buyers, if they rise significantly over the next six months," says Raina.
Magazine adds that the lagged impact of the ongoing monetary tightening could lead to moderation in both sales momentum and price rise.
A global recession could affect jobs in sectors such as information technology and in turn impact housing sales.
Take the plunge
End users should take the plunge despite higher home loan rates as these tend to be cyclical (they will rise and fall a few times during a 15-20-year tenure).
Moreover, we appear to be at the start of a price rise cycle in real estate.
Continuing to sit on the fence means you may have to pay a higher price in the future.
Investors may enter the residential real estate market but with at least a five-seven-year horizon.