The project aims to use the same technology that was killing lives to save lives.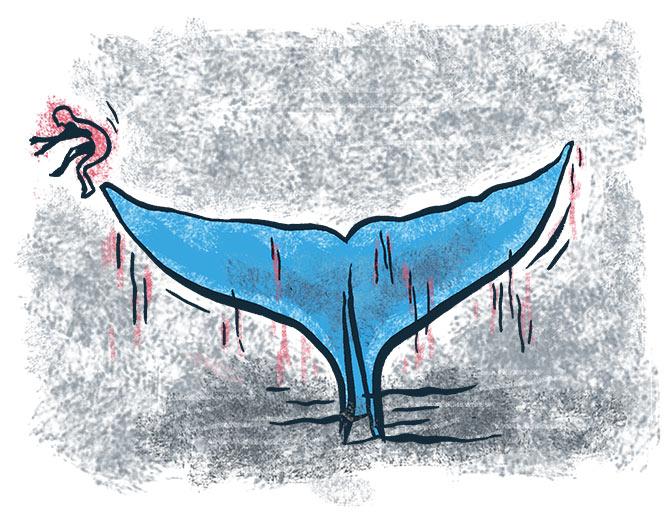 Illustration: Dominic Xavier/Rediff.com
A research project is in the offing that flags potential curators and victims of the Blue Whale Challenge, thus preventing kids and adults alike from falling prey to the 'deadly' game.
The project, started in September last year, is being prepared by the Indraprastha Institute of Information Technology.
Faculty in-charge, Professor Ponnurangam Kumaraguru, said the project would use the same technology that was killing lives to save lives: "The goal is to identify the victims and curators, both of whom are using social media to connect with each other."
Noting that the game that began with Russian social networking website 'VKontakte' (VK) had now spread to Twitter, Instagram and other popular social networking sites, he added, "We have found a pattern in their communication. You can see messages on social media such as 'I want to play or add me into the game/group' and 'Hi follow me if you want to play'."
Kumaraguru said the project would be using Artificial Intelligence-based techniques such as machine learning, which throws open other options to developers such as natural language processing, social net analysis and information retrieval to collect cues from social media.
"We have collected a lot of data via these cues and are building a prototype to identify these kinds of posts," he said.
The Blue Whale Challenge provides a series of tasks to the players. They have to complete the tasks in a duration of 50 days leading up to the final task of committing suicide.
The team has also manually verified the deaths caused due to the game across the world and pegged the numbers at 170, with India reporting 10 deaths.
Once the system is developed, it can be used as a browser extenstion that parents can install on their computers to flag potential threats, the professor said.
"It can also be used as a server solution that a company can install in their servers. Also, it can be used by investigative agencies as an application that keeps track of social media posts and flags curators posting it online," he said.
Commenting on the accuracy of the system, Kumaraguru said, "Right now there is no technology to make us proactive in this matter, but we are trying to put a fool-proof system to identify the accurate triggers so that the investigative agencies do not end up wasting time on the fake ones".